Z-ROD® Keeps Classic Vehicles Street-Ready – Zinc and more
In addition to Zinc – AMSOIL Z-ROD® Synthetic Motor Oil is formulated with a unique blend of rust and corrosion inhibitors to ensure maximum protection during storage.
After a long winter, making the transition from storage to the street can be an anxious time for classic car owners. Even after extensive preparations, doubts may linger whether a prized vehicle has been effectively protected during a period of inactivity. Many owners now look to modern technology to keep vintage hot rods and muscle cars performing at a high level on the street and fully protected during storage.
Protecting engines designed decades ago- and engines modified for increased performance- can be challenging. From flat-tappet cams and splash-lubricated components to the toll of periodic storage, unique issues must be addressed.
Flat-Tappet Cams and ZDDP
The design of flat-tappet cams makes them especially vulnerable to wear. As the name indicates, the tappet- or lifter – is flat. During operation the surface of the cam lobe slides rapidly over the surface of the tappet, producing high friction and temperatures. The camshaft and lifters are responsible for triggering the precisely tuned movements of the valve train. Here, the use of anti-wear additives becomes crucial.
Stop Cam Wear – No Aftermarket Oil Additives Needed
Zinc dialkyldithiophosphate (ZDDP) is a commonly used motor oil additive that provides anti-wear protection and minimizes lubricant breakdown. ZDDP also exhibits mild extreme-pressure protection. As temperatures in an engine rise, ZDDP decomposes, and the resulting chemistry protects critical metal surfaces.
Without the protective film barrier provided by ZDDP, the cams and lifters wear from the force of operation, negatively affecting cam and valve operation. Because most V-8 engines of the muscle car era came standard with flat-tappet cams, the problem is prevalent to classic-car and hot rod owners.
In these applications, modern oils, such as AMSOIL synthetic motor oils, are capable of providing adequate wear protection after the engine has been broken in. But due to variables like severity of service and level of modification, AMSOIL primarily recommends high-ZDDP oils in these applications, such as Z-ROD® Synthetic Motor Oil. When breaking in a rebuilt or high-performance engine, AMSOIL recommends AMSOIL Break-In Oil, which contains high levels of ZDDP for added protection.
Rust and Corrosion
Moisture can be as devastating an engine contaminant as dirt or sludge. Actually more. Vehicles subjected to long-term storage are especially vulnerable to humidity-driven rust and corrosion. Just like AMSOIL Coolant Boost in your radiator – AMSOIL Z-ROD® Synthetic Motor Oil is formulated with a unique blend of rust and corrosion inhibitors to ensure maximum protection during storage.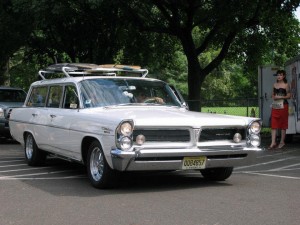 AMSOIL Z-ROD® Synthetic Motor Oil (ZRT, ZRF)
Protects flat-tappet cams
Long-term rust and corrosion protection
AMSOIL Break-In Oil (BRK)
Quickly seats rings
Protects vital parts from wear
Increased film strength
Other AMSOIL Motor Oils containing substantial Zinc levels for Gas & Diesel engines
Call about any of these oils by calling us at 800-579-0580
The ZROD line is one of the most popular AMSOIL products to be added to autoparts stores. If you own a retail center consider calling us to be qualified as an AMSOIL retailer too.