Commercial Account
Businesses drop overhead costs and save time when using AMSOIL.
AMSOIL commercial accounts, such as landscapers, trucking companies and taxi fleets, buy AMSOIL products at the lowest possible prices for use in their business vehicles and equipment. Establishing a commercial account is simple and the benefits immense. You automatically earn purchase discounts based on your cumulative order total.
For easy set up of your account call 800-579-0580
Request More Information
---
 
Save on Maintenance Costs
Not only does reduced maintenance save money, AMSOIL synthetic lubricants deliver additional savings due to maximum fuel economy and extended drain intervals. Invest more money in growing your business, not repairing or fueling your vehicles.
Protection for your Investment
AMSOIL synthetic lubricants deliver proven wear protection in the most demanding vehicles and equipment. By guarding against wear, they maximize engine and component life to help you get the most return on your investment. Compared to competitors products the difference is significant.
Extensive Product Line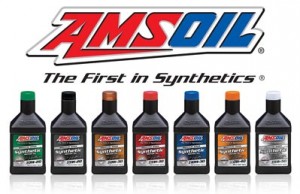 AMSOIL offers everything from advanced synthetic drivetrain lubricants to premium fuel additives. The complete AMSOIL product line ensures all your vehicles and equipment are protected.
Personalized Service
Accounts are serviced by independent AMSOIL Dealers available to help map out a lubrication program designed to maximize vehicle performance while saving money.  We'll direct you to the best product choices per your equipment.
AMSOIL INC. corporate personnel (Technical Services Hotline) are also available to offer technical and administrative support. You can order directly from AMSOIL INC. or through your servicing Dealer by phone or online. Qualified accounts may also apply for credit with AMSOIL, simplifying the payment process.
Request More Information
---
AMSOIL Products Help LandCare Innovations Minimize Expenses

AMSOIL Quality Tackles Overhead Costs
LandCare Innovations of Charlotte, N.C. prides itself on providing quality work at a reasonable price, offering its residential and commercial customers a full range of landscaping services that includes lawn care, irrigation systems, outdoor living areas, pools and ponds. Maintenance Manager Tim Wilson relies on AMSOIL products to minimize vehicle and equipment repairs and operating expenses.
Prior to joining the LandCare Innovations team, Wilson worked for an auto dealership, where he acquired a strong background in truck and equipment maintenance. He saw firsthand the value of using AMSOIL products, and it's something he carried forward to his position in the landscape business.
"One of the major challenges in the landscape profession is keeping the equipment running," said Wilson. "If there's a failure, the job doesn't get done. Then we have to rent equipment, which comes out of our profits. We have 90 employees using the machines and equipment, which includes everything from trimmers to dump trucks, and it's essential to keep everything running."
Zero-Turn Mowers
"Our zero-turn mowers are running day in and day out," said Wilson. "They're faced with severe-duty service five to six days a week for seven to eight hours nonstop. The premium lubrication qualities provided by AMSOIL products are essential, and we perform oil changes and grease points every 200 to 250 hours."
Backpack Blowers
Wilson uses AMSOIL SABER® Professional and P.i.® in the company's BR 600 Stihl* backpack blowers. "The blowers must run constantly at full power to maximize job efficiency," said Wilson. "I've heard other landscape professionals complain about the operation of their two-stroke equipment. We use SABER Professional at 80:1, and our equipment runs clean, with no carbon and no problems."
Truck Fleet
As for the company's fleet of gasoline- and diesel-powered trucks, Wilson uses AMSOIL Premium Synthetic Diesel Oil, Signature Series Synthetic Automatic Transmission Fluid (ATF) and Ea® Oil Filters. "We put these trucks through severe-duty service; they're idling, they're towing and hauling our equipment in dusty, dirty, hot conditions," said Wilson. "Although we keep track of mileage, we always end up going past the service interval, and we have no mechanical problems. Extending the oil drain intervals to 10,000 miles, and beyond, saves valuable time. With conventional intervals, I'd be servicing trucks every day, and I don't have time for that. We know AMSOIL Premium Synthetic Diesel Oil can go past 10,000 miles, and the oil analysis proves it. With AMSOIL products, we just don't worry about our vehicles and equipment."
"AMSOIL products have saved our company lots of money. We've extended our oil drains from 5,000 to 10,000 miles, the Ea Oil Filters hold up longer and the Signature Series ATF has cleared up our problems with overheating transmissions. Needless to say, our company is sold on AMSOIL products."