Premium Protection 15W-40 Diesel and Marine High Zinc Oil
Editors Note:  Once "Considered AMSOIL's best selling oil" Although this is not for 2008 and newer CJ-4 rated diesels which have the diesel particulate filter systems installed, it's still a major seller for all others considering it's ability to keep an engine clean, hold it's viscosity for extended intervals and prevents wear with it's unique high zinc additive package. It's an easy choice for all older diesels and a fleet option for heavy duty use. Choose AMSOIL Synthetic 15W-40 Diesel and Marine.
Update 10/19/19 – Locally in my own shop I have consolidated the demand for this and several other oils into one excellent choice. Consider the AMO 10W-40. It's a step up from the 15W-40 in several aspects. Better cold starts, same viscosity but the best base stocks. Also great for older tractors, lawn equipment and vintage cars.  Follow the link or the list of products at the bottom of this page for more info.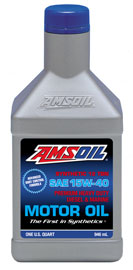 Buy & Pricing
Diesel Oil PRODUCT DESCRIPTION
AMSOIL Synthetic Heavy Duty Diesel & Marine Motor Oil is a premium diesel oil that provides excellent performance in all types of diesel engines where highly effective control of wear and deposits is vital. Engineered with heavy-duty dispersant/detergent additives, its Total Base Number (TBN) of 12 neutralizes acids and controls soot thickening from exhaust gas recirculation (EGR) and blow-by to protect against corrosion, cylinder bore polishing (wear), varnish and sludge deposits. AMSOIL 15W-40 Diesel Oil resists heat and breakdown better than conventional petroleum oils for long-lasting performance and protection.
AMSOIL, the leader in automotive synthetic lubrication, produced the world's first API qualified synthetic motor oil in 1972. Trust the extensive experience of AMSOIL The First in Synthetics® to do the best job protecting your engine.
Extends Drain Intervals
AMSOIL Synthetic 15W-40 Heavy Duty Diesel & Marine Motor Oil can extend drain intervals far beyond those recommended for conventional petroleum oils. Its unique synthetic formulation and long-drain additive chemistry deliver maximum engine protection, cleanliness and performance over extended drain intervals, reducing vehicle maintenance and waste-oil disposal costs.
Controls Soot and Wear
AMSOIL Synthetic 15W-40 Heavy Duty Diesel & Marine Motor Oil is heavily fortified with detergent/dispersant additives and is naturally resistant to soot. It is designed to keep soot particles suspended independently and prevent them from aggregating to form larger, wear-causing particles. Viscosity increase is minimized and soot-related wear is reduced.
Reduces Oil Consumption and Emissions
AMSOIL Synthetic 15W-40 Diesel & Marine Motor Oil has lower volatility than conventional petroleum oils. Oil consumption and emissions are minimized due to less vapor passing into the combustion chamber. Lower volatility helps AMSOIL 15W-40 Diesel Oil retain its viscosity after high-temperature service for continued dependable protection.
Excellent Cold-Flow Properties
AMSOIL Synthetic 15W-40 Diesel and Marine Oil eases cold-weather starting (down to -44°F) and provides vital startup lubrication to help prevent engine wear. AMSOIL Synthetic Heavy Duty Diesel Oil outperforms conventional 15W-40 petroleum oils and minimizes the impact of cold-weather operation.
APPLICATIONS
AMSOIL 15W-40 Synthetic Heavy Duty Diesel & Marine Motor Oil is engineered for use in a wide variety of light- and heavy-duty applications, including over-the-road trucks, off-road construction, marine engines, farm equipment, mining, industrial (pumps& generators) and personal automotive or commercial transportation. It is excellent for use with low- or high-sulfur diesel fuels in standard, turbocharged or supercharged engines, including diesels equipped with EGR systems.
AMSOIL Synthetic Heavy Duty Diesel & Marine Motor Oil is recommended for diesel engines, gasoline engines and other applications that require any of the following specifications:
SAE 15W-40
API CI-4+/CI-4/CH-4/CF/CF-2/SL/SJ
ACEA A3/B3, E2, E3, E5, E7
Global DHD-1
JASO DH-1
Mack EO-M, EO-N
DDC 93K214
Caterpillar ECF-1A, ECF-2
Cummins CES 20076, 20077, 20078
Volvo VDS-2, VDS-3
MB 228.1, 228.3, 229.1
MAN 271, 3275
MTU Type II
COMPATIBILITY
AMSOIL Synthetic Heavy Duty Diesel and Marine Oil is compatible with conventional and synthetic motor oils. Mixing AMSOIL motor oils with other oils, however, will shorten the oil life expectancy and reduce the performance benefits.
AMSOIL does not support extended drain intervals where oils have been mixed.
Aftermarket oil additives are not recommended for use with AMSOIL motor oils.
SERVICE LIFE
AMSOIL Synthetic Heavy Duty Diesel and Marine Motor Oil is recommended for extended drain intervals in unmodified, mechanically-sound vehicles or equipment as follows:
Diesel Engine Service
Three times (3X) OEM* recommendation, not to exceed 50,000 miles/600 hours or one year, whichever comes first. Drain intervals may be extended further with oil analysis.
Gasoline Engine Service
Two times (2X) OEM* recommendation, not to exceed 15,000 miles or one year, whichever comes first.
*Operating conditions and drain intervals for severe and normal service are defined by the OEM. Refer to your owner's manual.
Note: Extended drain intervals are not recommended when using biofuels containing >10% ethanol or 5% biodiesel (B5). Follow OEM drain intervals or extend drain intervals with oil analysis.
Buy & Pricing
TYPICAL TECHNICAL PROPERTIES AMSOIL Synthetic SAE 15W-40 Heavy-Duty Diesel and Marine Motor Oil (AME)
Kinematic Viscosity @ 100°C, cSt (ASTM D445)
14.5
Kinematic Viscosity @ 40°C, cSt (ASTM D445)
98.4
Viscosity Index (ASTM D2270)
153
CCS Viscosity @ -30°C, cP (ASTM D5293)
4892
Flash Point °C (°F) (ASTM D92)
240 (464)
Fire Point °C (°F) (ASTM D92)
250 (482)
Pour Point °C (°F) (ASTM D97)
-40 (-40)
NOACK Volatility, % weight loss (g/100g) (ASTM D5800)
6.6
Four-Ball Wear Test @ 40 kgf, 75ºC,
1200 rpm, 1 hr, scar diameter, mm (ASTM D4172)
0.35
Total Base Number (ASTM D2896)
12.1
High-Temperature/High-Shear Viscosity (ASTM D-5481 @ 150ºC, 1.0 x 106 S-1), cP
4.22
Sulfated Ash Content, wt. %
1.0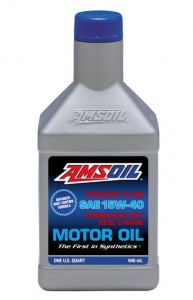 ---
In October 2012, we brought you the story of his one-million-mile-plus Kenworth. The Woodhull, Ill., native installed AMSOIL synthetic lubricants when he bought the truck new in 1999. After reaching 1.6 million miles on the original transmission and differentials and 1.1 million miles on the factory-rebuilt engine in 2012, Pruett has since eclipsed 2 million miles and shows no signs of slowing down.

The truck, which Pruett uses to haul freight predominantly around the Midwest, has required little maintenance since 2012. In November of that year, Pruett did finally need to replace the fuel injectors. "The spray pattern on the pistons was still good," he said. "The springs must have weakened over time. Other than that, there was nothing wrong with them." All six injectors lasted 1.1 million miles, which Pruett attributes to continuous use of AMSOIL Diesel Injector Clean.
Since he was replacing the head gasket anyway, Pruett elected to replace the entire cylinder head to expedite replacement of the injector cups. Other than the head and a new water pump, the engine has required no work in the intervening years. "It keeps humming along," Pruett said. The turbocharger is still original. Pruett runs AMSOIL 15W-40 Synthetic Heavy Duty Diesel and Marine Oil. He also uses an AMSOIL DUAL-GARD® Oil Filtration System and changes oil approximately every 100,000 miles, which saves him significant money. And, the differentials and transmission are still original after 2 million miles.
The people with whom he shares his story still have a tough time believing it. "They shake their heads in disbelief," Pruett said. "They think, 'No way can you have that many miles on a truck.' And I only change oil once a year."
Now 64 years old, Pruett doubts he'll be working long enough to see 3 million miles. He hopes to spend more time pursuing his AMSOIL Dealership – and he has a great testimonial for everyone he meets along the way.
"I'm not only an AMSOIL Dealer, I'm an AMSOIL user and abuser," Pruett said. "I won't use anything else."
---
Comments about SAE 15W-40 Heavy-Duty Diesel and Marine Oil
Great lube. Have used in gas and diesel motorhomes
Oil that makes engines last a lifetime
I have been running this oil for seven years. I ran it in a fleet of 125 Generators, 25 Loaders, and 40 Kenworth semis. I never once in 3 years had an engine failure. These pieces of equipment ran around the clock in the oil fields. Our generators would run 26,000 Hours before we would bring them in for a rebuild. We would take them out of service for a rebuild, the engines never failed. I would reccomend this product to anyone and I would put it against any other oil on the market. I run it in all my personal vehicles and engines. I will be an amsoil customer for life.
Comments about SAE 15W-40 Heavy-Duty Diesel and Marine Oil
I've used this product in my '98 Dodge 3500 Diesel 4×4 for 18 years. It has worked excellent for me the whole time. I've tried other products before I tried Amsoil and they failed excessive heat and caused my truck to clatter. Amsoil works flawlessly for extended drain interval and for storage. I plan to continue Amsoil products in the near and distant future exclusively.
Comments about SAE 15W-40 Heavy-Duty Diesel and Marine Oil
Great oil, I have been running this in my 2500 4×4 dodge diesel for 10 plus years. 302,000 miles on it. Also use it in my Kubota Tractor, run it for 15,000 miles per oil change, change oil filter at 7500. I have sent the oil to lab several times, after 15,000 miles running time, oil always comes back good, never breaks down, good product,