Cleans and Protects
Diesel Injector Clean is formulated to clean both the tough-to-remove internal diesel injector deposits surfacing in modern high-pressure common-rail diesel engines and traditional carbonaceous deposits. Diesel Injector Clean delivers confidence in your diesel's performance. Its concentrated formula uses unique chemistry to target and eliminate specific performance issues, maximizing diesel power.
Helps Restore Horsepower & Improve Fuel Economy

Fuel injector deposits interrupt spray patterns, causing poor fuel atomization, incomplete combustion, excessive emissions and smoke. High-pressure common-rail fuel systems are becoming commonplace as vehicle manufacturers attempt to produce more power while still meeting tightening emissions standards. In high-pressure common-rail systems, injection pressures can be 30,000 psi and higher to atomize the fuel into a fine mist for more efficient combustion, yielding increased power and fuel economy while reducing emissions. To maintain these high pressures, injector assemblies are highly engineered, with clearances as tight as 1-3 microns (a human hair is typically 70-100 microns thick). Even minimal internal diesel injector deposits on the injector pintal or other components can lead to sticking and even seizure, reducing power, fuel economy and operability. Traditional additive chemistry is not designed to address these tough-to-remove deposits.
Download Product Data Bulletin
Diesel Injector Clean features advanced chemistry that delivers concentrated strength to target internal diesel injector deposits and traditional carbonaceous deposits, helping to restore horsepower and operability to like-new condition. Acceleration is improved and, with regular use, Diesel Injector Clean continues to enhance performance by keeping injectors clean. The net savings on fuel can result in no additional cost of ownership.
Lubricates Fuel Pump & Injectors to Reduce Wear
Ultra-low-sulfur diesel fuel (ULSD) provides significantly reduced lubricity – a critical property in controlling wear in fuel pumps and injectors. Diesel Injector Clean adds back the lubricity the fuel pump and injectors need, reducing wear, improving service life and saving time and money on maintenance costs.
Cleans dirty injectors
Lubricates pumps and injectors to reduce wear
Extends fuel-filter life
Improves fuel economy up to 8%
Restores power and torque
Reduces smoke and emissions
Helps prolong time between EGR and DPF regenerations
Combats fuel-system corrosion
Reduces downtime and maintenance costs
Safe for use in all diesel fuels, including biodiesel
Alcohol-free
Minimizes Soot-Loading
Diesel Injector Clean's powerful formula cleans fuel injectors and piston rings for improved combustion and better sealing. It minimizes soot generated from incomplete combustion and helps keep soot out of the crankcase, reducing soot-related wear and engine oil viscosity increase.
Separates Fuel and Water
Diesel Injector Clean is an alcohol-free product that protects fuel systems against water contamination. It helps prevent fuel/water emulsions so that separating filters can safely remove water before it reaches the injectors, where it can cause corrosion. Water can be drained easier, ensuring drivability.
Extends Filter Life
Modern diesel engines run hot, raising the temperature of the fuel returned to the tank and causing carbonaceous deposits that collect in the fuel filter (see picture), plugging it and causing premature failure issues. AMSOIL Diesel Injector Clean effectively protects against deposits, extending fuel filter life.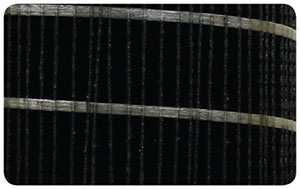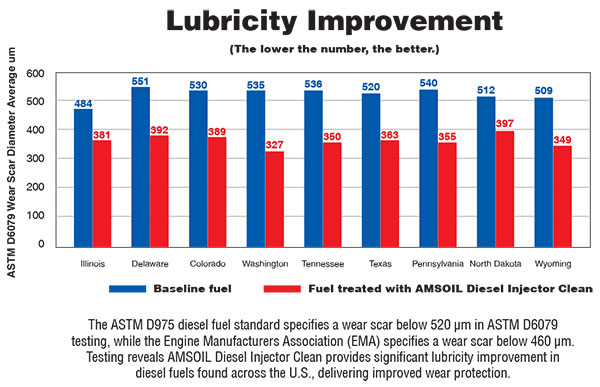 RECOMMENDATIONS
Diesel Injector Clean is recommended for use with all types of heavy- and light-duty, on- or off-road and marine diesel engines. For initial use, follow the Clean-Up recommendation; use Maintenance dose for regular treatment. Use with every tank of fuel for best performance and protection against fuel-pump wear, injector wear and injector deposits. Compatible with all types of exhaust emission systems, including diesel particulate filters (DPFs). Add to fuel before storage. Excellent for use with AMSOIL Diesel Cetane Boost and AMSOIL Diesel Cold Flow.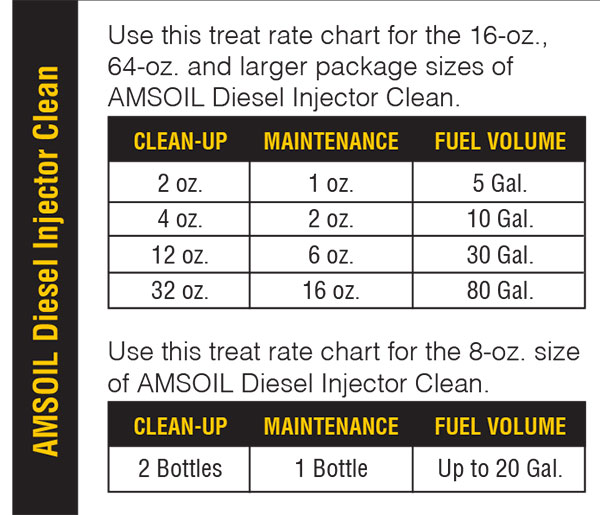 AMSOIL PRODUCT WARRANTY
AMSOIL products are backed by a Limited Liability Warranty. For complete information visit AMSOIL Warranty Information.
| | |
| --- | --- |
| High-Pressure Common-Rail Fuel Injector Pintle | Traditional Fuel Injector Pintle |
Fuel injectors in high-pressure common-rail diesel engines use smaller, highly engineered components to produce the higher fuel pressures needed for improved combustion. The tighter clearances invite internal diesel injector deposits that interfere with injector needle actuation, reducing performance. External deposits can also form on the injector nozzle (the typical trouble spot for traditional injectors). While many other fuel additives have yet to catch up to the internal diesel injector deposit problem, AMSOIL Diesel Injector Clean targets deposits wherever they form, maximizing power, fuel economy and performance in high-pressure common-rail and traditional diesel engines.
————————————————————
Mechanical engineer Mark Nyholm is a diesel enthusiast who is truly happy to have found a career working with something he loves. Mark is Technical Product Manager – Heavy Duty here at AMSOIL, a position for which he is well-suited being technically and process oriented as he is.
Before arriving here he had experience in automotive design, aerospace design and medical device equipment design. Having so much on the line spurs him on to pay attention to the most finite of details. "And in the end," he says, "I always want to know why." Why did this happen and not that? Here at AMSOIL he drives his department to dig into the nitty gritty and provide solutions with lasting benefits for customers.
In addition to managing our diesel oil line, Mark helps develop best-in-class diesel fuel additives. One of these is AMSOIL Diesel Injector Clean, a product he's always available to talk about.
AMSOIL: Why is this product important?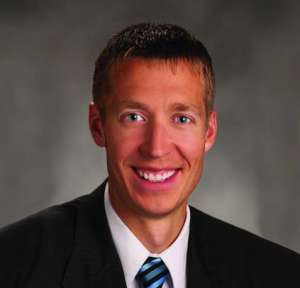 Mark Nyholm: Diesel Injector Clean is a must-have product for diesel-burning engines for two very important reasons: 1) Ultra-low-sulfur-diesel (ULSD) fuel needs additional lubricity to help protect the fuel pump and injectors from wear. 2) Direct injection diesel engines suffer from deposit formation on the injector nozzles and now on common rail engines deposits form inside the injectors. Diesel fuel alone cannot stop these deposits from forming which is why our diesel injector clean is properly formulated to remove deposits and keep your injectors and combustion chambers clean.
AMSOIL: How and why do deposits form on injectors?
MN: Most diesel engines these days are direct-injected, which means the injector is partially inside the combustion chamber. When fuel is burned, there is very little chance it can burn absolutely completely. Partial burn of the fuel can lead to deposit formation in the combustion chamber and on the injector nozzle. Due to the design of the common rail injector, deposits now have been found inside the injector which can affect injector performance.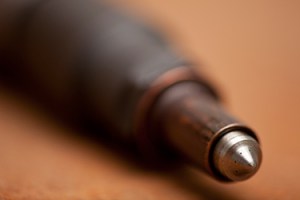 AMSOIL: What happens if you do not clean your injectors from time to time?
MN: Injectors that do not receive a maintenance dose of Diesel Injector Clean will build enough deposits plug nozzle spray holes and disrupt the spray pattern of the injector. All of these deposits end up reducing the performance of the injector and engine output. Ultimately, this can lead to component replacement or engine failure.
AMSOIL: What is the material that ends up deposited on injectors?
MN: The deposits that form on the nozzle are carbonaceous in nature. These are deposits of unburned fuel. The deposits that form inside the injector are called internal diesel injector deposits (IDID). These deposits are of a different form, typically a waxy deposit that forms on the inside of the injector.
AMSOIL: What is a high-pressure common-rail (HPCR) fuel system?
MN: An HPCR fuel system consists of a high-pressure fuel pump, a fuel rail or common rail and individual lines that feed the injectors. The high-pressure pump provides the pressure required by the engine, and the common rail provides a constant supply of high-pressure fuel to supply the injectors can pull from.
AMSOIL: Why have high-pressure common-rail fuel systems become the norm in today's diesel engines?
MN: The HPCR system is becoming widespread common these days due to its capability to provide high-pressure fuel to injectors that can fire multiple times per combustion cycle. This technology is responsible for today's diesel engine sounding quieter, producing more power, using less fuel and  producing fewer emissions.
AMSOIL: What else would you especially like people to know about this product?
MN: Buy it. It's the best on the market. Seriously though, our product is concentrated to provide customers an immediate to near immediate difference. We formulate our product with the best performance in mind to protect the engine and provide long lasting reliability from your investment.
Customer Comments:
Jack Sandow, CEO "Aquatic Research South" Waycross GA
By Jack 1/1/2017
from undisclosed
I never fail to add the appropriate amount of Injector Cleaner to my diesel fuel in my 2001 Powerstroke 7.3L Diesel truck ALONG with Cetane Booster to keep it running like new !!! Fabulous products particularly down here in the humid southeast !!
---
Prevention rather than repair
By Bruce 1/18/2017
from Bristol, Indiana
I have used the Diesel injector cleaner on my 2005 Duramax with every fillup since I purchased it with 116,000 miles on it. I now 185,000 miles on it pulling a 35 ft Fifthwheel RV and have spent over 6 months pulling it over mountains and thru high plains they last three years. My injectors have yet to fail me and I attribute it to my use of this product. When I purchased the truck I changed all the engine and drive train fluids over to Amsoil. Nothing but the best for our Duramax.
Bottom Line
Yes, I would recommend this to a friend
Great product! Performs as advertised.
By Tim 12/26/2012
from undisclosed
Have used this for years in diesel pickups (RAM Cummins), as well as Volkswagen diesels. Added at each fill-up. Kept everything running smoothly and clean. Just bought a diesel motorhome. That's next!
---