Which Snowmobile Oil Should I Use: AMSOIL INTERCEPTOR® or DOMINATOR®?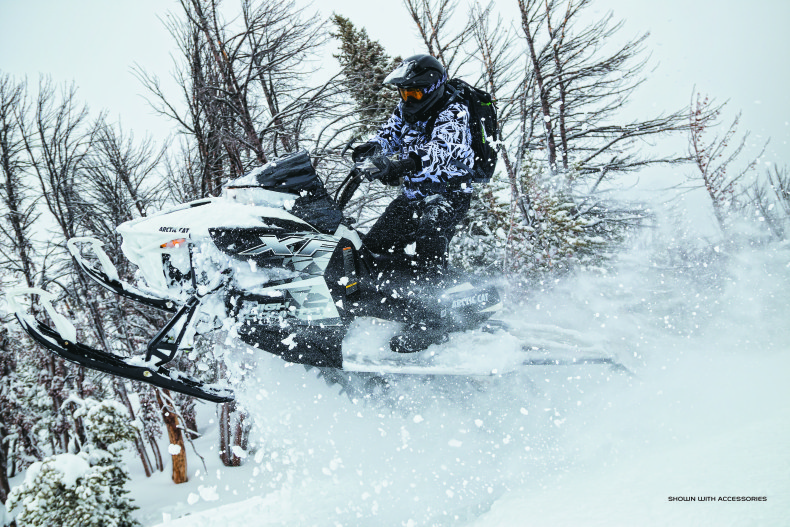 Snow has finally arrived. Your snowmobile should be prepped and ready to hit the trail or carve the mountainside.
One question we get a lot around here is, "Should I use AMSOIL INTERCEPTOR Synthetic 2-Stroke Oil or DOMINATOR Synthetic 2-Stroke Racing Oil in my sled?"
What kind of sled are you riding?
First, we need to know about your snowmobile. Newer high-performance sleds, like the Ski-Doo E-TEC or Arctic Cat C-TEC2, are designed differently than their predecessors. The government dislikes excessive exhaust emissions, so it's introduced regulations to curb emissions from two-stroke motors.
Sled manufacturers have responded by designing engines that use less oil than engines built a few years ago. On many newer sleds, the on-board computer can adjust the fuel/oil ratio on the fly, depending on riding conditions, allowing sled makers to tune their engines to produce fewer emissions.
In one promotional video, Arctic Cat says its C-TEC2 engine can operate on ratios as high as 65:1, depending on conditions.
Less oil = more heat (and potential for wear)
While burning less oil helps satisfy the need to curb emissions, it also creates excess engine heat. If you know anything about engines, you know that high heat is detrimental. It robs the engine of efficiency – meaning you can't ride as hard – and can cause piston expansion, which leads to wear. This means owners of high-performance sleds are asking less oil to do more work. The oil had better be up to the challenge lest you grenade your $12,000 sled.
Have you modified the engine?
Most riders find their stock sleds' power and performance adequate to fire their adrenal glands. But some riders want more. Carburetor, clutch, piping and other modifications can boost power to deliver an extra does of excitement.
However, it also increases engine heat and stress. Again, the oil bears the brunt of your need for more power and speed.
What are you doing with the sled?
We've all pinned the throttle across a lake or down a straightaway on the trail. But sanctioned racing is far different. If you ride a racing or competition sled, once again you're placing more stress on the engine and you're asking the oil to handle conditions most riders never throw at their snowmobiles.
Bottom line…
If you're a hardcore rider and you own a high-performance sled, use AMSOIL INTERCEPTOR Synthetic 2-Stroke Oil.
• Outstanding engine protection
• Best engine and exhaust valve cleanliness
• Best cold-flow
INTERCEPTOR is our best all-around snowmobile oil. It does everything a snowmobile oil needs to do, and does it well. As a bonus, it's often less expensive that snowmobile-manufacturer-branded oils.
If you own a racing or modified sled, use AMSOIL DOMINATOR Synthetic 2-Stroke Racing Oil.
• Purpose-built for racers
• Extra protection for modified sleds
• Maximizes power
DOMINATOR is formulated with heavier base oils to protect bearings, pistons and other components from the rigors of high-performance riding. Its emphasis on wear protection means it doesn't guard against power-valve sticking as well as INTERCEPTOR.
I'll throw another option at you: AMSOIL Synthetic 2-Stroke Injector Oil. It's perfect for casual riders and those seeking the convenience of one oil for year-round use in their snowmobiles and two-stroke outboard motors.
Whichever oil you choose for your snowmobile, here's to a safe and fun winter with plenty of snow.
Next: Best of the Midwest: Snowmobile Destinations You Should Experience at Least Once