DOMINATOR Synthetic Injector Oil 2-Stroke Racing Oil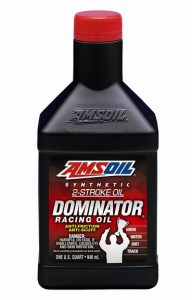 The official injector oil the pros use.  We have just about every 2-cycle application using this as you will read in the reviews. I have a number of customers using this for everything out of the convivence of having one product. Yes, lawn equipment too..  Just be sure you only use it  where the spec matches.. In other words – not made for most (but OK for some**) outboard marine applications. We have several others for that but let's skip right to the applications. Any updates can always be seen on this data sheet link which stays updated.
Dominator Two Stroke Applications
DOMINATOR injector oil is for use in high-performance stock or modified two-cycle engines. Everything from air or liquidcooled snowmobiles, personal watercraft, motostrokes (moto X), ATVs, dirt bikes, go-carts and outboard motors**. Good for use with coated or non-coated pistons, high-octane racing fuels and exhaust power valves. Compatible with most other two-stroke oils; however, mixing oils should be minimized to retain the boost and performance merits of this one.
Use in oil-injected as well as pre-mix applications where API TC oils are required. In pre-mix applications, DOMINATOR works awesomely. Simply use at 50:1 (2.6 oz. oil per U.S. gallon of gas). Often a guy may choose to  modify the mix ratio to suit their setup. Try several ratios to see what works for you. Not suitable for use with alcohol or nitro-methane fuels.
Buy & Pricing
Race-Proven Benefits
Excellent film strength for high heat, high-rpm motors
Anti-friction formula for maximum power
Burns clean; helps prevent ring sticking and plug fouling
Protects coated and non-coated racing pistons
Performance Page: Check out our new performance page!!
Excellent Lubricity and Film Strength
High-performance and race-designed two-stroke engines operate under severe conditions. They are modified for higher compression ratios, higher rpm and leaner combustion, all of which increase heat and pressure. The secrete here at AMSOIL is our blend of oils which can withstand this intense heat preventing the rapid piston expansion, decreasing piston-to-cylinder wall clearances which result in piston scuffing and seizure. High pressure can exceed the film strength of the expensive OEM low-viscosity oils, which promotes crankshaft bearing wear and pitting.
DOMINATOR is purpose-built for outstanding film strength and lubricity. So it is engineered with carefully selected, higher-viscosity synthetic base oils to withstand the high heat and pressure common to racing applications. DOMINATOR's anti-friction chemistry is race-proven so it provides an extra measure of protection against piston scuffing and bearing wear. There's nothing like it on the market.
Dominator Injector Oil provides Outstanding Cleanliness
The oil and fuel burned in the two-cycle combustion process leave wear causing deposits in the combustion chamber. Excessive deposits will lead to catastrophic engine problems thus your rings stick and your exhaust ports get all clogged up. Then you have pre-ignition. (Use Amsoil Quick-shot to clean that up)
AMSOIL DOMINATOR is formulated with clean-burning synthetic base oils and powerful high-temperature detergent additives for exceptional deposit control. It helps prevent the power-robbing carbon deposits that cause ring sticking, exhaust port blocking and pre-ignition. AMSOIL DOMINATOR is optimized for severe service.
RACING IS RESEARCH™
AMSOIL disassembled the Rotax® motor from Scheuring Speed Sports. Here's the Ski-Doo® race snowmobile ridden by Robbie Malinoski during a earlier snocross tour. Both pistons revealed minimal wear and were suitable for continued use. AMSOIL DOMINATOR delivered outstanding protection for Malinoski's Ski-Doo in the most severe environment.

Updates – more engine results in crazy conditions: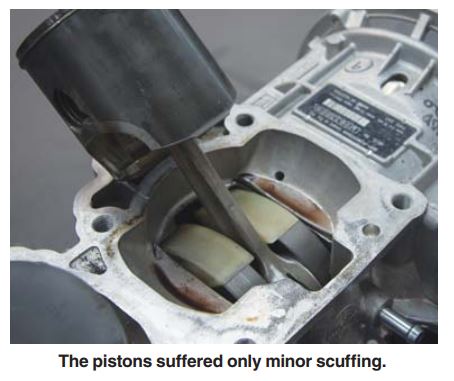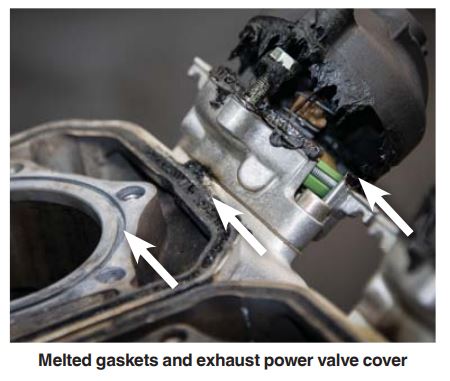 Note: We recently had a vintage Vespa scooter try Dominator 2-Stoke Racing Oil which he commented he reached an additional 5 MPH never attained before!!
Mazda Rotary Engines
This is also the oil our Mazda RX7 & RX8 customers mix with the gas to provide the needed lubrication within the rotary seals and prevent troublesome deposits. 
Buy & Pricing
HEALTH & SAFETY
This product is not expected to cause health concerns when used for the intended application. Here's the Material Safety Data Sheet (MSDS). An MSDS is available via the Internet at www.amsoil.com or upon request at (715) 392-7101. Keep Out of Reach of Children. Don't pollute. Return used oil to collection centers.
For warranty information, visit www.amsoil.com/warranty.aspx.
** – Outboard note: Not suitable for long-term use in outboard motors as a TC-W3-type oil, although excellent as a race oil for short-term use where motors are periodically inspected
Reviews
Hands Down the Ultimate 2T Injector Oil
By  Mike K,  a  Verified Buyer  from  New Jersey  on  August 13, 2021
Dominator has been my oil of choice for over 6 years since switching back to two stroke motorcycles. I put about 125 hours per season on my motorcycle between racing and riding before performing a yearly rebuild. Using Amsoil Dominator the topend of my bikes are always in spec after tearing them down with less blow by and carbon build up compared to the other oils I have used. Up to this point I have not experienced any motor failures while running Dominator and I am confident based on my research and observations it is the top two stroke oil on the market today.
I am very pleased
By  DUSTIN,  a  Verified Buyer  on  March 24, 2021
I was hesitant to run 50:1 oil in my son's yz65 but I'm very happy with it. I've not had any problems with it fouling plugs and the performance seems to be great.
Best Oil
By  RONALD,  a  Verified Buyer  from  14560  on  April 06, 2021
Your oil is used in our 4 sleds. I find that it is better than the brand oil and the more expensive oil from the dealer. Great product.
Dominator Racing 2-stroke oil.
By  ANTHONY,  a  Verified Buyer  from  MidWest, USA  on  April 19, 2021
I am using this injectoir oil in a high reving (15k+), small single cylinder engine. You can tell straight away when you poor the oil it's of high quality! As for results, they are indeed promising butbits early days really as I haven't put much through the engine. Due to the high rpm I am running the engine. I am using 35:1 ratio and not the 50:1 which Dominator recommend at present. No issues at all and as said previously. Very promising!
This is good stuff!
By  RODERICK,  a  Verified Buyer  from  70506  on  January 04, 2021
i have used this oil as well as the predecessor -Interceptor- in this air cooled engine for many years now. Low smoke, little residual oil in the exhaust and lower temps. Easier on the plugs because of less fouling and carbon. Works great, really slick stuff. only drawback is hard to seat new rings.