AMSOIL Power Foam Upper Intake Cleaner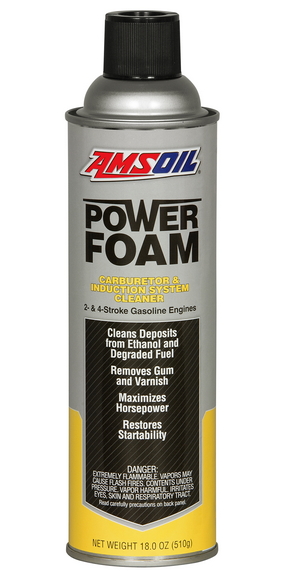 Amazing dual purpose product restores proper fuel flow and combustion. Often compared to Sea-Foam but ours actually foams.
Restore proper combustion and intake valve efficiency. Great for carbureted and fuel injected 2 and 4-cycle engines. (Fuel injected engines which are not of the GDI type or injectors after the valves).
Restores power and throttle response.
AMSOIL Power Foam® (APF) improves engine performance by removing gum, varnish and carbon deposits that affect power, operation, idle and fuel economy. Power Foam cleans intake valves, intake manifolds and throttle plates to keep the combustion intake system running at peak efficiency. Effective in both two and four-stroke gasoline engines, Power Foam helps reduce engine ping and keeps carburetors and injector systems operating like new.
Major WOW factor so much that you can find frequent "Youtube" videos from customers on this one.
Package sizes include:
18-oz. Spray Can
18-oz. Spray Can Case (12 units)
Buy & Pricing
Call 800-579-0580 for competitive current price.
Or use the online preferred customer portal if you choose to order online.
Printable Product Data Sheet for AMSOIL Engine Degreaser Intake Foam Cleaner. (for 2 and 4 cycle engines)
**NOT AVAILABLE IN CALIFORNIA**NOT AVAILABLE IN CANADA
Power Foam is safe for fuel injectors, catalytic converters and emissions-control devices. It will not damage seals, gaskets, rubber or plastic materials commonly used in gasoline engines.
Performance Features
Cleans deposits from ethanol and degraded fuel
Removes gum and varnish
Maximizes horsepower
Restores startability
Helps improve fuel economy
Reduces pollution
Applications
UTVs/ATVs
Boats
Motorcycles
Lawn equipment
Tractors
Automobiles
Directions
Protect painted surfaces and mass airflow sensors (MAF) from spray.
Ensure application is in a well-ventilated area.
Run engine to normal operating temperature and remove air cleaner assembly.
While engine is running, spray foam directly into throttle body as fast as possible without stalling engine. It is common to have to rev the engine above idle to facilitate this process.
Shut off engine and allow to sit for 10-15 minutes.
Replace air cleaner.
Restart engine. Repeat application of Power Foam as needed.
In extreme cases, disassemble carburetor and soak parts.
How to spray
On the top of the can there is a white cap control. When you press down on the control with your finger the chemical will be released due to high pressure in the cylinder. This allows you to apply this cleaner without external compressors or hose. This is also known as a aerosol can.  Please make certain the output port is not pointing at any individual.
Recommendations
Avoid contact with hoses and exterior plastic components. To prevent the dissolving of paint, do not overspray. Clean any overspray immediately to prevent unintentional component damage. AMSOIL Power Foam is not recommended for use in diesel engines or as a general-purpose degreaser.
Powerfoam Product Availability
It's available from all warehouses and local dealers in 18-ounce spray cans.
Power Foam PRODUCT WARRANTY
All AMSOIL products are backed by a Limited Liability Warranty. For complete information visit www.amsoil.com/warranty.aspx.
HEALTH & SAFETY
This product is not expected to cause health concerns when used for the intended applications and according to the recommendations in the Safety Data Sheet (SDS). An SDS is available online at www.amsoil.com or upon request at (715) 392-7101. Keep Out of Reach of Children. Recycle used oil and bottle.
Want to feel better throttle response? Try Amsoil Power Foam!
Restores Drivetrain Operation to Like New
Effective in both two-cycle and four-cycle engines, AMSOIL Power Foam eliminates engine ping and keeps carburetors and injector systems properly tuned. AMSOIL Power Foam is safe for fuel injectors, catalytic converters and emission control devices. It will not damage seals, gaskets, rubber or plastic materials commonly used in gasoline engines.
AMSOIL Power Foam contains a powerful foaming agent and special high boiling solvents that penetrate rust and grease. It cuts through rust so bolts can be loosened or tightened easily and washes clean, leaving no residue to attract dirt. Power Foam also helps reduce pollution caused by dirty, rough-running engines.
Generally one 18 ounce can will treat a bit more than one V8 engine or two 4-cylinder engines. Very effective at restoring throttle response instantly. The foaming action when sprayed into the intake evenly distributes across intake passages with the air. Keeping the idle speed as low as possible w/o stalling the engine allows the product to saturate all surface areas and valves completely.
Performance Features and Benefits:
Removes gum, varnish and carbon deposits
Suppresses engine ping
Cuts through rust and grease
Helps improves fuel economy
Reduces Pollution
Frees stuck choke mechanism
Lower cost than products such as Sea Foam and Gunk products
Many call this the Direct Fuel Injection Valve cleaner. Gas tank injector cleaners do not reach the valves when the vehicle has direct injection. Power Foam solves this problem. Removes carbon from the top side of the intake vales and restores performance!
I've been using this product regularly since 1997. From prepping cars for shows, restoring throttle response after a long day of racing, restoring performance after harsh winter warm-up idling to making engines easier to work on by removing grime from exterior.
This is the one non-oil product which sells by the case. Every family member will thank you for Power Foam!
DIRECTIONS
Run engine to normal operating temperature and remove air cleaner assembly. While engine is running, spray entire can of foam directly into intake. Turn off engine and allow to sit for 5-10 minutes. Restart engine and drive to blow out deposits.
RECOMMENDATIONS
Avoid contact with hoses. To prevent the dissolving of paint, do not overspray. AMSOIL Power Foam is not recommended for use in diesel engines.
NOTE: Not to be used with vehicles that have MAF sensors. Call us for advice – There is a procedure to do this correctly bypassing the sensor w/o the computer stalling the engine. Never spray PowerFoam into intake systems which pass through mass air flow sensors!! Call 800-579-0580 for clarification.
We are often asked how this compares to Sea Foam products. To answer that correctly with AMSOIL you do get more for your dollar but AMSOIL products are more for specific uses where as Seafoam sells a product for intake, fuel and crankcase – AMSOIL has stood by the policy that you should NEVER add any product to your motor oil then put a load on the engine.
Power Foam Needs To Be in Every Customers First Order
Amsoil Power Foam is actually a Foam spray which will not contaminate other fluids in your engine. Unless of course it's a small engine w/o a oil filter and small sump – then you would want to drain due to increased infusion of chemicals.
For intake systems only use directly into the throttle bodies or carburetors. Do not spray through plastic intake systems common to newer cars. Either spray in through the first vacuum port (ported vacuum) or remove the intake tube. If the air flow sensor prevents the engine from running then have someone only slightly open a gap in the intake hose while you spray into the intake using the attached tube. Call us for more advice or questions. We will provide a short video on this subject soon.
This is one product which should be added on to every case of oil bought as it has so many uses to a good mechanic or someone wanting to keep their engines in top operating condition. Add AMSOIL Power Foam to your purchase of our state of the art lubricants using a Preferred Customer wholesale buying account and say good by to multiple trips to the retail mark-up of the autoparts stores.
Another great application would be to restore the performance of a used vehicle you just bought. Not knowing the history of service, AMSOIL Power Foam will start returning the intake and valves to like new or better more efficient condition than they were before. We have been selling this product to various Corvair enthusiasts and some Lincoln Continental club members who often make drivers from cars which have sat for many years.
Let AMSOIL power Foam put the fuel system back to efficient flow conditions.
---
Other Products to prep, clean, store and protect engines:
Amsoil Engine Flush
Amsoil Fogging Spray
Metal Protector
Performance Improver Gasoline Treatment
AMSOIL Quickshot Small Engine (SEMA product of the year)
Gasoline Stabilizer
Buy & Pricing
AMSOIL Power Foam Video
I'll make my own version but you get the basic idea here. They don't want to rev the car too high as you spray it in. Also after it sits for 15 minutes you want the engine to get HOT and under load so take it out on the highway – DO NOT just rev it in the driveway. Take it out immediately after the 15 minute sitting. I also keep spraying a couple seconds after someone cuts off the ignition.
Keep Your Engines Clean With AMSOIL Power Foam
My first car was a 1961 Mercury Meteor, which I got for $125 and drove for four years. I have a lot memories associated with that car. One memory has to do with a problem butterfly valve in my carburetor. Sometimes the engine would stall when I was idling at an intersection. When this happened I had to pop the hood and shove a screwdriver down the throat of the carburetor to hold the valve open so I could get it started again and head on down the road. I became very quick and efficient at jumping out of the car to deal with this.
The problem was a sticky valve that didn't open and close as it should have. The valve controls the air/fuel mixture that is essential for an internal-combustion engine to run. Had I known about AMSOIL Power Foam at the time, I would have used it to keep the valve clean so it wouldn't stick.
AMSOIL didn't exist when I was in school, but engines with carburetors continued to be sold up into the 1980s and I remember when Power Foam came in handy on my 1979 Pontiac. It's a great product for keeping some essential engine components clean so they can operate as designed.
Simple Cleanings Can Prevent Failures
Clean is always a good thing. It's good to eat with clean hands, and wise to wash (clean) your vegetables before you stew them. We brush our teeth after meals and floss routinely in order to keep teeth free of deposits and the buildup of plaque. Clean clothes smell fresh and make us more presentable. Clean air is fresher – and healthier – to breathe. When we get a cut or abrasion, we clean it to keep the wound from becoming infected. Clean is very good.
When it comes to cars, it's absolutely essential to keep them clean on the inside. A dirty engine runs less efficiently and can fail sooner. AMSOIL synthetic motor oils are one way to keep the inside of your engine running clean. They not only resist chemical breakdown and deposits, their detergency additives help clean pre-existing deposits that may have accumulated. But there are other areas your oil can't touch. Throttle plates and valve stems also need to be clean to operate properly.
Power Foam cleans gunk off the linkage and all the moving parts inside the intake system to free stuck choke mechanisms, remove gum, varnish and carbon deposits. The foaming action helps it stay in place to do its cleansing work, much like the lathering action in your shampoo cleans your hair better than a liquid that simply runs off your head.
(It should be noted that even though carburetors are a thing of the past, fuel injectors also need to be kept clean in order to operate efficiently. AMSOIL has products for this purpose as well: AMSOIL P.i. for gasoline engines and AMSOIL Diesel Injector Clean for diesels.)
Even though cars no longer have carburetors, they can still be found on marine engines, lawn mowers, rototillers and other equipment. Power Foam is great for both two-stroke and four-stroke gasoline engines. It will not damage seals, gaskets, rubber or plastic materials commonly used in gasoline engines.