AMSOIL's Power Foam reaches and effectively dissolves problem causing carbon deposits in your car's intake system with ease!
Use on all gasoline engines. Large and small, two stroke and four stroke.
Here's a blog entry by AMSOIL's own, Ed Newman: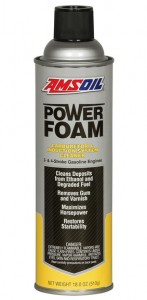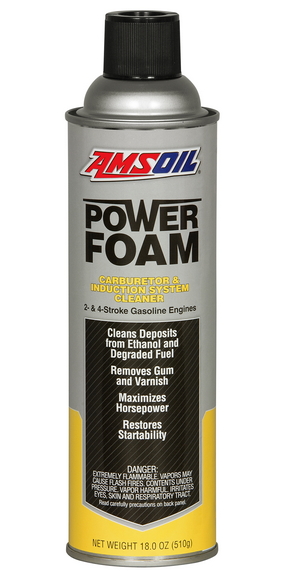 My first car was a 1961 Mercury Meteor, which I got for $125 and drove for four years. I have a lot memories associated with that car. One memory has to do with a problem butterfly valve in my carburetor. Sometimes the engine would stall when I was idling at an intersection. When this happened I had to pop the hood and shove a screwdriver down the throat of the carburetor to hold the valve open so I could get it started again and head on down the road. I became very quick and efficient at jumping out of the car to deal with this.
The problem was a sticky valve that didn't open and close as it should have. The valve controls the air/fuel mixture that is essential for an internal-combustion engine to run. Had I known aboutAMSOIL Power Foam at the time, I would have used it to keep the valve clean so it wouldn't stick.
AMSOIL didn't exist when I was in school, but engines with carburetors continued to be sold up into the 1980s and I remember when Power Foam came in handy on my 1979 Pontiac. It's a great product for keeping some essential engine components clean so they can operate as designed.
Clean is always a good thing. It's good to eat with clean hands, and wise to wash (clean) your vegetables before you stew them. We brush our teeth after meals and floss routinely in order to keep teeth free of deposits and the buildup of plaque. Clean clothes smell fresh and make us more presentable. Clean air is fresher – and healthier – to breathe. When we get a cut or abrasion, we clean it to keep the wound from becoming infected. Clean is very good.
When it comes to cars, it's nice to keep them looking good on the outside, but it's absolutely essential to keep them clean on the inside. I'm talking about the engine here. A dirty engine runs less efficiently and can fail sooner. AMSOIL synthetic motor oils are one way to keep the inside of your engine running clean. They not only resist chemical breakdown and deposits, their detergency additives help clean pre-existing deposits that may have accumulated. But there are other areas your oil can't touch. Throttle plates and valve stems also need to be clean to operate properly.
Power Foam cleans gunk off the linkage and all the moving parts inside the intake system to free stuck choke mechanisms, remove gum, varnish and carbon deposits. The foaming action helps it stay in place to do its cleansing work, much like the lathering action in your shampoo cleans your hair better than a liquid that simply runs off your head.
(It should be noted that even though carburetors are a thing of the past, fuel injectors also need to be kept clean in order to operate efficiently. AMSOIL has products for this purpose as well: AMSOIL P.i. for gasoline engines and AMSOIL Diesel Injector Clean for diesels.)
Even though cars no longer have carburetors, they can still be found on marine engines, lawn mowers, rototillers and other equipment. Power Foam is great for both two-stroke and four-stroke gasoline engines. It will not damage seals, gaskets, rubber or plastic materials commonly used in gasoline engines.
EdNote: For the fun of it, check out this commercial for my '61 Merc Meteor when it was introduced:
Synthetic Warehouse Omaha note: My most impressive use of Power Foam was on my grandma's 1978 Lincoln Continental. It did not accelerate smoothly. After running with the power foam in the driveway (full can for that V8) and letting it sit, I took it out on I-680 from the Maple St. exit to L street at full wide open throttle and man did that restore it's responsiveness!!
The reason it's not recommended for fuel injected units is because of the specifics that must be followed. Never use in Direct Injected engines but only those with injectors before the intake valves. So you can use it. It's just at your own risk and you must spray it in at the throttle body avoiding any sensors like the Mass air flow sensor or MAF. As the air flow needs to be flowing through the MAF for the engine to run, you must just slightly crack open the air intake hose at the throttle body without compromising the normal air flow. To do this you should use an extra pair of hands then have some one keep the gap you spray though minimal while you spray and hold the throttle at 1000 RPM. Never spray down the complete intake tube as this product is not designed for plastics used in air cleaners nor is there any way to flush out the residue.
I also used this this on my 1999 Mazda Miata which was used as a partial road race car. After several tanks of gas and the foolish use of a oil wetted gauze air filter at that time (I now know better), the intake was compromised with dirt and carbon. One use of the Power Foam or 1/2 a can on the small four cylinder Mazda gave immediate results!! Definitely look into using this product for all your highly abused cars and small equipment!
And for small engines be sure to ask your local Omaha Small Engine Shop or landscaping equipment center to stock this product. It is the one that restores performance in heavily used commercial 2-cycle and four stroke motors (blowers, hedge trimmers, weed-wackers, mowers and more). Especially where our 2-cycle oil was not used you need to clean up the deposits from run of the mill 2-stroke oil.