If I Have All-Season Tires Do I need Snow Tires?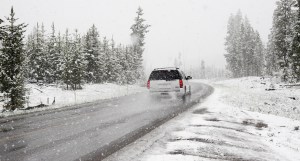 During my last post on preparing your vehicle for winter, one of the comments that came up was the use of snow tires. Of course if you're living in the desert or tropics, heavy snowfall is likely the least of your worries. But, if you're a winter road warrior, a set of snow tires can be beneficial. I drive a pickup, so I have the mindset of not needing them. However, even when I'm cranking it in four-wheel drive, I must admit there have been times when I've had to reconsider my life choices. Those four wheels are handy when accelerating, but for stopping power, they provide little value.
It all comes down to friction. With lubricants, the idea is often to minimize friction as much as possible. But with tires, more friction equals better traction, whether you're hitting the gas, cranking the wheel or slamming the brakes.
Here are a few key points on how snow tires can help you on slushy, snowy and icy roads:
The Right Tread Rubber: Extreme cold tends to stiffen rubber. Snow tires have a special blend of rubber that can stay soft and flexible in the cold, giving you better traction and control.
The Right Patterns: When you look at all-season tires, they tend to have a straight, even pattern. Snow tires have a deeper tread design that reroutes the snow and slush out of the treads, keeping water from building up. The treads also have biting edges with many slits that give you extra grip on slick roads.
The Right Investment: The initial cost of getting snow tires can be significant, depending on what you drive. Generally, you'll want to get all four for even performance and wear. Since you won't be using them year-round, they won't wear as fast. Tire companies will oftentimes guarantee their snow tires for around five years, allowing you to get the most value. It's a good investment in safety and helps keep your vehicle out of the body shop.
So, are Snow Tires Right for Me?
If you wake up most winter mornings to temperatures below freezing with a white backdrop outside, snow tires are worth considering, especially if your vehicle is rear-wheel drive. But, if snow and ice grace your neck of the woods only occasionally, all-season tires should work just fine for most vehicles. If you decide to get snow tires, be sure to switch back when the season is over, as snow tires wear out faster in warmer climates.