Prepare Your Vehicle for Winter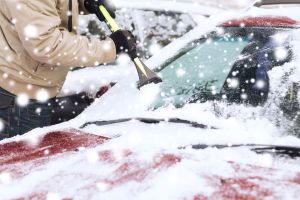 With winter around the corner, now is a good time to get your vehicle prepared for the worst. Being based in northern Wisconsin, we at AMSOIL talk a lot about how synthetic lubricants make life a little easier, as the cold air starts to pierce our engines and lungs.
Wherever you may be, nasty road conditions can be dangerous, so it's always a good idea to plan ahead. Weather.com recently blogged about how bad-weather car accidents are more deadly in the U.S. than many of the worst storms.
Snow, rain, fog and wet pavement all pose a hazard during the season. To be ahead of the game, here are some preparedness tips:
Garage Time
Battery check – Cold temperatures are a battery killer. Be sure you've got the juice to keep going. Check the terminals for corrosion that needs cleaning and ensure the alternator and belts are in good shape.
Antifreeze and coolant – Look for any radiator and hose leaks and top off the reservoir, if necessary. If it's been several years since you've changed the coolant, be sure to get some fresh fluid in there.
Windshield wipers and fluids – Make sure the wipers are working and the blades are not worn. Fill the washer reservoir with a good-quality fluid that doesn't freeze.
Brake system– Being able to stop is crucial when roads are slick. Look to see that the floor mats aren't blocking the pedal. If you notice braking issues, have the brake fluid, pads, rotors and lines checked. You should have the brakes flushed anyway once per two years.
Tire pressure and tread – Tires should be checked monthly for wear and proper inflation regardless of the season. Make sure you have a spare tire, and keep a pressure gauge in the vehicle with you. Make sure you have air in your spare or carry an inflator of some type!
Fuel and oil level – It's a good idea to keep your fuel tank at least half-full in case you get stranded on the side of the road and need to stay warm. Motor oil should also be topped off.
Emergency Roadside Kit
Flashlight – I like to carry an LED flashlight in my truck since they last a long time. But a traditional flashlight works well and tends to be brighter.
Tool kit – It should have the basics, including screwdrivers, pliers, an adjustable wrench and a socket set. Work gloves, tape, fuses and a good pocket knife or multi-tool are all handy to have as well. My favorite are those universal sockets and the Vice Grip GrooveLock pliers as a bare minimum.
Blanket – Not only does it keep you warm in winter, but it can also block out wind and help treat shock victims.
Jumper cables – It's best not to settle for chintzy. Good-quality, thick cables with multi-strand wire, heavy duty clips and extra length can save you from headaches. Invest in four-gauge, 20-foot cables that won't break the bank and will last a long while. Or look for those old high quality ones at garage sales.  Those compact battery starter (jump starter) units also work but you must check it every couple months to be sure it's charged and ready.
Food and water – Keep a stash of high-energy foods such as granola bars and nuts in the car.
Fire extinguisher – Often overlooked, but good to have. A multipurpose A-B-C type is the way to go. Build a bracket to bolt in to the floor under the front seat if possible.
First-aid kit – Any kit should contain bandages, gauze and prep pads to stop bleeding and prevent infection.
Other items to consider – Maps, shovel, broom, ice scraper and flares.
Even if you don't get any snow, it's good to be ready for any emergency. Got any more tips to share? Let us know in the comments.