AMSOIL Signature Series Fuel Efficient Synthetic Automatic Transmission Fluid
• Withstands the rigors of heavy towing, elevated temperatures and challenging terrain
• Remains fluid in sub-zero temperatures
• Provides reserve protection during heavy use and abuse
Fuel-Efficient Synthetic Automatic Transmission Fluid Overview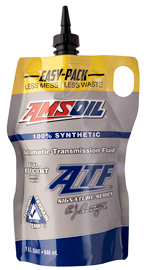 Synthetic Warehouse note:
This product is known to solve a multitude of problems or rather prevent them. We get ton's of feedback on this and the other ATF as we sell quite a bit in our two stores. The #1 feedback I get in the store is when it's used as a partial fill (replacement). The customer often remarks how the shifting was improved or the transmission now shifts more smoothly. One of our first customers using this owned a Toyota who complained of the OEM fill. It was stated that it was a lifetime fill – but in only 30,000 miles the power transfer seemed to fade. Switching to the AMSOIL Low-Viscosity "Fuel Efficient" Synthetic Automatic Transmission Fluid instantly restored the power beyond the stock feel. If you have over 50,000 on your transmission fluid now – it's time to switch!
Buy & Pricing
And here is the constantly updated Product Data Sheet on the Signature Series Automatic Transmission Fluids. For the latest just download and print.
Proven in 100,000-mile, Severe-Service Taxi Fleet Field Trial
To demonstrate its effectiveness in severe service, AMSOIL's Signature Series Multi-Vehicle Synthetic ATF (the red label one) was installed in vehicles owned by a Las Vegas cab company. The vehicles routinely encountered demanding stop-and-go driving loaded with passengers and cargo, while the desert environment presented extremely hot ambient temperatures, placing enormous strain on the fluid. Following 100,000 miles, a transmission was selected for analysis. The Aluminum Beaker Oxidation Test (ABOT) is one industry-accepted method used to determine a transmission fluid's oxidation resistance, which is a good indicator of its service life. Testing by an independent, third-party lab reveals that after 100,000 miles in severe service, Signature Series Multi-Vehicle Synthetic ATF resisted oxidation longer than required for new fluid to meet the Chrysler ATF+4 specification (see graph). Internal components, including the valve body and clutch plates (pictured), were virtually free of damaging sludge, deposits and wear, confirming the AMSOIL's high level of protection for severe-service transmission applications.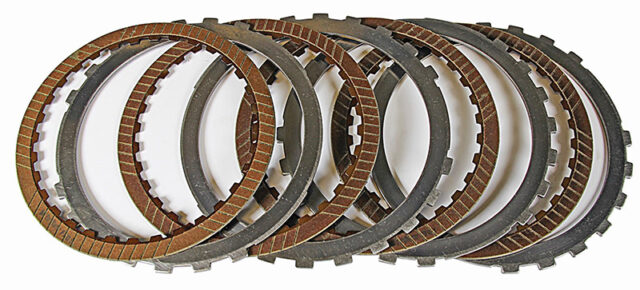 This is serious stuff folks (I don't work for AMSOIL) The transmission's valve body is clean and virtually sludge-free following 180,000 severe-service miles. The clutch plates demonstrated only trace discoloration and earned a rating of "good," the highest possible, for deterioration/wear. And people complain about the quart being higher priced than other brands. The difference is less than a cheeseburger. I mean come on..
Formulation Protects Against Thermal Breakdown
AMSOIL's top Synthetic ATF (Product code ATL) is formulated with high concentrations of antioxidants, making it naturally heat resistant. As a result, you are protected against sludge and varnish deposits. No clogging of the narrow oil passages and contribute to clutch glazing.  So that alone is a better deal then these aftermarket warranties. After 100,000 miles in severe service, the Sig. Series Multi-Vehicle Synthetic ATF contained 41 percent of its original oxidation inhibitors, so there you go!
Outstanding Wear Protection
Varying speeds and loads causes torque multiplication and extreme stress on gears and bearings. AMSOIL formulated Signature Series Synthetic ATF with high film strength and premium anti-wear/extreme-pressure additives to help prevent wear during severe service. In the industry-standard FZG Gear Wear Test, Signature Series Multi-Vehicle Synthetic ATF that had been used for 100,000 severe-service miles achieved a "Pass" at stage 12 – the highest stage. The results exceeded the Ford MERCON V and Chrysler ATF+4 specifications for new fluid, demonstrating the lubricant's long-lasting wear protection.
Amsoil ATF's Cold-Temperature Fluidity (all our ATF's actually)
Cold, thick automatic transmission fluid lengthens shift times and reduces fuel economy. This one is wax-free and delivers extraordinary cold-flow properties (< -60°F pour point). It helps improve shift response, energy efficiency and warm-up times. If you live in a cold climate you need this! Relieve the stress on these units pushing them down the road when the fluid is unwilling to cooperate.. This fuel efficient ATF will solve that major issue and you can smile at the other drivers knowing your car will outlast theirs.
Friction Durability
Today's transmissions are smaller (and lighter) so they must withstand higher horsepower and torque while delivering smoother shifts, all with longer fluid life recommendations. The Signature Series Synthetic ATF is formulated with friction modifier additives that deliver outstanding clutch-holding capacity (static friction), torque-transfer ability (dynamic friction) and anti-shudder properties (slipping torque-converter clutches). Analysis reveals that after 100,000 miles in severe service, Signature Series Multi-Vehicle Synthetic ATF provides nearly identical friction properties as new fluid for smooth, reliable shifts. I mean you can't lose!
Applications
AMSOIL Signature Series Fuel-Efficient Synthetic ATF is recommended for transmissions and other applications that require any of the following specifications:
Aisin-Warner AW-1; BMW 83 22 0 142 516, 83 22 2 152 426; Chrysler MOPAR 68157995AA, SP-IV, 68218925AB;
DSIH 6p805; Ford MERCON LV, SP, ULV; GM DEXRON HP, DEXRON* VI, ULV; Honda/Acura DW-1,* Type 3.0; Honda 2.0; Hyundai/Kia SP-IV, SPHIV, SP-IV-RR, NWS-9638, SP4-M; JASO 1A-LV; JWS 3324; Mazda ATF FZ; Mercedes Benz 236.12, 236.14, 236.15, 236.41; Mitsubishi SP-IV, ATF J3, ATF-PA, ATF-MA1; Nissan MaticS, Matic W; Saab 93 165 147; Shell M-1375.4, M-1375.5, M-1375.6, M-L 12108; Toyota
WS; Volvo 31256774; VW/Audi G 055 005, G 055 162, G 060 162; ZF S671 090 255.
AMSOIL Signature Series Fuel-Efficient Synthetic ATF is backward compatible and replaces DEXRON III fluids in older GM automatic transmissions. (DEXRON VI specification supersedes the obsolete DEXRON III in GM vehicles.) Also suitable for Toyota CVT applications calling for the Toyota "WS" specification.
SERVICE LIFE
Normal Service: Follow the vehicle manufacturer's normal-service drain interval.
Severe Service:  Double the vehicle manufacturer's severe-service drain interval in passenger cars and light trucks.
Change at the vehicle manufacturer's recommended drain interval outside U.S. and Canada.
Note: Not for use with CVT applications.
Transmission Fluid Evacuation Service:
Bulletin From Filter Manufacturers Council (16k PDF)
Transmissions in commercial vehicles, SUVs, trucks and vans – particularly those used for hauling or towing – are subjected to severe service operation and increased heat. Before you know it elevated temperatures cause fluids to break down, allowing damaging metal-to-metal contact and the formation of sludge and deposits. Signature Series ATF prevents this!!  The problem is worse in modern transmissions with more gears, clutch packs and narrow oil passages that require clean, high-quality fluid to achieve maximum performance and life. Don't wait till it's too late – we all know transmission shops have a waiting list. That's because they didn't use AMSOIL.
AMSOIL Signature Series Synthetic Automatic Transmission Fluid is specifically formulated to withstand the rigors of heavy towing, elevated temperatures and challenging terrain. It remains fluid in sub-zero temperatures and provides reserve protection during heavy use and even abuse.
Bonus: AMSOIL Automatic Transmission Fluid and Filter Change Procedures;  Technical Service Bulletin
OBJECTIVE: Provide AMSOIL Dealers with proper automatic transmission fluid and filter change procedures.
ISSUES: The use of automatic transmission flushing machines alone does not address the important tasks of changing the filter and cleaning the bottom of the transmission pan and magnet. TECHNICAL DISCUSSION: Flushing machines provide quick and convenient trans- mission fluid changes, but do not address transmission pan cleanliness or dirty filters. Removing the transmission pan allows the pan and magnet to be cleaned and the filter to be changed. AMSOIL recommends the filter always be changed with the fluid change to ensure the proper removal of contaminates.
To continue reading the procedure follow this link to the blog entry for this subject.
---
Amsoil Automatic Trans Fluid Reviews
2008 Dodge Ram 1500 4 x 4
Just changed the transmission oil in my son's pickup and what a difference in shifting. He immediately could tell the difference and will highly recommend Amsoil products to his friends. This is the third vehicle I have changed the transmission fluid using Amsoil 100% synthetic fluid and confirm this product is awesome.
---
The best atf
By  KEVIN,  a  Verified Buyer  on  March 13, 2023
The best atf money can buy, and at the cost of a replacement transmission, regular servicing with top quality fluid is cheap insurance. I use this fluid as a WS alternative in my Toyota Tundra and Lexus IS , both transmissions operate better than new.
---
ATF
By  JW,  a  Verified Buyer  from  Wisconsin   on  February 18, 2023
Used this transmission fluid to replace all of the factory fluid after using Amsoil transmission flush in a 2.8l 2018 Chevy Colorado diesel at 70k miles. Replaced all the fluid and the transmission filter by draining it from the transmission cooling loop and then removing the pan. The truck shifts better than it did on day one when it was purchased new. Could not be more happy to recommend this product. Only regret is not replacing the fluid right after purchasing the truck new. What a difference. All of the clunking went away and the transmission holds the gears much longer as you let off the accelerator pedal. Usually don't write reviews unless something is really good or really bad. This fluid is really good. Love Amsoil products and their preferred Customer program.
---
Only transmisson fluid I will use
By  ALLEN,  a  Verified Buyer  from  Newaygo  on  February 08, 2023
Whenever I change Transmisson fluid I will only use Amsoil.
---
Best ATF fluid there is!
By  Tommy,  a  Verified Buyer  on  February 05, 2023
I highly recommend this ATF fluid! I have a 6T70 transmission which is a sealed unit so you only get so much fluid out doing a single drain and fill. So, I did one drain and fill, added Signature Series ATF fluid, drove it for about 200 miles, and then did another drain and fill and added Signature Series ATF fluid again. I estimated I had about 80%+ new fluid in the transmission by this time. However, I've never felt the transmission shift smoother even with 'off the shelf' fluid. It's definitely worth the price. I will never use anything else ever again!
---
Transmission fluid
By  MARCON,  a  Verified Buyer  on  February 02, 2023
Excellent product. I have some hesitation during 3rd to 4th gear. I changed my transmission fluid with the signature ATF fluid and shifting is smooth and hesitation went away.
---
Chevy 6L80 Fluid Change "GREAT"
By  MICAH,  a  Verified Buyer  from  NC  on  January 19, 2023
Needed to change the Transmission fluid in my wife's 2020 Suburban. Purchased the 2.5 gallon jug and ended up having around 4 quarts left. So I did a little flush removing the return line from the thermostat and removing another 2 quarts. Fluid went in fine keeps the temps lower then before and SUV's transmission seems super smooth and responsive. Highly recommend.
---
Smoother shifting
By  MARK,  a  Verified Buyer  on  January 16, 2023
This was used in my plow truck and it has provided smoother shifting. I generally change fluid annually due to the severe service the truck sees. Transmission has 287K miles and still shifts like new.
---
Best stuff on the Market
By  GORDON,  a  Verified Buyer  from  Huntington Beach, Ca  on  November 29, 2022
It made a world of difference. Shifts better and seems to stay cooler. Used in my 2007 31 foot, E-450 Class C motorhome Torque shift Transmission