As Reliable as Your Favorite Lure In Your Tackle Box
Most hardcore anglers have precious little time for fishing. To maximize their time on the water, they need lubricants that protect their motors from wear despite the challenging operating conditions.

AMSOIL marine products fight wear and maximize performance in marine engines. They deliver the benefits your customers need, whether they own a four-stroke or two-stroke motor.
Superior wear protection
Excellent rust and corrosion resistance
Reduced smoke (two-stroke)
As the technology used in today's marine applications has evolved, AMSOIL has remained ahead of the curve in performance and protection with products formulated to deliver clean engine performance and control harmful deposits, wear and rust. AMSOIL synthetic lubricants are engineered to protect your watercraft in all conditions so you can remain carefree and on the water longer.
Low Toxicity

Most anglers, boaters and personal watercraft owners are as interested in protecting our waterways for future generations as they are in enjoying them now. HP Marine® Synthetic 2-Stroke Oil offers a unique combination of high performance and low aquatic toxicity. It has passed stringent tests developed by the Organisation for Economic Cooperation and Development to measure the effects of oil-contaminated water on common marine organisms.
Testing of HP Marine revealed a 100 percent survival rate of Daphnia Magna neonates (water fleas) and fathead minnows exposed to increasing concentrations of HP Marine mixed in water. In concentrations of less than 25 percent, algae (Pseudokirchneriella subcapitata) showed no reduction in growth or reproduction rates. These test results confirm that HP Marine is a smart and environmentally safe option for boaters and personal watercraft owners.
HP Marine 2-Stroke Injector Oil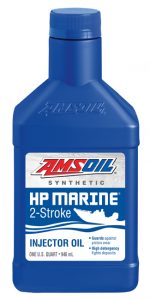 Read more from the link regarding the HP Injector oil but the truth of the matter is really in the performance. We can prove to you all day the protection you get in the AMSOIL marine lines (2-stroke and 4-stroke) but the real reason people return to buy year after year is the performance at speed. Startups are also greatly improved. We see others at the lake struggling to keep an old engine running or even start for that matter yet simple use of AMSOIL motor oils and Quickshot fuel additive would have prevented the embarrassment. I as webmaster and owner of Synthetic Warehouse hear it all the time from customers. Performance and reliability is the conclusion of your switch to AMSOIL marine products.
Savings in a 4-Stroke oil? 25W-40 Synthetic Blend Marine Engine Oil
Many use this unique product if they are on the fence about switching from the OEM motor oil. It's a logical switch regarding cost and will still out-perform in any 40WT requirement (10W-40, etc)..
Marine engines operate under high loads and rpm for extended periods. On average, a marine engine powering a boat 30 mph runs at about 5,000 rpm. In contrast, an automotive engine powering a car 60 mph runs at about 2,000 rpm. Higher stress causes traditional automotive oils to break down and lose viscosity. AMSOIL 25W-40 Synthetic Blend Marine Engine Oil is designed with excellent shear stability to deliver a consistent lubricating film. It helps guard engine components from wear for maximum life.
And finially check out the rest of the line. We have two other 2-stroke oils, two other 4-stroke oils, our best seller – the gear lube, and as mentioned above the Quickshot. Find out more on the main
Marine Page
.