The E-TEC ultra performing HP Marine Synthetic 2-stroke Injector Oil
Another AMSOIL product which stands way ahead of the competition in performance. People in general don't choose an oil because it adds to the overall performance but as a side benefit it's built in.
Excellent for Evinrude® E-TEC™ factory-lean setting (replaces costly Evinrude XD100™ 2-Cycle Oil). Helps prevent deposits, protects against wear, has low smoke, protects against rust and has low aquatic toxicity. Superior performance as an injection oil or at 50:1 pre-mix.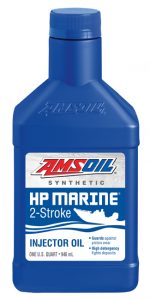 High Performance 2-Cycle Injector Oil for Outboard Marine
High-quality motor oil is critical for maximum performance in modern two-stroke marine motors. Direct fuel injection (DFI) improves combustion efficiency, delivering the extra power enthusiasts want, while leaner gas-to-oil ratios provide the reduced exhaust emissions the government mandates. The leaner ratio leaves less oil to lubricate and protect these hotter, more powerful motors, which invites deposits and wear that threaten engine performance and life. HP Marine is proven to excel in these harsh conditions. It controls performance-robbing friction, heat and wear, yet produces low smoke and has low aquatic toxicity properties. It's an oil as advanced as the engines it protects.
Gallons are the most popular size.
Excellent for Evinrude® E-TEC™ factory-lean setting (replaces Evinrude XD100™ 2-Cycle Oil)
Helps prevent deposits
Protects against wear
Low smoke
Protects against rust
Low aquatic toxicity
Superior performance as an injection oil or at 50:1 pre-mix
Outstanding Wear Protection
The elevated heat and friction of modern two-stroke marine motors can exceed the film strength of inferior oils, increasing the likelihood of scuffing and wear. HP Marine's exclusive synthetic formulation provides increased lubricity for reduced wear during normal and lean-mix operation (see field study results). In 534 hours of field testing, HP Marine 2-Cycle Injector Oil completely prevented piston skirt and cylinder bore scuffing, demonstrating its superior lubricity and ability to reduce friction between moving parts. It maintains a strong lubricating film even in lean-mix, severe-service conditions, helping marine engines achieve maximum life.
Excellent Deposit Control
HP Marine 2-cycle injector oil is formulated with MAXDOSE™, a system of advanced additives for "super-clean" operation. It helps prevent deposits that lead to poor performance. In field testing, HP Marine inhibited ring deposits that can cause ring sticking and ring jacking (carbon build-up behind the ring, forcing it outward), a phenomenon that occurs in modern DFI outboard motors. It also virtually eliminated exhaust port deposits for reliable, efficient operation.
Proven in Marine E-TEC Field Study
High Performance Synthetic Marine 2-Stroke Oil was installed in a 250-hp Evinrude E-TEC engine powering a heavy-duty marine rescue vessel. Following a 28-hour break-in period at the normal oil setting, the engine was programmed to its factory-lean setting and operated for 506 hours prior to disassembly. An ASTM calibrated rater examined and awarded each component either a merit rating on a scale of 0 to 10 (with 10 representing no distress) or a percentage rating (with 0 percent representing no distress). Results prove HP Marine provided exceptional wear protection and deposit control. For complete study results, visit Proof of superiority.
Link to test MARINE E-TEC Study
Other Materials on the AMSOIL HP Marine Injector Oil's Performance
Complete E-TEC Marine Study on PDF. No reason to buy over priced OEM 2-cycle oil. AMSOIL offers superior protection as proven, better performance as reported from users and their own bulletproof guarantee against damage. (See warranty link and section below)
Overview to the above link: Evinrude® E-TEC™ marine engines are unique in that they offer an alternative, lean-mix setting that allows the engine to use less oil. Whether programmed to operate at the standard mix ratio or reprogrammed to the lean-mix setting, E-TEC engines use sophisticated electronic equipment to monitor conditions, including rpm and throttle position, to determine the appropriate gas-to-oil mixture. To use the lean-mix setting, however, customers must have their engines reprogrammed by an Evinrude dealer and agree to use Evinrude XD100™ oil exclusively (Often at a higher cost compared to other oils.) Bombardier Recreational Products (BRP®), the manufacturer of Evinrude E-TEC engines, has not established a performance specification against which to qualify other oils.
Basically it's always been the desire of the staff at AMSOIL to never put out a product which could be considered 2nd best. They consistently work with suppliers using the latest trends and technology to improve the state of the art in the industry.  There are no stock holders to hamper the quality of the final product. Price never makes a determination to the additives or direction used. They also constantly reverse engineer OEM products to see what they've been up (or haven't) to and can assure the quality is not comparable. As a dealer attending the training events, some staff members report how far behind or even how they don't even meet their own specifications. Of course the proof is in the performance and the AMSOIL HP Injector oil is one of those we get a LOT of in store applause.
I especially remark on this product for the marine market because more so than in the automobile realm customers are pressured into using the OEM branded product. I have read in forums more times than any that boat owners are told that the OEM product such as the XD100 2-cycle oil must be used in order to protect the engine under warranty and to ensure any life there after. By making this demand the manufacturer is bound by law to provide that product at no charge. Yes! That is a fact and often companies have to re-issue owners manuals to correct the wording.
APPLICATIONS
HP Marine™ is recommended for use in all two-stroke outboard motors including, but not limited to, Johnson® and Evinrude® FICHT® & E-TEC™ (replaces XD100™ 2-Cycle Oil); Mercury® EFI & Optimax; Yamaha; Nissan and Tohatsu TLDI; Suzuki; Mariner and Force. Use as injection oil or as 50:1 pre-mix (2.6 oz. per U.S. gallon of gas) where NMMA TC-W3 or API TC oils are specified.
Compatible with mineral and synthetic TC-W3-type two-stroke oils; however, mixing two-stroke oils should be minimized.
Buy & Pricing
WARRANTY SECURE™
HP Marine Synthetic 2-Stroke Oil is Warranty Secure, keeping your factory warranty intact. HP Marine is a high-performance replacement for vehicle manufacturer-branded products and is also backed by the AMSOIL Limited Warranty (G1363). For details, visit www.amsoil.com/warrantysecure.
HEALTH & SAFETY STATEMENT
This product is not expected to cause health concerns when used for the intended applications and according to the recommendations in the Safety Data Sheet (SDS). An SDS is available online at www.amsoil.com or upon request at (715) 392-7101. Keep Out of Reach of Children. Recycle used oil and bottle.
Reviews
Love it
By  AARON,  a  Verified Buyer  from  Ohio  on  September 24, 2021
Love this stuff use it on both my ski really cuts back in the smoke and they run so much smoother
My Boat love this oil!
By  JOHN,  a  Verified Buyer  on  September 16, 2021
Since moving to this product the motor is running smoother and we are getting better performance.
2 cycle up marine
By  CHARLES,  a  Verified Buyer  from  Indiana  on  September 06, 2021
Been running hp marine 2 cycle oil in my Rotax 582 powered parachute for nine years. Had engine gone thru about 3 years ago. No appreciable wear was noted all that was needed was seals and gaskets.
It is the best oil i have ever used in my outboard
By  RYAN,  a  Verified Buyer  from  Ga  on  September 03, 2021
Its a game changer for 2 strokes
No smell no smoke
By  PAUL,  a  Verified Buyer  from  Cape Cod bay  on  August 26, 2021
Twin Yamaha HPDI 300's Great product Doesn't smell doesn't smoke and the engines run smooth and no fouling of the plugs even after a long day of trolling speed.
Better than XD100
By  DON,  a  Verified Buyer  from  Alaska  on  April 24, 2021
This stuff is far exceeding XD100 in every aspect especially the price. Buy in bulk you won't regret it. Been running HP Marine fore years as an XD 100 replacement and couldn't be happier.
HP marine 2-stroke oil
By  DANNY,  a  Verified Buyer  on  May 21, 2021
Been using in my 125 mercury outboard injection system, runs great and lot less smoke.
Amsoil HP Marine – Mercury OptiMax
By  RazorCat ,  a  Verified Buyer  from  Arkansas   on  June 05, 2021
HP Marine burns so much cleaner than the semi-synthetic DFI oil I burned for years. And it's much cheaper per gallon. The exhaust hub on my prop is completely clean, and there's virtually no smoke at idle. My 150 Opti idles and runs WOT smoother than it ever did on the OEM oil. My next OB will get Amsoil from day 1.