How to Check Transmission Fluid (and What Type Do I Need)?
It's a good idea to check your vehicle's transmission fluid about once a month to monitor fluid level and condition. Check the fluid immediately if the transmission jerks, hesitates or shifts hard.
1. Obtaining a correct reading on the dipstick requires the fluid to be warm and the engine to be running. To begin, park your vehicle on a flat surface, apply the parking brake and let the engine idle until warm. You may have to drive your vehicle for a short period of time to raise the transmission fluid temperature. Some original equipment manufacturers (OEMs) also recommend shifting through the gears to circulate the fluid prior to checking, so consult your owner's manual.
2. Pop the hood and locate the transmission fluid dipstick, which serves double duty as the fill tube. It's often located near the back of the engine compartment and shouldn't be too tough to find. You can always check your owner's manual for the location if it proves elusive.
3. Pull the dipstick and wipe clean with a lint-free rag. Reinsert the dipstick. Make sure it's completely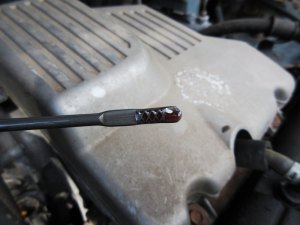 seated. Withdraw the dipstick again and check the fluid. The dipstick may have a cross-hatch pattern in which the fluid level should fall. Others may have a "hot" and "cold" line. The fluid should be close to the "hot" line.
4. If the fluid is low, add the recommended transmission fluid to bring to the correct level. You'll probably need a long-neck funnel with a small-diameter opening at the point.
What about "fill-for-life" transmissions?
"Fill-for-life" automatic transmissions are becoming more popular. Most don't even have a dipstick for checking fluid. On those that do, they can be located in hard-to-access areas. In these cases, check a service manual for dipstick location and instructions for checking the fluid. Although the transmission is designed to be "filled for life," it may still require additional fluid from time to time. Also, "fill for life" typically means fill for the life of the warranty. It's just as important to service these units and replace the fluid once in a while to ensure the transmission lasts as designed and gives you years of solid performance.
Which transmission fluid should you use?
To shift properly and provide years of reliable service, your transmission requires a fluid that provides the correct frictional properties. The fluid also must resist formation of harmful sludge and varnish, which can clog the narrow fluid passages and lead to poor shift quality. This is particularly important if you tow or haul, which increases heat and invites fluid breakdown.
Use a fluid recommended for the specifications stated in your vehicle owner's manual. For example, many Ford vehicles with automatic transmissions specify using a fluid that meets the MERCON® LV specification. Chevys often require a DEXRON® IV fluid. Most OEMs maintain their own transmission fluid specifications.
It's important to note that these are names of performance specifications, and not the names of the fluids themselves. So, don't head to the auto parts store in search of a fluid named MERCON LV or DEXRON IV. Rather, look for an automatic transmission fluid that meets the MERCON LV, DEXRON IV or appropriate specification. Many quality automatic transmission fluids are formulated to meet a large range of common performance specifications, so finding the correct fluid isn't as difficult as it may sound.
Is your transmission fluid low? Learn how to spot the symptoms.
Look up the transmission Fluid for my vehicle