Demand makes it easy to Sell AMSOIL Synthetic Snowmobile Oil
Join us as a dealer and take advantage of our dominance in the sledding and other markets.
Believe it or not, winter is right around the corner. When talking to snowmobilers this season, make sure to uncover their needs and recommend the correct AMSOIL snowmobile oil. The following provides the essentials for targeting the best prospects with the correct product benefits. For more, consult the Dealer Sales Briefs in the Resource Library of AU Online in the Dealer Zone.
AMSOIL INTERCEPTOR® Synthetic 2-Stroke Oil (AIT)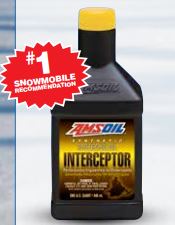 For hardcore enthusiasts who own high-performance sleds and live for snowmobiling.
Best engine protection
Best engine and exhaust power valve cleanliness
Best cold-flow
To reduce emissions, modern two-stroke snowmobiles are designed to burn less oil without sacrificing power. This generates high heat, which can lead to piston-ring sticking, piston scuffing and exhaust-power-valve sticking.
Sell INTERCEPTOR's proven ability to help maximize performance and ensure reliable operation by preventing ring sticking, piston scuffing and exhaust-power-valve sticking in modern, high-performance sleds. It's also less expensive than original equipment manufacturer (OEM)-branded oils.
AMSOIL Synthetic 2-Stroke Injector Oil (AIO)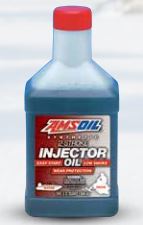 For casual riders and those seeking the convenience of one oil for year-round use.
Convenient, multi-use formula
Excellent value over the OEM mystery brands.
Excellent wear protection
Synthetic 2-Stroke Injector Oil is perfect for riders who don't necessarily want the superior performance of INTERCEPTOR or DOMINATOR. It offers riders the convenience of using only one oil for all their two-stroke powersports toys, including marine applications. It is also ideal for vintage sleds. It's perfect for retailers who want to carry limited inventory and offer an oil to satisfy the needs of a wide range of customers.
AMSOIL DOMINATOR® Synthetic 2-Stroke Racing Oil (TDR)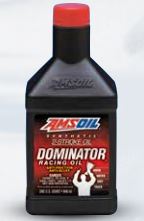 For racers, professional riders and owners of modified sleds.
Purpose-built for racers
Extra protection for modified sleds
Maximizes power
Racing and modified sleds generate intense heat and pressure. High heat can burn off light oils, while intense pressure can exceed the film strength of low-viscosity oils, inviting wear.
DOMINATOR is formulated with heavier base oils to protect bearings, pistons and other components from the rigors of high-performance riding. Sell DOMINATOR's race-proven protection against wear. Its emphasis on wear protection means it doesn't guard against powervalve sticking as well as INTERCEPTOR.
AMSOIL Formula 4-Stroke® Power Sports Synthetic Motor Oil (AFF)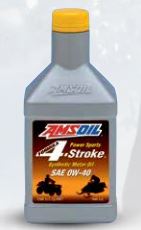 For owners of four-stroke snowmobiles.
Easy cold-weather starts
Quick startup protection
Helps prevent carbon/ varnish formation
Cold temperatures can cause conventional oils to thicken, making them difficult to circulate until the engine warms up. Cold, thick oil may not reach components at startup, causing wear.
Formula 4-Stroke Power Sports Synthetic Motor Oil provides outstanding coldflow properties. Sell the oil's ability to ease cold starts and guard against wear at startup, helping extend engine life.
AMSOIL TECH TIP VIDEOS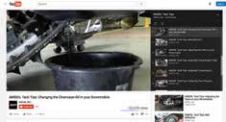 We offer valuable snowmobile Tech Tip videos on the AMSOIL YouTube page. Become a resource for your customers and prospects by embedding AMSOIL Tech Tip videos on your website and social media pages. Visit www.youtube.com/AMSOILinc (Playlists>AMSOIL Tech Tips).
MORE SNOWMOBILE PRODUCTS
Synthetic Chaincase & Gear Oil (TCC)
Superior protection for enclosed chains and gears
Quickshot® (AQS)
Effectively addresses performance issues related to ethanol, water and dirty pump gas. You need to occasionally clean out your intake system. Quickshot brings in a LOT of impressed customers.
Synthetic Water-Resistant Grease (GWR)
Provides outstanding water washout and spray-off resistance. The lack of proper greasing is what separates that awesome performing sled from the others!!
Deluxe Grease Gun Kit (GLCGN)
Eases the job of greasing equipment on the go. Uses small cartridges.