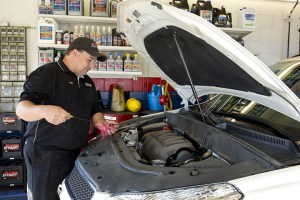 That's a good question. The short answer is, "Because the owner's manual says you're supposed to." But why do we have to change it so often?
Whether you learned it through your parents' instructions or by reading the owner's manual, you know that changing the oil from time to time is one of the responsibilities of owning a car. Have you ever asked why, though? What happens if you don't change your car's oil?                                                                                                      Time for an oil change.
The best way to answer these questions is to find out why you need motor oil in the first place. What are the responsibilities of a motor oil?
Whether you change it yourself or bring your vehicle to a quick lube, the procedure is essentially as follows. Step one: remove dirty oil. Step two: change filter. Step three: fill with clean oil. If you do this regularly, your car will last longer. The oil will not change itself. It's your job to change the oil.
Your motor oil has its own jobs to perform.
1. Lubricate engine parts and prevent wear
2. Permit easier starting
3. Reduce friction
4. Keep engine parts clean
5. Minimize combustion chamber deposits
6. Cool engine parts
7. Seal combustion chamber for more effective compression/power
8. Resist foaming
The sum of these functions adds up to another benefit: more efficient energy production which your car experiences as better fuel economy.
Motor oil is essentially two ingredients: a base stock (usually synthetic or conventional) and a mix of additives. Depending on the oil's requirements, the additive package contains six to 14 ingredients that serve different functions. As the motor oil does its job, many of these additives are depleted and need to be replenished. The oil itself gets dirty as it cleans the engine. Conventional oil oxidizes and breaks down to form sludge and varnish under extreme duress within the engine. Conventional oil also tends to be more volatile, with the lighter molecules burning off. As a result the oil thickens, requiring more energy to pump it through the engine's passages.
Synthetics outperform refined conventional lubricants because they reduce friction. Less friction means less engine wear, better heat control and fuel efficiency. With premium synthetics, due to less drag in the engine (reduced friction), you get more power from the same discharge of energy.
In short, oil has a lifespan. Premium synthetic oils are formulated for longer performance life, but as yet there are no oils that last forever. To ensure maximum engine life, performance and fuel efficiency and minimum emissions, change your oil when it needs to be changed. Here's a document that can help you identify recommended change intervals for your vehicle.