Ultimate Brake Fluid – Overbuilt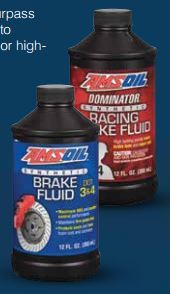 AMSOIL Synthetic Brake Fluids surpass DOT requirements and provide auto enthusiasts and racers with superior high temperature performance.
Maximum ABS and tractioncontrol performance
Covers a broad range of applications
Ultra-high boiling point to help resist brake fade and vapor lock during intense racing applications.
---

AMSOIL Brake Parts & Cleaner is a professionalstrength product that helps auto enthusiasts and mechanics quickly remove oil, grease, brake fluid and other contaminants from brake parts and other automotive components.
Brake & Parts Cleaner (BPC)
Quickly and effectively removes grease and oil, leaving parts clean and residue-free • Fast-drying, nonflammable formula
Finally get the brake fluid that cleans FAST like the stuff you used to buy 10+ years ago.