TURBODIESEL ENTHUSIAST PROFILE
Increase sales to turbodiesel enthusiasts with the superior protection and performance benefits of AMSOIL synthetic diesel oils.
This is a post from AMSOIL's Magazine aimed toward our dealers. I post these with our normal blog as a big chunk of our business is through our dealers and AMSOIL is an opportunity for customers to add a side business or even a full time income machine. When you have a product which is in demand and has been experiencing double digit growth over the past 17 years, why keep it a secrete?? AMSOIL is now doing more than ever to increase two way communications with dealers. The feedback is helping both sides which the customer is the winner. Better products dialed in to meet the right demand. Find out more about becoming a dealer and enjoy the material below.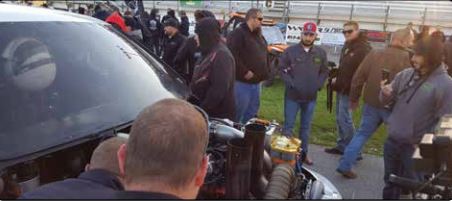 Turbodiesel-powered vehicles have gained a strong foothold in the market over the past 10-15 years, and turbodiesel enthusiasts present outstanding sales opportunities for AMSOIL Dealers. They place great value on their trucks, and view them as more than just transportation; they define who they are. They invest in modifications to make their trucks unique or to increase power, durability or appearance, and they seek the best protection they can afford.
Who are Turbodiesel Enthusiasts?
Take pride in working on diesel vehicles
Desire power, speed and performance
Want their diesels to look good
Concerned with extending vehicle life
Turbodiesel Enthusiast Profile
96.9% male*
Average age: 44.9*
Average household income: $87,246*
Any college: 65.1%*
Spend at least $100/year upgrading their vehicles
Self-identify as turbodiesel enthusiasts
Why Target Enthusiasts?
They are more aware of the AMSOIL brand, making it easier for you to sell.
Overwhelming majority already either use synthetic oil or will consider it.
They value quality and are willing to pay more for it.
Attitudes About Engine Oil
Most agree "changing oil is incredibly important and it makes me feel good and is one of the best things I can do for my vehicle."
The #1 reason they buy synthetic oil is for "improved engine protection."
Extended drain intervals viewed more as a proxy for quality than a desirable practice.
Modifications and Diesel Oil Challenges
Turbodiesel enthusiasts love to modify their trucks, including intake and exhaust modifications, turbo upgrades, programmers and suspension lifts. Modifications, however, can present serious challenges to lubricants, including intense heat and shearing forces. Highquality lubricants that provide maximum protection and performance under extreme heat and loads are essential for protecting trucks from the unintended negative effects of modifications.
The Buy/Sell Process: Converting Turbodiesel Enthusiasts to AMSOIL Customers
Resist the temptation to make recommendations and tout technical features before you understand the buyer and have gained his or her trust. For best results, use your experiences with helping current customers to guide your conversation. For more information on the AMSOIL buy/sell process, see the T3 Training Program in AMSOIL University Online. (Now free to all dealers)
Creating Curiosity: Briefly introduce yourself and the AMSOIL brand. Ask about the prospect's vehicle. Ask questions that help you uncover the prospect's buying motivations. Ask prospects if they have time to listen to how you've helped other enthusiasts protect the additional power and upgrades they've made to their trucks. Or use testimonials from Lavon Miller, Ray McClelland and Dave Ferguson (https:// www.youtube.com/user/AMSOILinc/ videos) to illustrate how we help diesel enthusiasts protect their investments.
When striving to create curiosity about AMSOIL products, it's also worth mentioning that many well-known diesel builders, including Lavon Miller of Firepunk Diesel; Ray McClelland of Full Throttle Kustomz and Dave Ferguson of Red Diamond Diesel, rely on AMSOIL products to protect their highly modified diesel engines operating in extreme conditions. We are known for the one lubricant which is "Overbuilt".
Discovery: In this phase, you have the prospect's interest and are discovering whether he or she has a need for AMSOIL synthetic diesel oil. Ask open-ended questions that steer the conversation toward how AMSOIL products can solve problems that the prospect may be experiencing.
Did you know lift kits and big tires increase drivetrain stress and force your engine to work harder? Topquality synthetic diesel oil, gear oil and transmission fluid are key to protecting these components.
Do you have a programmer? Programmers dramatically increase power and torque, but they also increase turbocharger and engine stress, cylinder pressures and heat, and tear your engine oil apart. Premium synthetic diesel oil, gear oil and transmission fluid help protect your turbocharger and engine from premature failure.
Do you have a stock or aftermarket turbocharger? Turbo upgrades and compound turbo additions provide a significant increase in air available for your engine, but also increase boost pressures and heat. Turbochargers are susceptible to failure from high exhaust gas temperatures. Using the right synthetic diesel oil helps manage temperatures and provides the detergent capability to keep the bearing clean.
Assessment: The prospect will assess whether AMSOIL products are right for him or her. Consider all the information the prospect provides and link his or her problems to the proper solution provided by AMSOIL synthetic lubricants. Be sure to actively listen, and depending on how the conversation goes, suggest an option and program (Preferred Customer, commercial, retail) that works best for the prospect's needs.
AMSOIL HEAVY-DUTY SYNTHETIC DIESEL OIL
4X more engine protection**
Excellent opportunity for price-conscious customers to move up to AMSOIL quality.
Outstanding protection for OEM-recommended drain intervals
Available in 10W-30, 5W-40 and 15W-40 viscosities
Shell Rotella T6* and Mobil Delvac 1* are comparable products in the $25-$30/gallon price range. Introduce prospects to the Preferred Customer Program for wholesale pricing and exclusive promotions.
AMSOIL SIGNATURE SERIES MAX-DUTY SYNTHETIC DIESEL OIL
6X more engine protection**
Significantly exceeds industry requirements
Top-grade protection for extended drain intervals
Available in 5W-30, 0W-40, 5W-40 and 15W-40 viscosities
Schaeffer's SynShield*, Red Line Diesel* and Royal Purple Duralec Ultra* are comparable products in the $31-$45/gallon price range. Introduce prospects to the Preferred Customer Program for wholesale pricing and exclusive promotions.
LET US KNOW: WHAT OBJECTIONS DO YOU FACE?
What are the top objections you hear about AMSOIL synthetic diesel oils from turbodiesel enthusiasts? Let us know by sending an email to salespromo@amsoil.com (Subject line: Diesel Objections).
A) Price
B) Satisfied with current oil brand
C) Not API-licensed
D) Brand recognition
E) Extended-drain recommendations
F) Other (please specify)