Dealer: 'Know the Products' (yes indeed!)
Dealers David and Robin Huff of Fayetteville, N.C. are "all in" with their AMSOIL business.
"When I started the AMSOIL business in February 2015, it was just going to be a supplement to our income," David said. "I remember my first check of $2.09. My thought was, 'What have I gotten myself into?'"
From that humble beginning, Huff became a Premier Direct Jobber within 18 months of starting his AMSOIL business. And, at 59, he has retired from the Goodyear Tire Company where he worked for 40 years.
"I did not think this would happen so quickly, but on Jan. 1, 2017 I officially retired from Kelly/Goodyear and I'm now working full time selling AMSOIL," Huff said. "Now, we are focused on being the best Dealership in the business. I'm busier now than when I was working."
Facebook Advertisement Caught His Eye
Huff was using AMSOIL motorcycle oil in his 2008 Heritage Softail Classic* in 2015. He needed an oil change, and came across a Facebook ad about receiving a free AMSOIL catalog. He filled out the information online and within a short time was contacted by an AMSOIL Dealer.
The Dealer, Jason Wynne, began asking Huff get-to-know-you questions. Huff mentioned he was making some additional income from an advertising gig, but that was about to close. "Jason's next question was, 'Have you ever thought about being a Dealer for AMSOIL?'"
Wynne became Huff's sponsor. Then it was Huff who asked a question: "Do you really want me to be a Dealer in your downline because you are about to unleash a beast," Huff said.
Huff hit enter on his keyboard to submit his Dealer application. "And the drive to be the best (was) on," Huff said.
'Building a Thriving Business'
Huff got started by purchasing AMSOIL products to install in all his vehicles. "Bumper to bumper," Huff said. "I mean everything, all the way down to the 2-stroke SABER® oil. If you're going to be a Dealer, you need to use the products — because you're the best advertising there is."
Huff is motivated to succeed in any endeavor he undertakes. "I never liked failure," he said. "My wife, Robin, has always told me that when I have a task at hand I have horse blinders on the sides of my head, and I am so focused that everything around me does not exist."
Huff is a motorcycle and powersports enthusiast, so it was natural for him to distribute his card at Freedom Biker Church, where he is a member. He was among the vendors at an annual gathering of all the church's affiliated groups, where he sold AMSOIL products for five days. A swap meet in November 2015 netted Huff $900 in sales. "I was sponsoring P.C.s and signing new Dealers," he said.
Robin is his biggest supporter. "We attended the DJ Convention in Tampa in 2016, and when she witnessed all of the enthusiasm she asked if she could be a part of the business," Huff said. "I quickly said 'yes' because she was helping me already with paperwork, filling orders and going to trade shows with me. It was a no-brainer."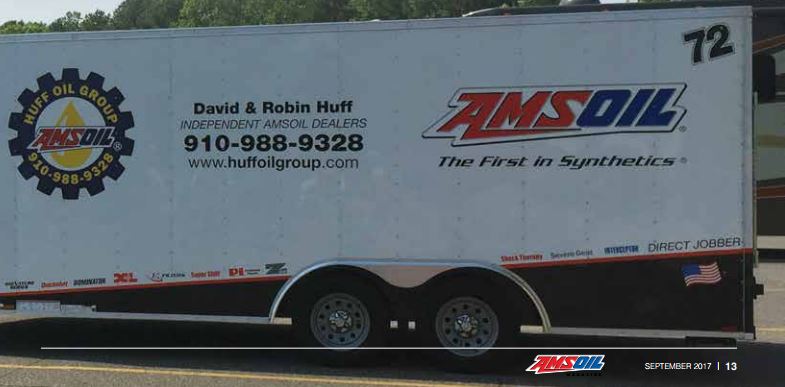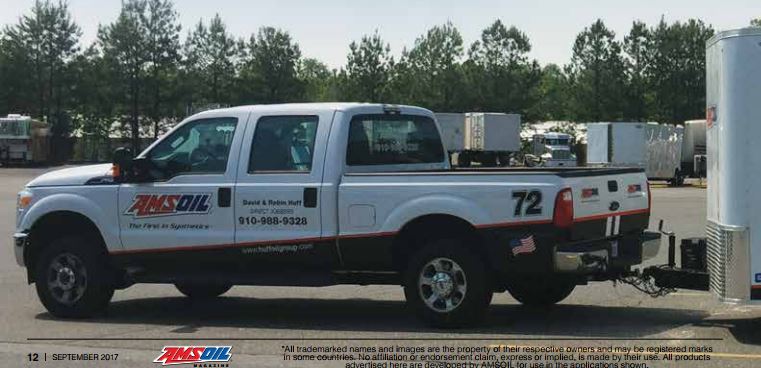 Although Robin still has a "day job," she plays an active role in their business. She works with him at the trade shows and motorcycle shows that are the "meat and potatoes" of their business.
"I love the powersports networking," Huff said. "The first vehicle I owned was a 1972 Honda SL175*. I was 17, fresh out of high school. Motorcycling was the 'in thing' for me back then. I've owned several motorcycles over my lifetime."
Working at trade shows is rewarding, he said, but motorcycle shows elicit more participation from customers. Motorcycle enthusiasts head for the AMSOIL tent, Huff said, because they want to talk about the products, but also because they're curious about the price. "They're paying almost double the price at dealerships," Huff said.
He shows them how to pay less for all the AMSOIL products. "Focusing on motorcycle oils is good at these events, but you also focus on other products AMSOIL offers because a motorcycle is not the main source of transportation," Huff said. "We get a lot of new customers at these events that are now buying online as P.C.s. We also have signed our share of retail accounts at these events."
AMSOIL corporate support for Dealers is incomparable, Huff said. He has taken advantage of online training, AMSOIL University Live and personal contact with corporate employees. "This business is so rewarding," Huff said. "Nothing's like AMSOIL, the enthusiasm from the company, the way they take care of their Dealers. I can't begin to describe how rewarding my job is."
'T1 is Great'
Huff said the T1 certification process is invaluable. The initial T1 course provides a better understanding of the products, the business plan and the compensation structure. "It gives you the knowledge to use when you're talking to people," he said. "You know what you're talking about."
After a Dealer is T1 Certified and meets sponsorship requirements, the company sends the Dealer new customers. "T1 is great," Huff said.
The other levels of training help build confidence. Huff said he learned he was already doing some of the things the courses describe, and he gained a better, broader knowledge of the business.
Customer Service
Huff said he and Robin interact with their accounts monthly with phone calls for those that are out of state, and they visit nearby accounts to interact with the employees and managers and give the latest product updates.
Advice for Fellow Dealers
Huff said he views "NO" as an acronym that means "Next Opportunity." "Nothing happens overnight," Huff said. "You have to keep building, building, building your foundation to grow. Learn to accept NO.
For us, it means the next opportunity. We are not pessimists or optimists. While those two types of Dealerships are bragging about the glass of water being half empty and half full, we will show them the opportunist way to success and drink that glass of water to build strength in the business.
"I tell all of my Dealers in my line or not, you will always have potholes in the road. You will fall many times. But how successful do you really want to be? So I tell them this, 'It is never about not falling to the ground that matters the most. It is about what you do when you get back up off the ground that matters the most. When you fall are you going to crawl in your shell or are you going to get the next opportunity?' It takes time, and with hard work and focus it can be achieved."
Looking to the Future
Huff said his goal is to succeed with his AMSOIL business. "Every level in AMSOIL is obtainable," Huff said. "Our goal is to obtain the highest level possible and bring our downline with us. We want to build this business in such a way that our three sons and their families will have a comfortable life and a sustained business."
A business for anyone! Just takes determination.
Join us now and I'll send you a free book to help inspire you to use the AMSOIL business for funding of your passionate purpose! Join our ever expanding group of innovative dealers. Call me at 80-579-0580 with your questions. New materials have been developed to help you reach more success in a directed manner. Never be without a mentor or materials! AMSOIL University and more tools are here to assist you.