AMSOIL Scholarships Help MMI Students Get Started on the Right Foot
AMSOIL gives back in many ways – here is one way the AMSOIL family helps those who need help with a fresh start in life and career.
AMSOIL 'Strong Start' Relocation Grant helps a military leader transition into a new life.
In July 2014, AMSOIL entered a partnership with Universal Technical Institute (UTI) to become the official oil of its motorcycle and marine divisions, the Motorcycle Mechanics Institute (MMI) and Marine Mechanics Institute (MMI). AMSOIL products are incorporated in the MMI training and curriculum, students work first-hand with AMSOIL products, and classrooms and labs are branded with AMSOIL paint schemes, signage, product displays and training aides. Upon entering their professions, many graduates become AMSOIL brand ambassadors, helping build brand recognition and demand that create outstanding opportunities for Dealers in the marketplace.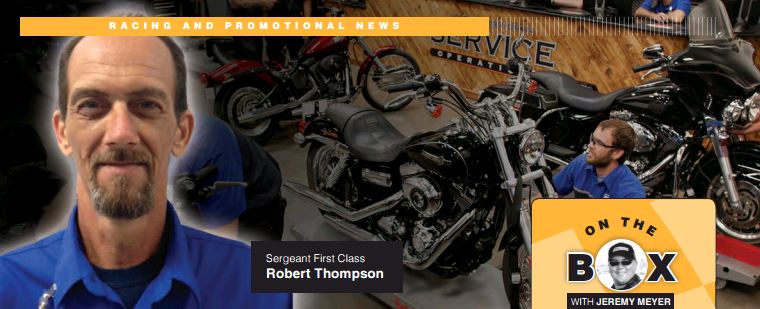 "We entered this partnership with the goal of educating students about the benefits of synthetic motor oil," said AMSOIL Race and Events Manager Jeremy Meyer. "It has exceeded all expectations as students have seen the benefits provided by AMSOIL products firsthand, and they've carried that enthusiasm and loyalty for AMSOIL products with them as they enter the workforce as motorcycle and marine technicians."
AMSOIL also offers several scholarship opportunities for MMI students. In addition to awarding three $5,000 Employment Scholarships per year, AMSOIL provides 36 students a $1,500 "Strong Start" Relocation Grant to help mitigate the expenses associated with relocating to an MMI campus.
After serving 20 years in the U.S. military, including tours in both Afghanistan and Iraq, Sergeant First Class Robert Thompson earned the AMSOIL "Strong Start" Relocation Grant for the first quarter of 2016. He is now taking his beloved hobby and turning it into a sustainable career, using the grant to set up a temporary home base while he finishes the Motorcycle Technical Specialist program at MMI Orlando while his wife and six children hold down the fort at home.
"The shop that's closest to my hometown is 45 minutes to an hour away," said Thompson. "Once I have completed my course, I have dreams of starting my own repair shop."
To date, AMSOIL has awarded nine Employment Scholarships and 99 "Strong Start" Relocation Grants to MMI students.