Z-ROD Zinc 10W-40 Synthetic Motor Oil
AMSOIL Ordering Product code : ZRDQT-EA
This stuff (ZROD) is a real bargain for the performance of what it does and covers you in storage too!! Please consider joining as a preferred customer and seeing the price when you add the PC account to your cart. Six quarts or a case (12 qts) the shipping is the same flat rate.
• Engineered for classic vehicles, survivors and your tuned up muscle cars that need zinc or ZDDP!!
• Helps retain horsepower – Dyno it and see for yourself!
• High-zinc formula protects flat-tappet cams, lifters, rockers & other critical components.
• Protects against rust during storage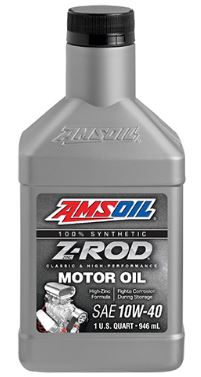 Specially engineered for classic cars. Contains high levels of ZDDP, top-tier additives and rust inhibitors to protect your passion, deliver maximum performance and keep your classic engine free of rust and corrosion in storage.
See the Product Data Bulletin for full details.
Call 800-579-0580 for competitive current price.
Or use the online preferred customer portal if you choose to order online.
Buy & Pricing
Zinc PROTECTS FLAT-TAPPET CAMS
The lifters and cam lobes on flat-tappet camshafts common to classic and high performance vehicles slide rapidly against one another, producing high friction
and heat. The friction between the two components can eventually wear down the cam and affect valve operation, ultimately resulting in lost engine power and reduced
efficiency. In addition, these areas are splash-lubricated rather than pressure lubricated like other areas of the engine, which adds extra strain on anti-wear additives
such as the zinc and phosphorus in zinc dialkyldithiophosphate (ZDDP).
AMSOIL Z-ROD Synthetic Motor Oil is formulated with high levels of Zinc or more proper ZDDP to protect flat-tappet cams, lifters, rockers and other areas susceptible to wear. Its high-zinc,
high-phosphorus formulation provides the extra wear protection these critical splash lubricated components require.
Formulated with high levels of ZDDP to protect flat-tappet cams, lifters, rockers and other areas susceptible to wear.
High-zinc, high-phosphorus formulation provides the extra wear protection critical splash-lubricated components require.
Fights wear to help prevent compression loss for maximum horsepower.
HELPS PREVENT RUST & CORROSION
This is something AMSOIL has worked into all their lines of product. A benefit totally ignored by several well known lubricant companies. Not to mention the blending of these anti-rust, anti-corrosion additives requires a trade secrete others have not yet cared to master. So that's built in with AMSOIL. More damage can occur while your engine is off over a season than when it's busy at operating temperature.
Formulated with a unique blend of rust and corrosion inhibitors to ensure maximum protection during long-term storage.
Prevented rust and corrosion in industry standard testing (ASTM D1748-10) for excellent engine protection.
Z-ROD Delivers Superior Rust Protection
In industry standard testing, AMSOIL Z-ROD completely prevented rust formation while a leading competitor did not.A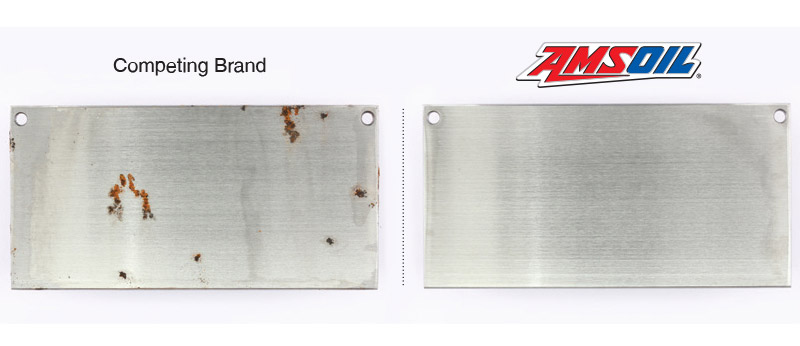 ? Based upon in-house testing of AMSOIL Z-ROD 10W-40 and a leading competitor obtained on 7/25/2019 in ASTM D1748-10.
ZROD high Zinc 10W-40 APPLICATIONS
Use Z-ROD 10W-40 Synthetic Motor Oil as required. Z-ROD Synthetic Motor Oil meets API SL and earlier specifications, allowing for increased
levels of anti-wear additives. ZDDP levels in Z-ROD Synthetic
Motor Oil exceed the limits of API SM and newer specifications.
Z-ROD COMPATIBILITY
AMSOIL Z-ROD Synthetic Motor Oil is compatible with conventional and other synthetic motor oils. Mixing AMSOIL
Z-ROD Synthetic Motor Oil with other oils, however, will shorten the oil's life expectancy and reduce its performance benefits.
Z-ROD Synthetic Motor Oil is safe for automotive seals. Aftermarket oil additives are not recommended for use with Z-ROD.
Product SERVICE LIFE
Because engines in classic cars, hot rods and other performance vehicles are generally modified, a universal oil drain
interval recommendation for these applications cannot be given.
Responsibility for determining the drain interval duration rests with the owner. As a general service guideline, the maximum
drain interval for Z-ROD Synthetic Motor Oil should not exceed 5,000 miles or two years, whichever comes first.
If the car (classic) is seldom stored at all and driven daily also consider the AMSOIL AMO 10W-40 which is blended for more road miles per interval.
Buy & Pricing
Z-ROD Motor Oil Reviews
Z-Rod recommendation I doo!
By  Arnold,  a  Verified Buyer  from  MI  on  January 23, 2023
I have been using the Z-ROD 10w-30 oil in my 1969 Mustang/351 Windsor for several years and it keeps the engine very clean and gets good oil pressure in excessive heat at highway speeds. I am switching to the 10W-40 this spring because I'm doing more extended traveling miles and tend to run over 100 miles at 65+ mph before I give it a break.
Z-Rod 10w-40
By  John,  a  Verified Buyer  from  Florida  on  October 23, 2022
I have used Z-Rod 10w-40 with no issues for 4 years in my 1995 Cobra with a 347 Stroker 12:5 compression motor and no issues.
Amsoil Products
By  KEITH,  a  Verified Buyer  from  desert southwest  on  August 01, 2022
I have been using this high zinc oil in a flat tappet and now roller cam in a 1968 Buick 350 that gets drag raced quite a bit for 6yrs with no oil issues.
1962 John Deere 1010
By  PAUL,  a  Verified Buyer  from  clinton, oh  on  April 25, 2022
I chose this product since it is a gas motor that tends to sit awhile then used extremes about four times a year. John Deere model 1010 1962
64 Galaxie
By  CARL,  a  Verified Buyer  from  California   on  July 01, 2021
Great oil for old cars. Drained oil for oil change and oil looked great probably could have continued using it for a few thousand more miles. But I'm old school and still like to change my oil every 3000 miles or once a year depending on what comes first for my classic cars.
Corvair's Need This
By Lance, a Verified Buyer from Nebraska on February 08, 2020
Not only does it protect my air cooled engines, they show more power at the wheels on the dyno. The main thing is in cold temps I know I have proper flow where needed as the lifters no longer make any noise. Use a bottle of Amsoil flush to get the junk left by the other brands. Car accelerates smoother than it did using Valvoline Racing which I see is no longer an American owned company.
AMSOIL PRODUCT WARRANTY
AMSOIL products are backed by a Limited Liability Warranty. For complete information visit www.amsoil.com/warranty.aspx.
https://amsoilcontent.com/ams/lit/warranty/amsoil-warranty-lubricants.pdf