High Performance European 5W-40 Synthetic Oil
AMSOIL European Car Formula 5W-40 Mid-SAPS Synthetic Motor Oil is specially formulated for the lubrication needs of modern European gasoline and diesel cars and light trucks. Advanced AMSOIL synthetic base stocks, premium additives and a 5W-40 viscosity rating make AMSOIL European Car Formula 5W-40 Synthetic Motor Oil highly versatile. Its Mid-SAPS (sulfated ash, phosphorus and sulfur) formulation provides excellent protection for emissions systems.
AMSOIL, the leader in automotive synthetic lubrication, produced the world's first API-qualified synthetic motor oil in 1972. Trust the extensive experience of AMSOIL, The First in Synthetics®, to do the best job protecting your engine.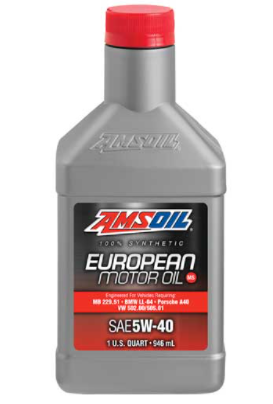 ADVANCED ENGINE PROTECTION
Delivers 100% synthetic engine protection for advanced automotive technology.
Thermally stable oil formulation resists deposit formation and cools turbochargers.
Formulated for long drain intervals recommended by European automakers.
Excellent For Turbochargers
AMSOIL European Motor Oil has a robust composition that shields engines from the
high temperatures produced by turbochargers. Its thermally stable oil formulation
resists deposit formation and cools turbochargers. Its low pour point protects
turbochargers against oil starvation in subzero temperatures and ensures a rapid
return to appropriate oil pressure at startup.
Superior Engine Cleanliness
AMSOIL European Car Formula Synthetic Motor Oil delivers excellent oxidation stability, heat resistance and detergency to help keep engines clean. It is specially designed to prevent sludge and varnish deposits for reduced oil consumption, extended engine life and maximum overall performance.
Minimizes Exhaust Emissions
The mid-SAPS formulation is designed to protect newer vehicle emissions control systems. It meets current industry and vehicle manufacturer requirements for long-life protection of catalytic converters and diesel particulate filters (DPF).
All-Season Performance
The broad 5W-40 viscosity rating, low volatility (burn-off) and wax-free formulation make AMSOIL European Car Formula Synthetic Motor Oil excellent for extreme hot and cold temperatures. It helps control oil thickening for easier starts and maximum startup protection, while resisting elevated heat for long-lasting performance.
APPLICATIONS
AMSOIL European Car Formula Mid-SAPS Synthetic Motor Oil is formulated to meet or exceed the most demanding European specifications. It is engineered for European gasoline or diesel vehicles requiring any of the following performance specifications:
Manufacturer Approvals*:
MB-Approval 229.51
Porsche A40
Recommended For*:
ACEA C3
API SN/SM/CF..
BMW Longlife-04
Chrysler MS-10850 (supersedes MS-10896)
Ford WSS-M2C917-A
GM dexos2™ (supersedes LL-A-025 and LL-B-025)
Renault RN0700/RN0710
Volkswagen 502.00/505.01
* All trademarked names and images are the property of their respective owners. No affiliation or endorsement, express or implied, is provided by their use.
SERVICE LIFE
Recommended for the extended drain intervals established by the vehicle manufacturer. Change oil filter at time of oil change.
COMPATIBILITY
AMSOIL 100% Synthetic European Motor Oil is compatible with other synthetic and conventional motor oils. Mixing AMSOIL
motor oil with other oils, however, will shorten the oil's life expectancy and reduce its performance benefits. AMSOIL does
not support extended drain intervals where oils have been mixed.
Aftermarket oil additives are not recommended for use with AMSOIL synthetic motor oils. It's just a dumb thing to do!
Buy & Pricing
AMSOIL PRODUCT WARRANTY
AMSOIL products are backed by a Limited Liability Warranty. For AMSOIL warranty information, visit www.amsoil.com/warranty.aspx.
HEALTH & SAFETY
This product is not expected to cause health concerns when used for the intended application and according to the recommendations in the Material Safety Data Sheet (MSDS). An MSDS is available via the Internet at www.amsoil.com or upon request at (715) 392-7101. Keep Out of Reach of Children. Don't pollute. Return used oil to collection centers.
Reviews
AMSOIL European 5W 30

By  TIM,  a  Verified Buyer  from  Denver  on  August 19, 2021

My mechanic calls AMSOIL a religion! I call it the best oil on earth. My 2009 TDI Jetta has 292,000 miles on um – no oil leaks, does not burn a drop of oil. Just had to replace the turbo plan to get 500k plus miles on um. Change oil and filter 7500 or 5000 miles.

By  JIMI,  a  Verified Buyer  on  August 18, 2021

I have a golf r mk7 running 91oct with 410+ ho to the wheels and daily driven. I've been running this oil for the last 10+ oil changes and no issues. Car runs solid. Doesn't burn oil nor have any oil issues of any kind.
THE ONLY MOTOR OILBy  NEIL,  a  Verified Buyer  from  Carlsbad, NM  on  November 26, 2021
Been using Amsoil in my 2011 Harly since the first oil change. It now has 177,000 miles. Just bought a 2006 Porsche w/37,000 miles. They recommend Mobil 1 but I wont use anything but Amsoil. Cheap insurance!
Bottom Line – I'd buy again!!