Nanofiber Cold Air Intake Filters – Replace that Oiled one
 "One of my favorite AMSOIL products because it once again adds a unique touch to a common product and unlike the oils, it's visually pleasing as well. We get a lot of feedback from users of these. Take your old oil wetted gauze and hold it over a lamp, then compare to this – or even better take an oil test with the oiled type, then with the AMSOIL intake filter and see the reduction of dirt.. "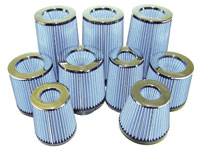 Buy & Pricing
Ea Air Induction Filters (EaAU)
AMSOIL now offers universal air induction filters (EaAU) designed to replace stock oil wetted gauze or foam conical filters that were supplied with custom induction systems. AMSOIL Ea Air Induction Filters offer better efficiency, excellent airflow and are cleanable.
See detailed EaAU specifications and photos  (200k PDF)
EaAU Dimensional Measurement Features   (37k PDF)
More Cold Air = More Horsepowe; AMSOIL Air Filters Flow!
The basic purpose of the air intake system and these cold air intake filters is to bring cool air from outside the engine compartment into the engine. The cooler air is denser than the air found within the hot engine compartment. The denser charge contains more oxygen than warmer air, providing better combustion through a more effective air/fuel mixture.
Another advantage of most specialty-equipment cold air intakes is their consistent diameters and the absence of sharp bends, both of which help to eliminate turbulence in the air stream.
Large and Growing Market of Cold Air Intake Kits
According to research done by the Specialty Equipment Market Association (SEMA), a new air intake system is among the first modifications a consumer makes to his or her vehicle. Since changing the air filter alone cannot eliminate air restriction built into the vehicle at the factory, replacing the factory air flow assembly includes replacing the filter, air box and air path. SEMA reports sales of air intakes are over 300,000 every year.
While intake kits were initially sold only for performance-type applications, they are now also being marketed and used as a way to boost fuel economy in SUVs, minivans, trucks and more.
AMSOIL EaAU is Absolute Efficiency
AMSOIL Ea Air Induction Filters fit most of the popular intake systems available. They provide improved cold air intake and a level of engine protection only an Ea Filter can provide. AMSOIL is currently offering nine Ea Air Induction Filters with varying lengths and widths. These filters have flange IDs of 3″, 3.5″, 4″, 4.125", 4.5" and 6″. Since these filters offer a universal fit, AMSOIL provides the dimension sheet below that customers can use to determine the proper filter for their applications. Customers can easily match the best filter for their application.
Cleanable with air or shop vacuum
The AMSOIL Ea Cold Air intake Filter is cleanable and long lasting. AMSOIL recommends cleaning the Ea Air Induction Filter when designated by the restriction gauge if the vehicle is so equipped, or according to operating conditions. If it is used in extremely dusty environments or in a performance vehicle, more frequent cleanings may be required. Just clean yearly between 15,000 or 25,000 mile intervals.
Cleaning the Dry Intake Air Filters:
Carefully remove the filter from the housing. Clean the housing with a shop towel, being careful not to knock contaminants into the air inlet. Filters can be cleaned by carefully vacuuming the filter media on the dirty side, or by holding the filter with one hand and carefully blowing the filter media at a 45-degree angle on the clean side using low-pressure shop air (15-20 lbs. psi).
Unique Design
To increase filter surface area and the volume of air entering the engine, the top of many popular Ea Air Induction Filters (EaAU) is cut away. The media is inserted in a conical form pointing toward the direction of airflow.
Quality Construction
AMSOIL Ea Air Induction Filters are made from the same high-quality nanofiber media found in other AMSOIL Ea Air Filters. The nanofiber media is pleated with epoxy-coated wire on the face and back of the media for additional strength and stiffness. High quality, pliable urethane connectors with plastisol potting complete the product. Each Ea Air Induction Filter comes with a clamp for convenient installation.
Here's an old snippet of the advertising DVD for these filters. This degree of media is not available elsewhere outside of industrial applications. A first for the automotive market.