Our 20W-50 is the number one best selling motorcycle oil in the world! Because it works as advertised., Advanced multi-functional formula for both domestic and foreign motorcycles. Excellent in air-cooled motorcycle engines due to high heat resistance. Can be used in engines, transmissions and the primary chaincase. Not recommended where an API GL-4 or GL-5 gear oil is required. Harley-Davidson/AMSOIL Oil Chart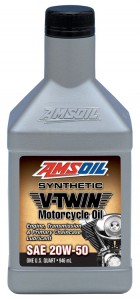 AMSOIL 20W-50 Synthetic Motorcycle Oil is a premium oil designed for those who demand the absolute best lubrication for their motorcycles. It is the result of extensive research and is specially formulated to excel in all areas unique to motorcycles, including high temperatures of air-cooled engines such as Harley-Davidson® V-Twin, wet-clutch lubrication, extreme-pressure regions of gears and chains and rust common to short trips and storage. AMSOIL Synthetic Motorcycle Oil is multifunctional and fulfills the requirements of both domestic and foreign motorcycles.
AMSOIL, the leader in synthetic lubrication, produced the world's first API-qualified synthetic motor oil in 1972. Trust the extensive experience of AMSOIL, The First in Synthetics,® to do the best job protecting your motorcycle.

Withstands Extreme Heat
To prove its extreme-heat performance, AMSOIL 20W-50 Synthetic Motorcycle Oil was installed in a 2012 Harley-Davidson FXDB Dyna Street Bob motorcycle. After deactivating the electronic temperature controls to increase severity, the engine was subjected to extensive idle time broken by short bursts of engine revving to simulate the intense heat conditions of a rally or parade route. Despite little air flow and cylinder temperatures reaching more than 500°F, the oil maintained viscosity and delivered outstanding protection (see graph).
See our blog entry which covers a 500 degree F thermal runaway test on a FXDB Dyna Street Bob. Features a video from AMSOIL corporate. 
Reduces Wear and Deposits
AMSOIL 20W-50 Synthetic Motorcycle Oil contains a heavy treatment of anti-wear additives to reduce wear regardless of the operating conditions. It is thermally (heat) stable and contains maximum levels of oxidation inhibitor additives. AMSOIL Synthetic Motorcycle Oil is extremely resistant to breakdown and engineered to prevent damaging sludge and carbon deposits for superior engine cleanliness.
Provides Extreme-Pressure Quality Protection for Gears and Chains
With AMSOIL 20W-50 Synthetic Motorcycle Oil, there is no need for separate transmission or primary chaincase lubricants. It is absolutely shear stable and will not thin out from mechanical activity. AMSOIL 20W-50 Motorcycle Oil performs like a gear lube without the negative effects of extreme-pressure additives. In the FZG gear test, AMSOIL achieved a perfect score with a "zero" wear rating.
Delivers Superior Rust Protection
Motorcycles are prone to rust from storage, humidity and short drives. Rust can cause major damage such as roller bearing failure, uncontrolled wear, compression loss and blow-by. Good rust protection, however, comes by design and is not natural to engine oils. Unlike many motorcycle oils, AMSOIL Synthetic 20w-50 Motorcycle Oil contains special anti-rust agents. It passes the ASTM D1748 humidity cabinet rust test, demonstrating superior rust protection.
Provides Excellent Wet-Clutch Performance
Yes you are hearing right! AMSOIL Synthetic 20W-50 Motorcycle Oil contains no friction modifiers and promotes smooth shifting and positive clutch engagement. It controls heat and helps prevent slippage and glazing, while its high TBN helps improve clutch life by resisting the acids that can degrade clutch material. So you don't need a dedicated product for your primary chain case. Don't listen to Bubba.
Resists Viscosity Breakdown
AMSOIL resists viscosity breakdown 6X better than Harley-Davidson SYN3 for improved protection against compensator and transmission gear wear.1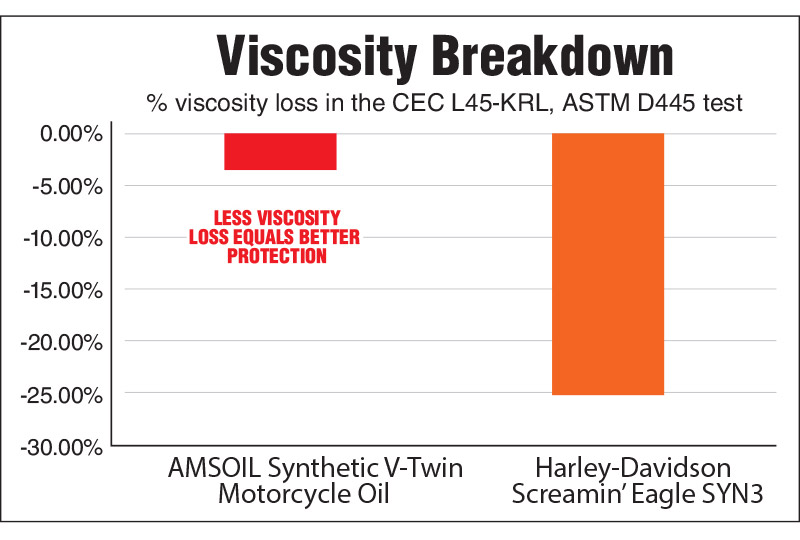 Applications
AMSOIL 20W-50 Synthetic Motorcycle Oil is recommended for air- or liquid-cooled four-stroke engines. It meets SAE 90, API GL-1 gear oil requirements and is recommended for transmissions and primary chaincases. AMSOIL 20W-50 Motorcycle Oil is recommended for Harley-Davidson®, Buell®, KTM®, Ducati®, Aprilia®, BMW®, Triumph® and other motorcycles where 15W-50 or 20W-50 engine oils or SAE 90, GL-1 gear oils are used. Not recommended where an API GL-4 or GL-5 gear oil is required.
COMPATIBILITY
AMSOIL 20W-50 Synthetic Motorcycle Oil is compatible with other conventional and synthetic motor oils; however, mixing oils may shorten the oil's life expectancy and reduce its performance benefits. AMSOIL does not support extended drain intervals where oils have been mixed. Aftermarket oil additives are not recommended for use with AMSOIL Synthetic Motorcycle Oils.
Service Life
Recommended for use up to twice the motorcycle manufacturer change interval (miles/hours) or one year, whichever comes first, in engines, transmissions and primary chaincases. For Big Twin Harley-Davidson transmissions only, follow the Harley-Davidson recommended drain interval for synthetic oil of up to 20,000 miles or one year, whichever comes first. When using an engine filter other than AMSOIL Ea®, change the filter at standard intervals.
For off-road use, change AMSOIL 20W-50 Synthetic Motorcycle Oil at motorcycle manufacturer-recommended intervals. Racing or modified engines are excluded from extended drain interval recommendations. Oil changes are at the owner's discretion.

HEALTH & SAFETY
This product is not expected to cause health concerns when used for the intended application and according to the recommendations in the Material Safety Data Sheet (MSDS). An MSDS is available via the Internet at www.amsoil.com or upon request at (715) 392-7101. Keep Out of Reach of Children. Don't pollute. Return used oil to collection centers.
---
Taken from our recent Power Sports Blog Entry:
From AMSOIL to our local store – All your Power Sports and Motorcycle fluids, oils and lubricants are in one spot!
When you have been in business in a specialized industry as the true innovator, suppliers to AMSOIL know of their management as the most committed to quality with no compromises. In fact they will even tell you of all their clients they work with – that the AMSOIL staff is the best dressed, thus demanding respect. There are dozens of strict guidelines and tests in place that ensures quality will never waver. Price and logistics are never a factor when it comes to selecting or creating the best additives and base oils used in the processes.
This philosophy is essential to have the impressive results that AMSOIL customers recognize. Face it – as difficult as it is to find AMSOIL sometimes you have to recognize their sales numbers. The products have been listed by National Oil & Lube News as 10% of all oils requested at lube centers. This is huge when you consider the competition and cheap bulk oil rates these days and the fact that many of our customers only consider AMSOIL as a powersports product. (Yes they do!!)  Customers look toward independents now for quality and have lost trust in the large corporate mega-sellers who have to constantly re-brand to regain its base.
AMSOIL knows that Americans take their leisure time seriously and performance and dependability is key in modern powersports equipment. OEM's put pressure on customers to use their product and often violate the law by insisting their product must be used to maintain factory warranty. Although this is a major federal violation on manufacturer liability (they must provide maintenance products free of charge per the Magnuson–Moss Warranty Act if they insist one brand must be used). Thus AMSOIL must exist in the industry as the leading product offering unmatched performance.
So this is the season for motorcycling, jet-skiing, boating and other powersports. But the motorcycle oils really have made the grade capturing the largest market share in the industry for an independent oil company. When it comes to motorcycles, AMSOIL addresses all the issues. Not only do you have available specific engine oils for all types of motorcycles & ATV's but the fuel systems, drive train and even the paint finish is addressed.
Here is a list of key products in the Synthetic Motorcycle/ATV line up:
Reasons customers say they will continue using only AMSOIL products: (List specific to our motorcycle customers)
Measurable lower temperatures under load
Instant noticeable performance
"It freed up the engine" – I get that one all the time
Product lasts longer – more miles and the filter brings added peace of mind
Addresses issues which happen in storage – off season
No more feeling that the engine was suffering when idling long in traffic or pushed in high ambient temperature extremes. – No loss of oil pressure
Customers know AMSOIL's tech is there for feedback to to discuss issues
Measurable increase in fuel economy
MADE in USA
We hope you stop in and try our motorcycle oils and lubricants and discover first hand why people swear by AMSOIL products!! You'll feel it in the throttle!
We can also ship saving you money too!!  Call our shipping department at 800-579-0580. We can also supply to Motorcycle Shops so call us to get your account qualified today!
Note: In typical Harley Davidson motorcycles our single product the MCV 20W-50 synthetic can be used in all three sumps OR we also have Primary and Transmission specific products. Call any time with your questions.