AMSOIL 10W-40 Synthetic Metric Motorcycle Oil
The best motorcycle oil available – Performance in a bottle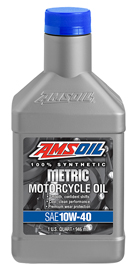 AMSOIL 10W-40 Synthetic Metric Motorcycle Oil is designed for metric bike owners who demand the absolute best lubrication for their motorcycles. Whether riding aggressively, cruising or in stop-and-go traffic, AMSOIL Synthetic Metric Motorcycle Oil delivers the benefits most important to riders, including premium wear protection; smooth, confident shifts and cool, clean performance. With AMSOIL Synthetic Metric Motorcycle Oil, riders enjoy the confidence and security that comes with providing their bikes maximum protection and performance. It is Warranty Secure™ and will not void your motorcycle's warranty.
AMSOIL, the leader in automotive synthetic lubrication, produced the world's first API-qualified synthetic motor oil in 1972. Trust the extensive experience of AMSOIL The First in Synthetics® to do the best job protecting your engine.
Reduces Friction, Heat and Wear
In high heat conditions, AMSOIL Synthetic Metric Motorcycle Oil exceeds the standard for high-temperature film strength to deliver excellent wear protection. It keeps engines running cool by effectively reducing friction and heat, and it contains a heavy treatment of anti-wear additives to reduce wear regardless of operating conditions. AMSOIL Synthetic Metric Motorcycle Oil is thermally (heat) stable and contains maximum levels of oxidation-inhibitor additives. It is extremely resistant to volatility and is engineered to prevent damaging sludge and carbon deposits for superior engine cleanliness.
Smooth, Confident Shifts
AMSOIL 10W-40 Synthetic Metric Motorcycle Oil contains no friction modifiers and promotes smooth shifting and positive clutch engagement. It is engineered to control heat and prevent slippage and glazing, promoting longer clutch life.
Controls Foam
High-rpm operation causes some motor oils to foam. When foam bubbles travel between gear teeth or engine components, they collapse, allowing metal surfaces to contact, causing wear.  It also increases blow-by. AMSOIL Synthetic Metric Motorcycle Oil contains advanced anti-foam additives that help prevent foam, allowing riders to confidently push their bikes to the limit. Some have switched from 20W-50 to 10W-40 to reduce foaming but with AMSOIL you can stick with your proper viscosity.
GL-1 • API SG, SL/CF • JASO MA/MA2
Premium wear protection
Smooth, confident shifts
Cool, clean performance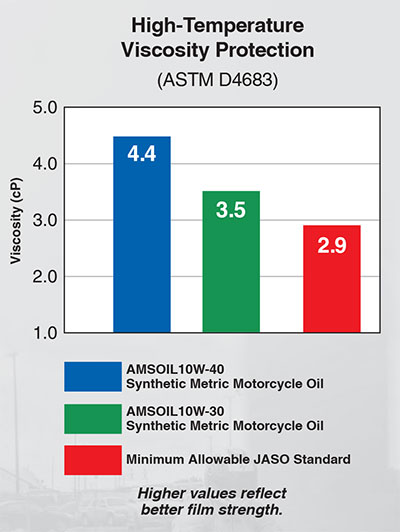 Delivers Superior Rust and Corrosion protection
No one else seems to offer this aspect..
Motorcycles are prone to rust from storage, humidity and short drives. Rust can cause major damage, such as uncontrolled wear, compression loss and blow-by. Good rust protection, however, comes by design and is not natural to motor oils. Unlike many motorcycle oils, AMSOIL Synthetic Metric Motorcycle Oil contains special anti-rust agents that deliver superior rust protection. With its high 11.1 total base number (TBN), AMSOIL Synthetic Metric Motorcycle Oil provides greater protection from acid corrosion and helps maintain internal engine cleanliness.
APPLICATIONS
AMSOIL 10W-40 Synthetic Metric Motorcycle Oil is engineered for motorcycles that require 10W-40 motorcycle oil, including those made by Honda, Yamaha, Kawasaki, Suzuki, Triumph, Can-Am and BMW and other bikes where 10W-40 is required. Recommended for transmissions requiring an API GL-1 fluid. Not recommended where an API GL-4 or GL-5 gear oil is required.
SERVICE LIFE
I'll tell you what – This 10W-40 is recommended for use up to twice the motorcycle manufacturer-recommended change interval (miles/hours) or one year, whichever comes first, in engines and transmissions. We always get "Well I never go that long". I just had a guy who went two years and 10,000 miles and oil analysis said the oil was still good.. While that's not going to be covered by AMSOIL's warranty I sure gives you confidence. That's what you should expect when a company is constantly engineering for a better more advanced product. When using an oil filter other than AMSOIL Ea Motorcycle Oil Filter, change the filter at standard intervals. Racing or modified engines are excluded from extended drain interval recommendations (we shouldn't have to tell you that but that's the time we live in); oil changes are at the owner's discretion.
Buy & Pricing
WARRANTY SECURE™
AMSOIL Synthetic Metric Motorcycle Oil is Warranty Secure, keeping your factory warranty intact. It is a high-performance replacement for vehicle manufacturer-branded products and is also backed by the AMSOIL Limited Warranty (G1363). For details, visit www.amsoil.com/warrantysecure.
HEALTH & SAFETY
This product is not expected to cause health concerns when used for the intended applications and according to the recommendations in the Safety Data Sheet (SDS). An SDS is available online at www.amsoil.com or upon request at (715) 392-7101. Keep Out of Reach of Children. Recycle used oil and bottle.
*All trademarks are the property of their respective owners. No affiliation or endorsement, express or implied, is provided by their use.
Reviews
Wet clutch
By  JASON,  a  Verified Buyer  from  Pa  on  January 17, 2022
Excellent clutch feel and response. The hair bit more aggressive than your MA1. The main thing I feel is a quicker response than the MA1. I use this in all my wet clutch machines
Outstanding product
By  CLIFF,  a  Verified Buyer  from  BC Canada  on  January 08, 2022
I operate a Honda Goldwing only shop, I have used your product for many years, never had a single oil related issue with all the bikes serviced here.
Difficult to find on the road like all motorcycle specific
By  CHUCK,  a  Verified Buyer  from  Daytona Fl.  on  December 27, 2021
Gave it four stars only because of its availability on the road . And would not know about engine wear with out tearing down the motor . haven't had to do that on any of the motorcycles I have owned . I did have main bearing failure on a 4.3 GMC Safari van that I owned from new at 98,700 mi. I did all the oil changes using NAPA WIX filters my self around the 5,000 mile mark using Amsoil . That is the only engine failure I have had in my life of 64 years of vehicle ownership. Now I only use Amsoil in my chain saws and motorcycle. I consider them being more extreme use and worth the added cost.
First time
By  FRANK,  a  Verified Buyer  from  NJ  on  January 01, 2022
I just picked this bike up a Kawasaki concours 2016. This is my first oil change with amsoil and already I hear the motor running quieter! To me. That's win-win. Win-win! I will definitely keep using this. I use it in my side-by-side and my Harley. I will be using this in my cars also. I am a preferred customer and enjoy the savings.
Excellent
By  RENATA,  a  Verified Buyer  on  November 10, 2021
Very good oil. This is used for both my husband and my scooters. He has a 300 Forza and I have a 150 PCX150. It's nice only need to change once a season at the end. I recommend this oil
Best Motorcycle Oil
By  JONATHAN,  a  Verified Buyer  on  November 23, 2021
I got this for my 2019 Kawasaki ninja 650 and it runs and shifts very smooth.
I'm just glad I could afford it.
By  WILLIAM,  a  Verified Buyer  from  Arizona  on  November 29, 2021
I didn't ever think I'd be able to afford Amsoil, however, with the price of oil going up all over the place, is not that much different. So now I can finally afford Amsoil, yeah me.
The only one
By  DOUG,  a  Verified Buyer  from  Pismo Beach CA  on  October 19, 2021
Over 100K on the 2007 1250 Bandit, I believe from the use of Metric 10W-40. I've used all the available synthetics for motorcycles on the Bandit but the only oil that'll let me go as long as I want to between oil changes is this oil. Every other oil that included all the lauded brands had to be changed between 1500 to 2000 miles because of the Bandits shifting becoming "clunky". The very first change into the Metric made a believer out of me by the obvious fact my shifting never gets hard with this product. I change my oil now at 4000 miles "just because" with nothing telling me to, like a "clunky" shift.
Honda pioneer DCT
By  DOMINIC,  a  Verified Buyer  on  October 11, 2021
Meets the requirements that Honda sets out for the pioneer 1000-3/5. My pioneer shifts smoother and still firm with out the noise. I've put 200 miles on so far and love how much better it drives and shifts than with the Honda Dino oil. Cold weather starts are much nicer as well. After a night of freezing temps it started much better and smoother and less noisy than my friends rig that uses the Honda Dino oil. Other amsoil products may work too but this was the only one I found that specified the JASO MA/MA2 requirements that Honda says oil must have for the DCT/engine
It's great!
By  KEITH,  a  Verified Buyer  from  Cary, Illinois  on  October 05, 2021
This oil changed my life! It's better than sex!! I can't wait to put it in my motorcycle again.
The best lol
By  JESSE,  a  Verified Buyer  from  New Hanpshire  on  September 09, 2021
Don't try comparing this to off the shelf oil because you can't, and if you think you can go find YouTube. Yes there is Motul which makes a dozen varieties but if you're going to use Motul then expect to spend more for the comparable product. Have tested this oil through track days and Ian's at the end of a track season. Always consistent and always performs amazing. It keeps the temp down and doesn't break apart like standard oil. I did 9 track days in the summer and checked after. Very dirty which is normal but no breakdown and grit what so ever. Flushed and did another oil change in prep for the track season. Love this stuff
Synthetic Metric Motorcycle Oil
By  BRIAN,  a  Verified Buyer  on  October 05, 2021
This is the oil I've been using in my Honda F6B since the bike was new and I believe it's what keeps my bike running like new. Never had any issues or problems.
2021 Honda ct125
By  crazynate,  a  Verified Buyer  from  In my garage.  on  September 04, 2021
shifts smoother and run cooler.
Great Motorcycle Oil
By  PAUL ,  a  Verified Buyer  from  Portland N.Y.  on  September 06, 2021
I use this on my Can Am Spyder, and judging by the temperature gauge it actually helps keep my engine cooler, never have any problems with startups. I have used Amsoil in all of my motorcycles and they all ran great, I would recommend it to anyone that is considering changing to a fully synthetic brand.