DEEP CLEAN:
P.I. PERFORMANCE IMPROVER GASOLINE ADDITIVE
P.i. Performance Improver Gasoline Additive (API) now features a new label, formula and capless- compatible bottle. The popular deepcleaning gasoline additive continues to restore your engine's power and performance and increase fuel economy.
Maximum Fuel Economy
AMSOIL P.i. is a potent gasoline performance improver featuring concentrated detergents that aggressively clean stubborn, power-robbing deposits from injectors, valves and combustion chambers. It reduces emissions and increases fuel economy up to 5.7 percent. P.i. cleans your entire fuel system in one tank of gasoline and restores engine power and performance.
Deposit Clean-up
GDI injectors are located inside the intense heat and pressure environment of the combustion chamber, making them particularly vulnerable to deposits. Even small amounts of deposits can lead to decreased power and fuel economy. P.i. features improved cleaning power to remove stubborn deposits and keep GDI injectors functioning as they should.
Going Capless
Many new vehicles have replaced traditional fuel caps with capless systems. While adding some convenience at the gas pump, the feature can make using fuel additive bottles a challenge. The threads on most bottles are easily hung up and make treating fuel and removing the bottle difficult. The new P.i. bottle is fully compatible with capless fuel systems.
Formulation Change? Yes. The basic P.i. formula and benefits are the same, but we've added to them with new chemistry to better target deposits in direct-injection engines.
New Stock Number? No
New Treat Rate? Yes. Treats up to 30 gallons. Add entire bottle to tank at fill-up.
Pricing Change? No
Restores power and performance
Reduces need for costly higher-octane fuel
Reduces noise from carbon rap and pre-ignition
Controls pre-ignition "knock"
Maintains the engine efficiency, fuel economy andpower of new vehicles
Capless compatible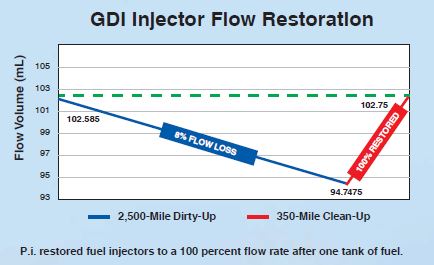 Knocking Out Pre-Ignition
Most cars have "knock" sensors that adjust spark timing to prevent knock. Although audible knock is controlled, power is lost from retarded timing. Higher octane fuels can be used to help prevent knock, an effect called "octane requirement increase." As a vehicle ages, more-expensive, higher-octane fuel is needed to keep it operating at peakperformance. By cleaning combustion chamber deposits, knock is controlled, power is restored and costly higher octane fuel is no longer necessary.