INDEPENDENCE, TIME TOGETHER AND SHARED GOALS MOTIVATE THESE DIRECT JOBBERS
Direct Jobbers Mike and Tammi Lick of Muscatine, Iowa started their business in March 2015.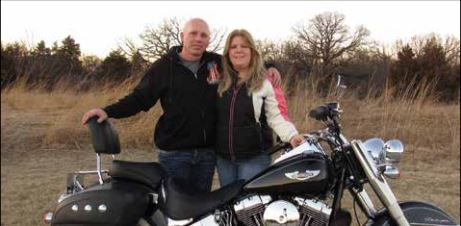 As is often the case with AMSOIL Dealerships, the opportunity arose at just the right time. Mike was looking for a superior oil for his motorcycle. In the course of his research he discovered AMSOIL – and the AMSOIL business opportunity.
At about the same time Tammi had been laid off from an office job when business became slow.
The low cost of becoming a Dealer was attractive, and Mike suggested they take the plunge. Tammi was highly motivated because she was out of work and wanted a job that wouldn't leave her looking for work again and provide the potential for high income. They realized quickly that an AMSOIL Dealership was right for them.
Serendipity.
"We knew we wanted to do this for us and our future," Tammi said. "Mike and I both know this is a job that can be done anywhere and we can do this after he retires. We also like to travel and spend time with our family. The opportunities are endless."
"It's Tammi's full-time job now," Mike said. He is an electrician for the city, but works the AMSOIL business part-time, with plans to do it full-time when he retires. "I never would have imagined I'd be selling oil."
One of the big benefits of their AMSOIL business is that they can work together. "We work as a team," Tammi said. Mike agreed that working together is a plus for him.
"The business is a part of our life so we are always thinking about it," Tammi said. "It is now a part of who we are. When we go out somewhere we often stop someplace that we think could be a potential AMSOIL account. We have our paperwork in the car with us at all times."
According to Tammi, their shared goal of growing their business makes them especially patient with one another when they make sales calls to potential clients.
The couple has been successful on social media, and have joined a number of Facebook groups. They also have Linkedin, Twitter and Instagram accounts.
They attend a number of trade shows. Gun shows have been good for them. They're selling AMSOIL Firearm Lubricant (FLP) at the shows. "We're having a lot of fun with it, and meeting people," Mike said. "People are happy with it (Firearm Lubricant)."
They approach a wide array of businesses. "We look at each situation and try to help as many people as possible," Tammi said. "All the different types of accounts are important to our business."
She said her days typically include making a number of phone calls and researching specific needs of businesses she approaches. "You go into each business well-prepared with what you feel would be important for them, but you also need to listen to what they feel they need," Tammi said. "You need to give each account the tools to make the best decision they can for their business. Sometimes the person knows what they want and are ready to get an account set up, but sometimes it takes several times talking and working with them before they are ready to get an account."
They frequently visit local accounts. When customers ask for information, Tammi relies on AMSOIL Technical Support. "They know my name by heart," she said. "Our accounts that are not local, we try to find and friend them on Facebook because social media is a great way to stay connected with our customers. We try to interact with our customers on a regular basis."
They've been around the business for a little while now and know the challenges of getting started. "The most important things for new Dealers are to make sure you use the product and also get T-1 Certified as quick as possible," Tammi said.
It's also important for Dealers to persevere and not become discouraged. "It is very important to stay in touch with your upline Dealers," Tammi said. "It is also very important to stay in touch with your downline Dealers and help them when they are discouraged. We learned first-hand that building a business is not always easy and having a sponsor and upline Dealers that guided us and helped us learn the business was what kept us going."
KEY TAKEAWAYS
Teamwork breeds success
Be prepared
Use social media
Diversify your business
Listen to determine accounts' needs
Provide great service
Support your sales team