Lavon Miller Successfully Defends Ultimate Callout Challenge Crown

Following the success of the inaugural Ultimate Callout Challenge (UCC) in Salt Lake City last year, the second-annual event brought 31 turbodiesel truck builders to Indianapolis for another noholds-barred competition measuring horsepower and torque, quarter-mile times and sled-pull performances.
Defending UCC champion and AMSOIL-sponsored diesel builder Lavon Miller of Firepunk Diesel entered the competition with another title on his mind, and with an impressive winning time of 8.63 seconds in the drag race. Miller bagged a second-place finish in the dyno competition and a sixth-place finish in the sled pull. He once again took the top overall score for the championship. Pretty fricken awesome eh?
Shawn Baca of Industrial Injection won the dyno competition with shocking 2447/3311 (hp/torque) numbers and finished 13th overall, while Todd Welch of Power Driven Diesel earned the win in the sled-pull competition with a distance of 321.02 feet, finishing 17th overall.
See the full results at ultimatecalloutchallenge.com.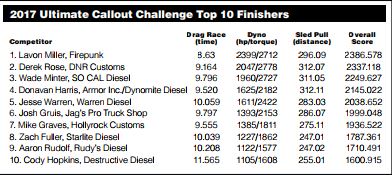 Marketing Impact for AMSOIL Dealers.
AMSOIL is the Exclusive Official Oil of the Ultimate Callout Challenge. The drivers rely on the premium protection and performance qualities of AMSOIL synthetic engine oils and drivetrain fluids to keep their trucks protected and running at peak performance throughout the intense, high-heat conditions of competition.
Covered extensively by turbodiesel-market publications, eyes were on the Ultimate Callout Challenge, creating outstanding exposure for AMSOIL products. The vast majority of turbodiesel enthusiasts own trucks and want the best protection for their investments. Diesel fans present a prime market for AMSOIL Dealers. Once they see AMSOIL is a viable solution to problems and challenges in this sector the rest is history! These enthusiasts in the turbo diesel racing sector like how AMSOIL has devoted time and resources to addressing wear and fuel issues with products dedicated to these challenges.