Heading to Daytona Bike Week? Don't Miss These Must-See Sites

A couple weekends ago, those of us in Wisconsin and Minnesota experienced spring-like temps in the 50's and 60's. It brought out the sights and sounds of a few brave motorcyclists on their first ride of the year, despite knowing winter was not yet over. While we're currently back to experiencing winter up north as we know it, it hasn't stopped us from getting amped for the 76th Annual Daytona Bike Week in Daytona Beach, Fla. and the riding season just ahead.
For many, this event marks the kickoff to bike season and offers a great excuse to hit the open roads in the Sunshine State. We asked around for the best of Daytona riding and came up with the following hot spots. Whether you're in town for Daytona Bike Week or have a future road trip planned without the masses, be sure to add these stops to your itinerary.
The Beach
Daytona Beach is famous for the miles of sand framing spectacular views of the Atlantic Ocean. Local beach bums have descended on this stretch for years and it's drawn countless tourists looking for an endless summer. It's also got designated traffic lanes for bikes & automobiles, lending a unique riding experience over hard-packed sand. Check out the rules, take a virtual beach ride and get inspired for your own travels here. If your car rusts out don't say I didn't warn you!!
The Ormond Scenic Loop & Trail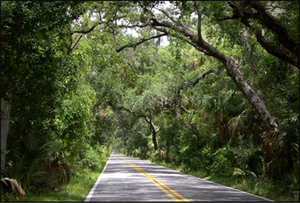 Those looking to escape for an epic ride amongst nature and scenery will find it on the Ormond Scenic Loop & Trail. Over the course of this 33-mile loop you won't find stoplights, malls or large groups of tourists. You'll instead find winding roads, wildlife, live oak canopies, Spanish moss and peace. Learn more about the Ormond Scenic Loop & Trail, including maps & directions, here.
Ponce de Leon Inlet Lighthouse
Ponce Inlet, Fla., about 10 miles south of Daytona Beach, is home to Florida's tallest lighthouse reaching 175 feet into the sky. The Ponce de Leon Inlet Lighthouse draws over 170,000 people annually for its 360-degree views of the ocean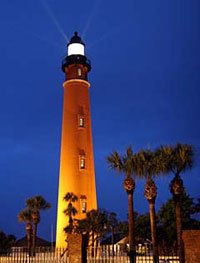 , inlands and surrounding beaches. Visitors can make the trek up 203 steps to capture photos and memories with a sense of being on top of the world. Find maps and more info on making this part of your trip here.
Bonus Mention: Cape Canaveral
For those looking for more of a journey than a jaunt, consider taking a ride from Daytona Beach to Cape Canaveral, Fla. Located 75 miles south of Daytona, Cape Canaveral is home to NASA's Kennedy Space Center and the dreams of millions fascinated by outer space. If you plan accordingly, you'll arrive in time to witness an actual rocket launch. There's so much more to see and experience in Cape Canaveral, you should check out their website and make a day or two out of it.
Or you can do like I will be doing – riding the Appalachian Trail enjoying the motorcycle on and off road away from these crazies.