Stock AMSOIL in your store
Yes – there has never been a better time to add AMSOIL products to your shelves. Whether you have a automotive related shop, repair center, auto supply, powersports retail center, a shop that specializes in tools and equipment or even something not related to lubricants at all – chances are your town has a demand that is not being filled. Contact us to be qualified as a AMSOIL Retailer today! Customers want retail locations. We can help you successfully sell AMSOIL in your store.
AMSOIL has enhanced the programs to eliminate shipping costs, include attractive shelving and merchandising kits and list your business on the AMSOIL Corporate Website. In addition we will assist in marketing your stock of AMSOIL products via my own blogging and website performance. It's a no-brainer really!
Call me at 800-579-0580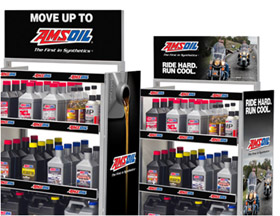 The reason for this post was really to despel the myth that stocking AMSOIL in a retail establishment is useless because, "anyone and their dentist can buy online at wholesale".  Back in the summer of 1998 I was told that by a Yamaha dealer in Garland, TX. I later proved to myself that was completely false when I opened a few other accounts and later opened two retail stores of my own and saw business increase more than 60%. Then recently AMSOIL completed a similar market study to show that most buyers of any type of oil would never buy online or chase down someone after work at their home garage.
Bottom line AMSOIL's best market is in a 9 to 5 retail center. Customers in the automotive enthusiast market are more concerned with convenience than price. AMSOIL quality goes far beyond the competition so it's a successful product to have on your shelves.
Reasons to Stock and Retail AMSOIL in your store:
Free Shipping on orders over $300
Listing on AMSOIL's Corporate Website making it easy to sell in your store.
Merchandising Kits at no cost to you
Market Median Sales prove AMSOIL is instantly recognized for quality and attracts higher quality
clientele willing to pay more for upgraded products and services. Products do not collect dust
AMSOIL gives your shop the competitive edge and your customers performance they will notice!\
AMSOIL XL & OE are ideal profit generators competing on price.
Add-Ons Products work as advertised. Serves as draw for sales between oil changes.
Millions of dollars added to AMSOIL marketing budget including major sponsorships and SEMA
If you are new to AMSOIL I always suggest just four products to start with. For example an average retail shop will do well with the AMSOIL XL (Extended Life) motor oil, the P.i. Injector Cleaner, the ASE 10W-30 commercial grade small engine oil and the Saber Pro 100:1 2-cycle oil.
Call us for the full catalog and price guide.
Ches Cain
605-274-2580
ches@syntheticwarehouse.com