Lovell: The Every Man Champions
Editor note – Lubricant quality means everything. Our products are built for the pros.. Well overbuilt is what they are saying now but in real world every day scenarios aside from the protection AMSOIL hydraulic or fluid power products provide, there is the Performance factor!
A power steering pump that still works at 180,000 miles recently upgraded to AMSOIL (50% was exchanged) it saves additional fuel and can handle the wear metals still circulating when you upgraded to AMSOIL plus significant cold weather power transfer.
On an automatic transmission under heavy towing more power gets to the wheels and many customers note a 30 to 50 degree drop in temperatures!! I've had customers doubt that then call later to verify it indeed worked just as advertised!
AMSOIL helps you get well past that expected lifespan and yet, keep your efficiency as if the drivetrain was still new.
Lovell brothers repeat at King of the Hammers.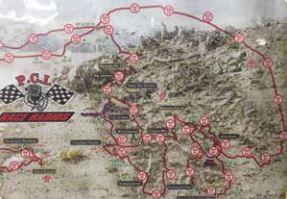 As defending champions of the King of the Hammers Every Man Challenge, Team AMSOIL off-road racers Brad and Roger Lovell entered the 2017 event with high expectations. Qualifying eighth after a huge boulder dislodged and caused some struggle on a rocky climb, the brothers started the main event near the front of an enormous 130-car field.
"Our formula is to always run our own race and control what we can, ignore what we can't," said driver Brad. "We ran a brisk and consistent pace, but not fast enough to cause a lot of errors. Roger kept telling me that we can only go so fast in our car regardless of who we are racing, so I pushed hard but made no errors."
Over the first 60 miles of desert terrain, the team gained several positions, but kept its focus on the front. When early race leader Bailey Cole fell victim to a broken axle shaft, the Lovells took the lead.
"I knew we would be fast once we got to the rocks, and everything was going great until we heard we had a 30-minute lead," said Brad. "That type of thing gets to you in a strange way. We slowed to a conservative pre-run pace, but in a race like this, drama will find you."
Bad luck struck on Wrecking Ball when a power-steering line burst, stopping the team dead in the water.
"My heart jumped in my throat when we lost steering," said Brad. "For an instant I thought hope was lost, but we found the bad line and replaced it in less than 10 minutes. We throttled up the waterfall and while I knew that we ate into our buffer, we still had a strong lead."
The only unscheduled stop was at the BF Goodrich pit for a topoff of AMSOIL Synthetic Tractor/Hydraulic Transmission Oil (ATH) in the steering reservoir before the brothers ran the last section to the finish.
"I kept thinking something little was going to go wrong and nab the win, so we took it real easy," said Brad. "We came into traffic on Resolution right before the finish, and a broken car was blocking the drop off Backdoor. I didn't want to take any chances, and those guys were sportsmen enough to move the car while in the middle of repairs. It is a bad day when you're broken, and those guys have my respect."
Once clear of the rocks, the Lovell brothers cruised to the victory in their first race of the season.
"We owe it to a solid team of guys who love racing, a dedicated family and the support of our sponsors through thick and thin," said Brad. "There is no way we could race without the support of AMSOIL and all our other sponsors. We are proud to represent the best brands in off-road."
DEALER IMPACT AMSOIL is the Exclusive Official Oil of King of the Hammers. Featuring truck, motorcycle and UTV races, King of the Hammers brings together enthusiasts of all stripes, while drawing tens of thousands of fans to the live event and millions more watching online, increasing AMSOIL brand exposure and opening doors for Dealers.