'Educate, Entertain and Engage' to Gain New Accounts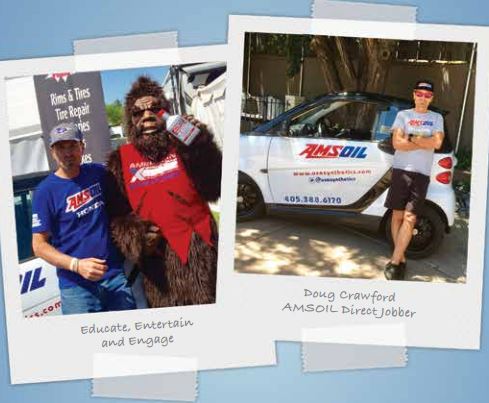 Direct Jobber Doug Crawford of Oklahoma City, Okla. was sold on AMSOIL products in the 1980s after a friend suggested he try them.
Crawford was working at a Yamaha* dealership in Florida. "A trusted friend recommended I try SABER®. Of course it was known as "100:1" back then," Crawford said. He installed it in a Yamaha IT 175G dirt bike. "I couldn't believe how well it worked," he said.
By 1987, Crawford was in Kansas working as a vacuum cleaner salesman and driving a lot of miles in the sparsely populated state. He was changing the oil in his 1987 Dodge* Raider* every month.
Research brought him back to AMSOIL products and their extended drain intervals. He installed AMSOIL 10W-30 Synthetic Motor Oil and started driving the Raider for the 25,000-mile interval.
Crawford became a Dealer in 1987 and started working his business full-time in 2008. He jokes about his motivation to be a Dealer, exhibiting the free-thinking personality familiar to many in the Dealer network.
"Initially, it was because I was successful at getting fired more than I'd like to admit," Crawford said. "Today, I love what I do, the people I meet, the places I get to go and the confidence in knowing I represent a product which truly has no equal."
Crawford uses social media extensively to promote his business. He posts on Facebook and Instagram, often creating off-beat connections to promote AMSOIL and AMSOIL products.
"I often say that I'm not concerned with whether viewers are laughing at me or with me, as long as they laugh," he said. "My goal is to educate, entertain and engage viewers in hopes that they'll make a decision to try AMSOIL."
Crawford admits that his videos may seem a little "out there." "It's all about perspective. I put myself out there and I don't care about if people think I'm crazy," Crawford said. People respond to him and his business continues to grow, so he knows he's doing something right.
His one rule? "I never, ever ask anybody to buy anything on social media. Ever."
In fact, he rarely asks anyone to make a purchase outright. "I make suggestions and get the message out and the deal comes to me," Crawford said.
Crawford concentrates his efforts on Preferred Customers and retail accounts. He enjoys a lot of success through attending AMSOIL-sponsored events. His favorites are racing venues such as Supercross, Arenacross and ATV racing, but he also attends car shows.
"I ask a lot of questions of prospects in the early stages, so gaining them as an account is almost automatic," he said.
Crawford sometimes promotes his customers' businesses on social media. "And, periodically, I'll hook them up with a little AMSOIL swag or buy pizza, donuts, etc. Recently, I dropped off root beer floats – huge hit," he said.
He also does a lot of hands-on customer service for his accounts. As an example, he recently drove to Tennessee to help one of his Dealers with a show.
He attributes much of his success to his willingness to spend time with accounts, set up their shops and listen to their needs. "I'm not in a hurry," Crawford said. "The order happens sort of organically as part of the conversation. I let the process unfold to its natural conclusion of getting to an order. Typically, they order more than I suggest."
He found his niche as an AMSOIL Dealer. "We're not getting rich quick, but we can get rich slow," he said. "I love what I do. I don't dread the calls or the work."
Crawford has simple advice for other Dealers. "Never quit, and, as Rob Stenberg once suggested to me, 'get comfortable out of your comfort zone.'"