DIRECT JOBBERS: 'WE'RE A WELL-OILED TEAM'
Direct Jobbers Ken and Denise Chuderewicz of Pittsburgh are a self-described "well-oiled team."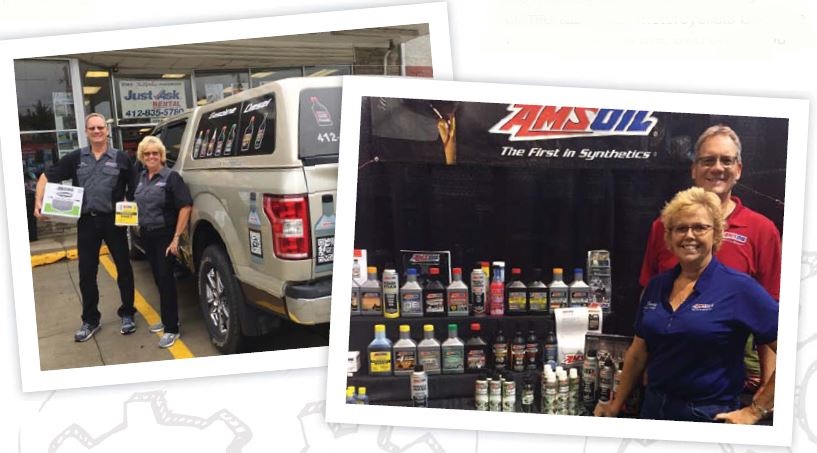 "When we started our AMSOIL business we never gave it a second thought – we are a team," Ken said. "We have always enjoyed doing things together. We support each other in everything we do. We each have something to contribute to the business. Where one falls short, the other picks up. We are a 'well-oiled team.'"
Ken was an automotive mechanic before he became a career police officer, while Denise's background is in nursing. "We put these qualities together and focus on how we can help our customers," Denise said. "We have found that having both male and female representatives is an asset."
They capitalize on their differences. "We actually watch how the potential customer reacts to one of us, and if there is not a quick attachment, the other steps in to see if the person feels more comfortable talking with the other half of the team," Denise said. "We have been complimented on our teamwork. We get the job done. We learn from each other and critique one another to fine-tune our presentation. Sometimes we even have a friendly competition on who can sign the most qualified accounts in a specific period of time."
They use a straightforward approach with potential customers. "We like to problem solve," Ken said. "We ask our potential customers if they have any issues or problems with what they currently use, and we offer a solution to their problems with our AMSOIL products. If they have a problem, we have a solution."
They were familiar with AMSOIL products long before they became Dealers. "We knew the superior quality of AMSOIL," Ken said.
They were looking for a new challenge in their lives when they decided to become Dealers. "We decided to step outside our comfort zone and give it a try," Denise said. "Neither one of us were ever in sales, let alone own our own business, but we knew that we had a wonderful product line that actually did what it promised. So, we ventured forward and became AMSOIL Dealers. We have been moving forward ever since."
That was more than 15 years ago. At that time, the synthetic oil market was not so well-established. "The toughest challenge back then was to educate people on the benefits of 'The First in Synthetics,'" Ken said.
"We not only had to educate them, we had to gain their trust and get them to give us a chance to prove our brand."
Ken and Denise believed in the AMSOIL product line and had no problems talking about the products with potential customers. "We were confident once they tried AMSOIL products, they wouldn't be disappointed," Denise said.
Many Ways to Earn
They also were drawn to the business because of its multiple income streams. "We liked that there are so many different ways to make money selling AMSOIL," Ken said. "Whether it be one on one sales, the Preferred Customer Program, retail, commercial, catalog or website sales there's money to be made. Find your niche and get started, then expand from there. We've always said the AMSOIL opportunity is a great way to earn what you want. Whatever you put into your AMSOIL business is what you will get out of it."
The first year, they focused on the motorcycle market. "We were comfortable with motorcyclists because we were, and still are, avid cross-country motorcycle riders and belong to GWRRA (Goldwing Road Riders Association)," Ken said. "We thought maybe our AMSOIL business would be a seasonal adventure."
It wasn't long before they realized they could grow their business by simply supplying those same motorcycle owners with the products they needed for their other vehicles and equipment. "This all added up to more sales all year 'round," Denise said. "That first winter we were pleasantly surprised that our diesel sales went through the roof and surpassed the motorcycle season sales. We knew we were onto something big."
Ken's background in law enforcement and experience as a firearms instructor and armorer give him credibility with gun enthusiasts. "We asked many for their opinion on how well AMSOIL (firearm) products compared to what they were using," Ken said. "We found that the majority that tried AMSOIL were satisfied with the results and became customers of ours, individuals as well as retail accounts. We love new products; they give us an opportunity to continue to meet new potential customers."
Always Prepared
The Chuderewiczs have created a thriving and diversified business. "We now focus on a well-rounded business," Denise said. "We don't favor one aspect over another. We are always prepared to speak to anyone. We ask the potential customer a little about themselves. We want to know all of their possible needs for AMSOIL products, and we make sure to ask if they have a business or if they would like to start a business. We really like to get the customer into the correct program for their needs and wants."
The Chuderewicz vehicles are outfitted with business packets that include catalogs, tax forms, stickers, price lists and business cards. "You never know when an opportunity will appear," Ken said. "We have a much better response when we hand the potential customer our information and we in turn ask them to jot down their name and number on a card so that we can follow up with them in a week or two."
Building Relationships, Gaining Customers
There's a certain rhythm that goes with gaining a new customer that successful salespeople understand. "Believe it or not, we sometimes do get to sign up an account on the very first visit, but that is not the norm," Ken said
Ken and Denise follow a well-practiced routine in their approach. They introduce themselves to their prospect and spend time learning their needs. They provide AMSOIL literature and make recommendations for specific products. Next, they schedule a follow-up to get the prospect's feedback on the AMSOIL recommendations and answer any questions they may have.
" That first winter we were pleasantly surprised that our diesel sales went through the roof and surpassed the motorcycle season sales. We knew we were onto something big."
"We let them know that we are available to service them any way they wish," Denise said. "We are not pushy salespeople. Actually, we don't see ourselves as salespeople. We work to form a relationship with our customers so that they feel comfortable dealing with us. We can take it as slow or as fast as they prefer. We want a long- lasting business relationship, not just a one-day sale.
"When we talk to a commercial account that has a fleet of vehicles, we ask them to just try AMSOIL products in one vehicle and let us know what they think. We know once they try it they will want AMSOIL in all of their vehicles. The benefits are tremendous. We want a customer for life."
Ken told the story of how they gained one of their best customers. It was in 2009 when they were working the AMSOIL booth at a Loretta Lynn Regional MX Qualifier. A man approached and asked if AMSOIL would fix his son's slipping clutch. "We told him 'no, but it will keep a clutch from slipping for a longer period of time,'" Ken said. The man bought a case of AMSOIL 10W-40 Synthetic Metric Motorcycle Oil (MCF), and took an AMSOIL catalog and a business card.
About two months later, the man called late on a Friday. "He wanted to know more about the AMSOIL line," Ken said. "He said that he put a new clutch in his son's race bike, and after 12 races the clutch wasn't slipping. He said he had only gotten eight races out of a clutch before, so he tore the bike down to see what the clutch looked like. After seeing that the clutch was 'like new,' he decided he wanted to try AMSOIL in his company trucks."
The man said he didn't want "to bother" them on a weekend and would call back on Monday morning to work out the details and hung up his phone. "I thought to myself this is what we do; it won't ruin our weekend," Ken said. "But we had to wait until Monday morning and hope that he would call back. Monday morning arrives and we're ready for the phone call. He called, we started out with small talk, then we got down to business. When I asked how many pieces of equipment he had, the answer nearly knocked me out of my chair … 6,800 pieces in eight states. He has 95 pickup trucks and the rest are heavy equipment.
"We have since become friends, and he is very happy with the AMSOIL quality, performance and service. He told us that he wanted to deal with us as his AMSOIL Dealers because of our honesty. He knew that the clutch was bad and needed to be replaced when he approached us, but he wanted to see what we would say. The AMSOIL exceeded all expectations for his son's bike, so he felt comfortable trying it in his fleet."
Setting Goals, Reaching Milestones
Four years ago, their desire to retire from their day jobs led to a goal to grow their AMSOIL business to include enough supportive accounts to service their customers who are not DIYers. "We wanted to have places to refer potential AMSOIL customers to get their oil changed, whether it be a car, truck, motorcycle or lawn equipment," Denise said. "We retired from our jobs Sept. 1, 2017. For the last year we have been able to refer our DIFM [do-it-for-me] customers to our service garages to get their AMSOIL needs met. We are happy, and our accounts are happy with the referrals. It's a win-win relationship."
Become a Dealer Now and Learn more about the Opportunity
Join us as an AMSOIL Dealer – I left my full time career at Bell in 2003 and never looked back. What was supposed to be just a way to cover my lunch expense every day ended up doubling my income.  Join now only to get into the AMSOIL University online then make your game plan. Call me on the phone if you have questions and join my own dealer Telegram group for daily help and communications.  This link covers the basics and will get you connected with my group which is in the top 5 in the US & Canada. Points here cover the most often asked questions with several videos I made in the past.