Challenges breed opportunity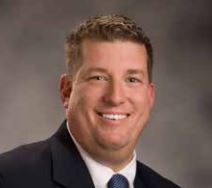 Mark Kroll | REGIONAL SALES MANAGER
Today's demanding engines need a better oil – don't let this opportunity pass you by.
"What's new?" You're bound to field this question once or twice a day when visiting accounts. Customer surveys and focus groups tell us that managers of independent repair shops and similar businesses want more information from their Dealers about industry developments and the sales opportunities they provide. And, given the changes in the industry and our commitment to staying ahead of the curve, AMSOIL Dealers are armed with a great response to this question.
The introduction of sophisticated turbocharged, direct-injection (T-GDI) engines has opened the door for Dealers to highlight how our products solve the challenges posed by modern engines. For example, let's look at OE Synthetic Motor Oil, our line designed for independent mechanics, quick lubes and other installers:
Achieved 100% protection against low-speed pre-ignition (LSPI)1
Delivers 47 percent more wear protection than required by the GM* dexos1® Gen2 specification2
Fights sludge and deposits
Backward compatible with GM dexos1 (0W-20, 5W-20 & 5W-30 viscosities)
Competition isn't required to meet the minimums until mid 2020 in which they will have significant price increases.
As the demands engines place on motor oil become more challenging, industry and original equipment manufacturer (OEM) oil specifications have become more strict in lockstep. It's likely your accounts have heard about the GM dexos1 Gen 2 specification. However, according to what they tell us, they simply don't have the time or tools to educate themselves on the topic. That's where you can step in with a solution. We provide Dealers with a wealth of resources to stay current with industry changes. The goal is to communicate the following to your customers: Modern engine technology and government regulations have increased the demands placed on motor oil. AMSOIL products provide the protection required to meet these demands. And did two or more years ahead of the rest.
What can you do to make the most of this opportunity? First, familiarize yourself with the latest industry developments so you can properly educate your customers. AU Online is a great place to start. Log into the Dealer Zone at myaccount.amsoil. com and click the AU Online banner in the middle of the homepage. Watch the Quickshots video titled "PCMO Reformulations" or look for the Passenger Car Motor Oil Dealer Sales Brief in the Resource Library. You can also consult our LSPI landing page at amsoil.com/lander/lspi-update.
To help you spread the message, we developed the LSPI Flyer (G3551). It quickly explains the dire consequences of LSPI and how AMSOIL products can help. Check the Dealer Zone for an announcement of availability.
By the time you read this, the updated Installer Kit (G250) should also be available, which helps you understand this vital market, shows installers how AMSOIL products solve the challenges of today's emerging technologies and walks you through the sales process.
The key takeaway is that AMSOIL synthetic motor oils solve the challenges of today's engines, relieving your customers of the burden of keeping up with these changes and worrying whether they're taking adequate care of the vehicles they service.
For many of these customers, AMSOIL synthetic motor oil is considered their high-quality specialty oil. They rarely offer AMSOIL as their "house" oil and tend to sell it on request only. The need for a cost-effective motor oil that meets the demands of modern engines creates a unique opportunity for you to sell AMSOIL OE. Shop owners need a competitively priced, high-quality synthetic oil that meets the demands of modern engines, creating the perfect opportunity to present OE as the ideal solution. It's priced comparably to other high-quality synthetics, increasing the likelihood of earning the coveted status as the installer's house synthetic oil. Our research shows that installers sell on average 10 times more of their house synthetic than their second- or third-option synthetics, increasing your sales.
Opportunities like this are short-lived. Your accounts will hear about LSPI and other topics from industry outlets and their customers. Successful Dealers must keep on top of these trends and advise their customers of the solutions we provide. This is a great chance to put it all together and demonstrate how AMSOIL products combined with your personalized service are the best choice for them.
Stock AMSOIL!
Own a business? Want to service your customers vehicles with the best? Or do you have a retail store and want to provide the very best options available? Call us at 605-274-2580 or fill out the form on the main site – Retail Account Registration