Top AMSOIL Products for Landscapers
Of the millions of accounts AMSOIL dealers serve, Landscapers across the country amount to over half.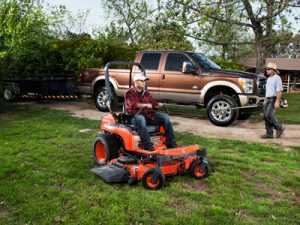 A 10W-30 (built as a SAE 30) for all your equipment.
AMSOIL Formula 4-Stroke® Synthetic Small Engine Oil (ASE) is a robust formulation designed for hot-temperature, severe service operation of small engines where routine maintenance is often difficult or infrequent.
Since its debut it's been upgraded as technology allows making it one of our best selling products! Now we have a 5W-30, 10W-40 and 15W-50 version. Formulated with premium synthetic base oils that exceed both 10W-30 multi-grade and SAE 30 straight-grade viscosity requirements, it provides outstanding protection in temperature extremes, while helping improve productivity and reduce maintenance costs.
SABER Professional 100:1 Synthetic 2-Stroke Oil
It's not too 'lean' to mix ours at 100:1 in you 50:1 or other mix. I want to assure you that our Saber Pro has been refined for 45+ years assuring you will have better performance when you use AMSOIL and follow our 80:1 or 100:1 suggestion.
Specially formulated for pre-mix, air-cooled applications, AMSOIL SABER® Professional Synthetic 2-Stroke Oil (ATP) withstands high heat and stress to protect engines against wear and harmful deposits. It can be mixed at conventional mix ratios (32:1, 40:1, 50:1) or the SABER Ratio™ (80:1, 100:1), which offers an uncompromising combination of convenience, savings and protection. SABER eliminates the need for mixing different ratios for different equipment. When used at the SABER Ratio, smoke is virtually undetectable.
It's so good you will think you were NUTS for not using it before.
20W-50 Synthetic Hydrostatic Transmission Fluid
The critical piece of your operation is your Zero-Turn mower. By avoiding the costly OEM hydrostatic oil or regular 20W-50 motor oil which does work, why not impress your self with more power in all temperatures just by switching brands? AMSOIL 20W-50 Synthetic Hydrostatic Fluid stops power fade delivering IMPRESSIBE full time power to the wheels..
Zinc-based additives fight wear to maintain motor-wheel tolerances and proper oil pressure.
Resists viscosity loss in extreme heat for maximum mower speed and responsiveness.
Forms a thick, durable film on gear teeth and other components to guard against metal-to-metal contact and wear.
Resists mechanical shear and viscosity loss for excellent wear protection and long transmission life.
Maintains protective viscosity despite extreme heat to ensure strong protection.
Naturally heat-resistant synthetic base oils help reduce deposits.
Promotes component cleanliness for peak efficiency and excellent performance season after season.
Premium Synthetic Diesel Oil
AMSOIL Premium Synthetic Diesel Oil (DEO, DME) is the premium choice for diesel- and gasoline-powered transport vehicles. Formulated with the latest additive and synthetic base oil technology, it exceeds the higher performance demands of modern engines, withstanding the stress of heat, soot and acids to help prevent deposits, wear and corrosion over extended drain intervals.
Quickshot – Fuel System Restore
AMSOIL Quickshot® (AQS) is a premium fuel additive formulated to thoroughly clean and restore peak performance in small-engine fuel systems. It also stabilizes fuel between uses and during short-term storage periods. Its revolutionary technology focuses on three major fuel-related issues plaguing small engines: ethanol, water and dirty pump gas.
It also battles carbon buildup in the intake areas of these engines.
If the deposits are severe also try the AMSOIL Power Foam.
Semi-Synthetic Bar and Chain Oil
Ideal for chainsaws, the tacky formula of AMSOIL Semi-Synthetic Bar and Chain Oil (ABC) clings to metal surfaces better than other oils. It delivers excellent lubrication and protection, while antiwear additives extend the life of bar and chain applications.
Low Cost 15W-40 Commercial Grade Diesel Oil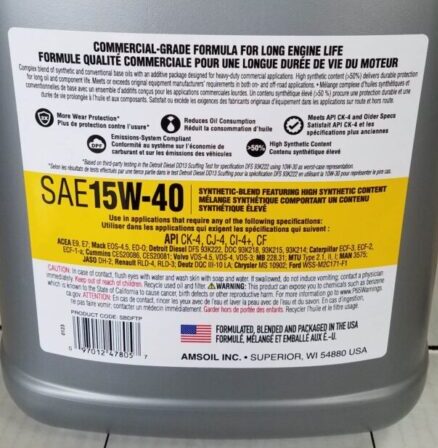 And our newest addition is the diesel oil you can't argue NO based on price!
15W-40 Commercial-Grade Diesel Oil
Product Code : SBDFTP-EA
•    Greater than 50% synthetic content delivers upgraded protection
•    Delivers 2X more wear protection1
•    Helps keep trucks and equipment operating at peak performance
•    Excels in temperature extremes
•    Provides outstanding value and excellent protection for customers seeking an upgrade over other synthetic-blend and conventional diesel oils