AMSOIL Dirt Bike Products Maximize Performance of Bike and Rider
Whether you ride to take the checkered flag or conquer the trails near home, AMSOIL has you covered.
Most dirt bike riders have one goal in mind when they hit the track or trail: ride faster and more effectively. Clutch performance goes a long toward ensuring you get out front and stay out front. Clutch slippage or inconsistent clutch feel can lead to poor starts out of the gate, while maneuvering around obstacles on the trail increases the opportunity for clutch slippage if low-quality lubricants are used.
Consistent clutch feel important
AMSOIL Synthetic Dirt Bike Oil's superior friction-durability properties help minimize clutch slippage, fade and chatter, giving riders consistent clutch feel during takeoffs or when navigating the trail. In an extreme simulated-start test, AMSOIL Synthetic Dirt Bike Oil continued to deliver consistent clutch feel following 32 simulated race starts, while a leading manufacturer's oil demonstrated inconsistent clutch-lever action and poor clutch feel after 16 starts. AMSOIL Synthetic Dirt Bike Oil's superior performance helps instill in riders the confidence that their bikes will perform consistently in all types of riding conditions. It also delivers superior wear protection for engine and clutch components.
Some riders, however, prefer a dedicated transmission fluid instead of a multi-purpose motor oil. For them, AMSOIL Synthetic Dirt Bike Transmission Fluid features a wet-clutch-compatible formulation designed to prevent clutch slippage and deliver consistent, confident clutch feel. It helps you ride smoother and faster for maximum performance. It also provides excellent wear protection for gears and clutch plates, reducing time and money spent on maintenance.
Don't overlook chain and fuel maintenance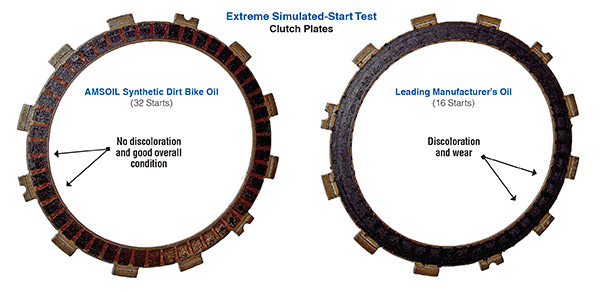 Although easy to overlook, the chain is another important area to maintain. In order to ensure optimum performance and life, dirt bike chains require premium lubrication and protection against dirt, mud, water and constant stress. AMSOIL Chain Lube doesn't fling off, helping you avoid the hassles of frequent reapplication and the stresses of worrying about chain durability.
Degraded fuel presents major problems for dirt bike engines. It can form varnish, gum and insoluble debris that clog carburetors, fuel injectors and fuel filters. Carbon buildup can form on the tops of pistons, causing pre-ignition, rough idling and poor throttle response. AMSOIL Quickshot® is formulated to thoroughly clean and restore peak performance in dirt-bike fuel systems. Its revolutionary technology addresses problems associated with ethanol, water and dirty pump gas.