This entry into our AMSOIL Dealer Training Series covers one of your first goals as an AMSOIL Dealer.
Become T1 Certified and start receiving leads and local business via AMSOIL's Dealer Locator.
The T-1 Certification Program is an educational program designed to provide a solid foundation on which to build your AMSOIL business. The T-1 Certification Series books and related material includes information on all AMSOIL products and programs, in addition to training on how to sell AMSOIL products and administrate your AMSOIL business. Studying this material and knowing its contents will offer considerable support to your success as an AMSOIL Dealer.
To become T-1 Certified you must demonstrate that you've studied the information provided in the T-1 Certification Series and understand AMSOIL policies governing Dealer activities. You are able to work at your own pace, from the convenience of your own location, and take the test whenever you're ready.  Once you've earned T-1 Certification status you'll be armed with all of the knowledge needed to grow your business.
Program Goals and Benefits
Program Goals
AMSOIL strives to provide Dealers with the best opportunities for success and customers with the best products and services in the industry. The T-1 Certification Program is intended to optimize the AMSOIL experience for Dealers and customers alike. By ensuring the Dealers AMSOIL puts in contact with prospective customers have a basic understanding of AMSOIL products and programs, the credibility of AMSOIL and AMSOIL Dealers is improved and more prospective customers are likely to become satisfied customers. In the end, more people buy and benefit from AMSOIL products.
Dealers gain knowledge and skill through education and increased Dealer Zone activity.
More prospects are contacted and receive professional service.
More people buy AMSOIL products.
The credibility of the Dealer network is enhanced.
Dealers achieve greater business and financial success.
Benefits
T-1 Certified AMSOIL Dealers receive the following benefits:
Co-op Opportunities
AMSOIL offers several co-op programs that provide financial or product assistance to Dealers. Co-op opportunities include Dealer meetings, racing sponsorships, oil analysis for commercial accounts, trade show literature, trade show fees and the purchase or rental of trade show displays/booths.
Personal Guarantee Program
The Personal Guarantee Program allows qualified Dealers and accounts to purchase AMSOIL products under net-30 credit terms prior to the account receiving credit approval.
T-1 Certified Dealers who meet additional earnings and sponsorship requirements are eligible for the following additional benefits:
Free AMSOIL-Issued Leads
AMSOIL receives more than 100 new leads every day. These are generally people who contact AMSOIL and wish to buy AMSOIL products for their personal use, are interested in the AMSOIL business opportunity or wish to buy AMSOIL products for their retail outlet or commercial business. Prospective customers and accounts who have not worked with an AMSOIL Dealer in the past are distributed as leads to randomly selected eligible T-1 Certified AMSOIL Dealers. (Hyperlink to leads literature and sample leads letter, leads FAQ)
Major Help: Inclusion in the online Dealer Locator on the AMSOIL corporate website
Many people looking for AMSOIL products start at www.amsoil.com. The "Find AMSOIL Products Near You" button allows users to locate the 20 closest eligible AMSOIL T-1 Certified Dealers from the zip code of their choosing.
Requirements and Eligibility
In order to become a T-1 Certified AMSOIL Dealer, you must meet the following qualifications:
Have Internet access and an email account
Maintain an active Dealer Zone address
Read the T-1 Certification material and pass the T-1 Certification test with a minimum score of 90 percent
Maintain eligibility (for inclusion on the Dealer locator and to receive leads) by meeting simple sales, sponsorship and lead follow-up goals.
Most serious AMSOIL Dealers meet these qualifications with ease – you've already met one by viewing this information in the Dealer Zone. The T-1 Certification Series home study material was designed to prepare AMSOIL Dealers for success. It might seem like a lot at first glance, but it is quite simple and the rewards are great.
Additional Eligibility Requirements
T-1 Certified Dealers must meet some simple, performance-based eligibility requirements to receive leads and appear on the Online Dealer Locator. There are two options by which Dealers can maintain eligibility:
Option 1:  Earn a minimum of $10 in commissions in the last six months and have at least one new, personally sponsored customer (Dealer, PC, RA, CA) in the last six months.
Option 2:  Earn a minimum of $10 in commissions in the last six months and have at least five current, personally sponsored customers (active Dealer/PC, protected CA/RA).
Meeting these requirements is not unrealistic for any Dealer working the business; doing so simply demonstrates the ability to sponsor and generate sales. All T-1 Certified Dealers will be re-evaluated on a weekly basis to ensure they've met these requirements. Dealers who do not meet the requirements will not be eligible to receive leads or be included in the Online Dealer Locator; however, they will remain eligible for co-op support. T-1 Certified Dealers who become ineligible for the Leads Program and the Online Dealer Locator will be reinstated when they meet the performance-based prerequisites for inclusion. Since T-1 Certified Dealers are evaluated weekly, a Dealer who becomes ineligible one week will be reinstated the following week if he/she again meets the minimum requirements.
Once they have qualified to be T-1 Leads Certified and active on the Dealer Locator, the Dealer has a responsibility to provide timely attention to the T-1 issued leads they receive in order to maintain their leads eligibility.
Summary
So you can see that the basic eligibility isn't really all that tough to maintain. Many dealers claim it's not tough enough but the goal is to ensure that when a customer contacts a dealer on the locator list they will be served well. The likelihood product is on hand is greater. And when AMSOIL forwards a customer lead they need to know that dealer has some idea of procedure and basic product knowledge. As you become more successful you too can guide many dealers to success and have a dozen or more T1 Certified dealers in your group! It's quite the reward.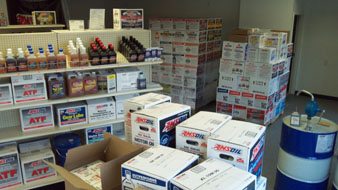 These tips are brought to you by AMSOIL Platinum Direct Jobber Ches Cain. I offer a large array of support for dealers across the country via newsletters, videos, facebook and more. You can join us by signing up as a dealer using this link. Start your own local business and answer to growing demand. Dealers sell to individuals, service centers, commercial fleets, over the internet and automotive enthusiasts all over the USA and Canada.