CLEAN, PROTECTED POWER:
NEW PRODUCTS EXPAND OPPORTUNITY
To better target landscapers, contractors and other professionals who rely on small engines to make a living, AMSOIL Formula 4-Stroke® Synthetic Small Engine Oil (ASE) has been updated with a new name, label and packaging. Its formulation remains unchanged. Its current pricing remains in effect until April 1, at which time it will be updated to the pricing shown on the facing page. New labels will become available as current inventory is depleted. Launching March 6, new AMSOIL 20W-50 Zero-Turn Synthetic Hydrostatic Transmission Fluid (AHF) and AMSOIL 10W-40 Synthetic Small-Engine Oil (ASF) round out the new family of AMSOIL commercial-grade products.
---
Landscapers, contractors and other professionals are some of our best potential customers. They're under tremendous pressure to complete jobs on time and up to standards, which spurs them to seek products that help them safely cut costs without affecting quality.
AMSOIL products offer the perfect solution. To drive that point home and help expand your opportunities, we've introduced a new line of commercialgrade products that help professionals cut costs through maximum equipment power and service life.
Power Play
On a job site, power equals efficiency. Few pieces of equipment in a landscaper's arsenal embody this axiom like the zero-turn or stand-on mower. Next to their truck, it's the most expensive piece of equipment they own. These workhorses allow crews to quickly produce professional-looking lawns and grounds through a combination of precision, power and speed.
Showing professionals how you can help them maintain power in their mowers and other equipment is one of your most important steps toward turning prospects into customers. Mowers and equipment that wear out and suffer power loss increase the amount of time and effort needed to complete jobs on time, forcing crews to work even harder and faster to stay on schedule.
Continuous operation in hot, dirty conditions can lead to deposits and wear that reduce engine compression, robbing the engine of power. Over time, mowers become less efficient, require more maintenance and eventually wear out altogether.
Clean, Protected Power
AMSOIL Synthetic Small-Engine Oil's purpose-built formulation protects against wear, heat and carbon deposits, outperforming conventional oils. It's designed to maintain power and promote long equipment life for professionals who depend on small engines to make a living. As shown to the right, it helps eliminate power-robbing deposits and wear in severe service, helping preserve power and boost profitability.
Fights Deposits & Preserves Power Better than Competitive Products
---
Specialized Transmission Fluid
Hydrostatic transmission performance is just as important to job-site efficiency as engine protection. Many professionals may be using a traditional motor oil in their hydrostatic transmissions instead of a purpose-built transmission fluid. Motor oils, however, may not deliver the smooth control and responsive power operators need to complete jobs quickly.
---
Oil pressure drives the wheel motors in most zero-turn mowers, meaning professionals must use a shear-stable fluid that resists viscosity loss and wear to ensure best performance. However, the intense heat – up to 230ºF – and shearing conditions common to hydrostatic transmissions can cause some fluids to thin, which reduces oil pressure. In addition, wear can open the tight tolerances inside the transmission, further reducing oil pressure. Operators soon notice one mower wheel moving more slowly than the other, which requires constant correction to mow in a straight line, or the mower slowing down altogether and becoming less responsive.
AMSOIL 20W-50 Zero-Turn Hydrostatic Transmission Fluid is specially built to solve this problem. Its synthetic, highzinc formula fights wear and resists thinning, helping maintain mower speed and responsiveness better than motor oils. It lasts up to 2X original equipment manufacturer (OEM) recommendations, helping save time and money.
Current 10W-30 Synthetic Small Engine Oil pricing remains in effect until April 1, at which time it will be updated to the prices shown here.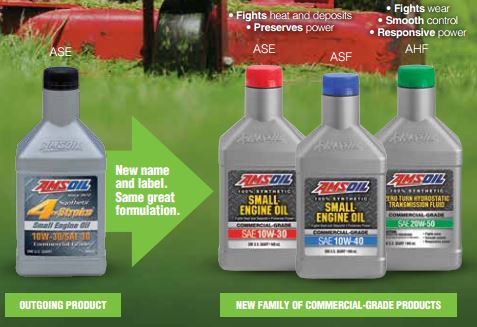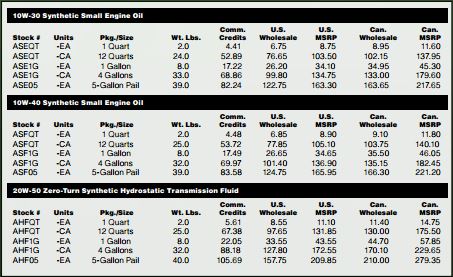 DEALER ACTION PLAN
• Although the family of commercialgrade synthetic lubricants works great for homeowners, focus your time on landscapers, contractors and others who rely on their equipment to make a living. They're more likely to buy a premium product.
• Sell the products' ability to maintain equipment power and cut costs. These are the benefits professionals value most.
• Showing potential customers how they can cut costs 50 percent or more using SABER Professional Synthetic 2-Stroke Oil (see sidebar) is a great way to start a business conversation that may lead to sales of other products.
• When talking to potential customers, don't lead with a technical discussion about the results of the new SABER Professional testing. First, create curiosity by asking good questions, such as, "Do you have any equipment that requires more maintenance than others?" Their answer may naturally lead you to show them how SABER Professional reduces carbon and maintains engine power.
• View the Dealer Sales Brief in the Dealer Zone (Training>Training Materials>Dealer Sales Briefs) for more selling strategies.
---
New Data Bulletins and Technical Study The Synthetic Small-Engine Oil and Zero-Turn Synthetic Hydrostatic Transmission Fluid data bulletins cover the products' features, benefits and technical properties.
10W-30 and 10W-40 Synthetic Small-Engine Oil Data Bulletin Stock# Qty. U.S. Can. G2217 25 4.10 5.60
20W-50 Zero-Turn Synthetic Hydrostatic Transmission Fluid Data Bulletin Stock# Qty. U.S. Can. G3471 25 4.10 5.60
ECHO* 100:1 String Trimmer Technical Study Stock# Qty. U.S. Can. G3470 25 1.05 1.45
AMSOIL SABER® CUTS COSTS 50 PERCENT OR MORE
Using a leaner mix ratio than the 50:1 ratio typically recommended by manufacturers can translate into significant savings. For this strategy to work, however, the oil must protect modern, hot-running two-stroke equipment from the negative effects of heat, including wear and power-robbing exhaust-port deposits. Otherwise, equipment becomes difficult to start and lacks sufficient power to get the job done, frustrating workers. Eventually, equipment can quit running completely.
The new ECHO* 100:1 String Trimmer Technical Study (G3470) proves SABER Professional Synthetic 2-Stroke Oil's (ATP) ability to deliver clean, protected power at a 100:1 mix ratio, allowing professionals to cut oil costs 50 percent or more compared to traditional 50:1 mix ratios. Use these results to show potential customers how SABER Professional can help them save while delivering better protection. View the digital version free at www.amsoil.com/performancetests.aspx.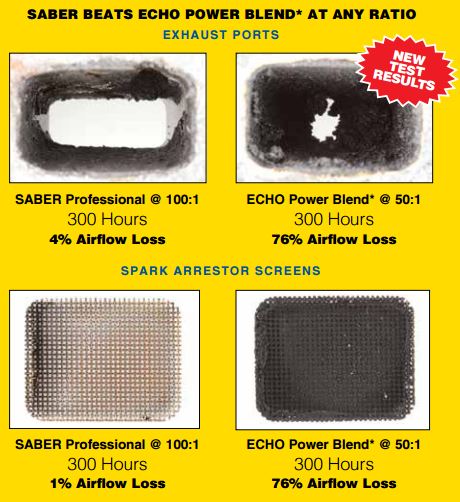 DID YOU KNOW?
Handheld two-stroke equipment often has a spark arrestor screen on the muffler. As the name indicates, it prevents sparks from exiting the muffler and starting a wildfire. Hot exhaust gases flow through the screen, meaning oils with poor detergency can allow deposit formation. A plugged screen restricts airflow, reducing engine power and, eventually, causes it to quit altogether. In fact, heavy deposits on the screen from the string trimmer using ECHO Power Blend* XTended Life* Universal 2-Stroke Oil (above) prevented the trimmer from starting, requiring the screen to be replaced. SABER Professional, in contrast, virtually prevented screen deposits for clean, protected power.