The Mods Never End but for the Mitsubishi Evo the Industry has it All!
Mitsubishi Evo owners have always been some of the most loyal and innovative tuner enthusiasts on the scene. These guys are serious about their craft, and Evos afford them endless opportunities to sculpt a standard high-performance vehicle into their very own modified masterpiece. While the Evo is in its last year of production, it will remain a cornerstone of tuner evolution for years to come…and not just in name.
Mark Aquino is among the enthusiasts who pour blood, sweat and tears into making their vehicular statements with an Evo. His 2010 Evo X SE has been featured in Modified Magazine, landed numerous online mentions and made the rounds at high-profile car shows (including an adventurous trip to SEMA 2014 – more on that below). Up next, this Evo will be on prominent display in the AMSOIL booth at Carlisle Import & Kit Nationals, May 15-17. We reached out to Aquino to get a little history on how his Evo arrived on the scene, what makes them so great and why his work is never finished.
What is it about the Evo that provokes such inspiration in its owners?   
The Evo has a rich racing heritage and has also garnered a lot of championships under its belt. Each generation of the lineup has a background and a story to tell. One thing that Evo owners love about this car is the impressive response to aftermarket modifications and, of course, the boost.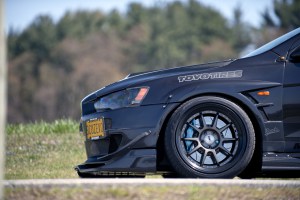 Sadly, the Evo X is the last of them. That makes me proud to own a piece of history. (Fun fact: the rarest edition of the , or SE, and only 340 were made in 2010.)
You've done extensive modifications on your Evo. Any standouts or favorites?
My favorite would have to be the exterior. It stands out because you won't find another combo like that on another car. It's not the typical catalog build. I've mixed and matched everything, including the aero. A lot of things on my build are either rare or custom-made. I always like to put some personal and unique touches on each mod if possible.
Any future mod plans, or is your vision complete?
I'd like to get the bottom end built and reinforced someday. I'm pretty sure I'd change minute details here and there. I've already started to change my engine bay. I don't really plan on anything for the Evo. I've got it to where I want it to be, but sure there can be some improvements made here and there. I usually change things up spontaneously. I'm sure my friends are tired of hearing me say, "I'm done, I'm not going to change anything," and a week later, I show them a pic of new parts.
Your Evo has also been a show car. What event do you most look forward to each year?
I used to compete at car shows, but now I just show up to support my sponsors and hang out with my car crew. My favorite would have to be Wekfest East in New Jersey. The organizers are from California and I always have fun at their events. It's not a long show, so it doesn't reach the point where spectators and participants alike get bored. Wekfest definitely draws out the best cars in the area compared to other shows.
Any memorable awards or display opportunities?
The Evo has received a lot of awards, but my favorite would have to be Best Meaty Fitment at Canibeat's First Class Fitment show. It's the best trophy in my collection and who would've thought – a race car winning at a stance event; win-win in my book! My most memorable display opportunity would be none other than at SEMA 2014 for Eagle One. You see, not a lot of the East Coast cars get the opportunity to display their ride at SEMA. I think it's easier to gain a spot if you're on the West Coast.
Tell us about your trip to SEMA 2014.
The SEMA trip began in the early months of 2014 when one of my sponsors needed a display car. After much planning, I was informed that my Evo was no longer needed. I let it go, thinking it wasn't meant to be and it wasn't the right time. About three months before the event I received a call from a close friend of mine, and he stated that Eagle One needed a car to be displayed at the show. I wasted no time booking flights and hotel rooms, but the biggest obstacle was the transportation.
I decided to transport the car one way – from east to west and drive it back home. I've always wanted to drive across the US in the Evo, and it was something to cross off my bucket list.
Two weeks before the event, the transportation company picked up the Evo and dropped it off at a shop near Los Angeles. Upon inspection, the front lip of my car was seriously damaged and the driver lied to the receivers saying that it was loaded in that condition. I couldn't sleep that night. I was in a time crunch with just a few more days before we were to fly out and drive the car to SEMA. Thankfully, with the help of Auto Explosion Custom Body Shop, my front lip was fixed in a matter of a few days.
We drove the Evo up to Las Vegas, barely making the cut-off time for roll-in. The next few days were busy, but I was able to finally meet representatives from my favorite brands such as SSR Wheels, Mastermind, etc. I also met other enthusiasts who I only got to talk to on social media. We had a lot of fun, and that's an understatement. On our last day we packed up, joined the SEMA parade out of the venue and immediately hit the road back to Maryland. I had a strange feeling once I parked my car in my garage; it was surreal. We just drove through four time zones, and two days ago we were on the West Coast enjoying In-N-Out burgers. It was definitely one for the books and I want to relive that experience once again.
Any favorite AMSOIL product?
Very hard question! I started out with Z-ROD® Synthetic Motor Oil when I wasn't racing, but my favorite would have to be DOMINATOR® Synthetic Racing Oil. It protected my engine when it was pushed to its limits.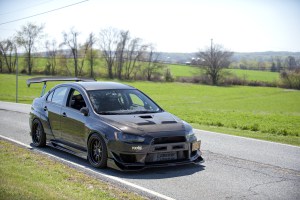 Check out the full list of modifications below, and if you're in the Carlisle, Pa., area next month be sure and stop by the AMSOIL booth to see Aquino's Evo on full display.
ENGINE: GTX3076r Stock Frame Turbo · Full Race Manifold · ATP Downpipe·Ultimate Racing Resonated Test Pipe · Ultimate Racing Catback Exhaust · Zury Fabrications Exhaust Tips · Jun 272/272 Cams · Tomei Valve Springs · Upgraded Timing Chain · Upgraded Pulley Kit · A/C Delete·Gates Micro A/C Removal Belt · Tial MVR · Cosworth Fuel Rail · Radium Engineering Fuel Pulse Damper · ID 1300 Injectors · Radium Surge Tank · ATL Fuel Cell 12 Gallons · Walbro 450 E85 In tank Pump · Magnafuel Protuner 625 Fuel Pump · Tomei UICP · ARC Catch Can · Greddy Coolant Reservoir · Driven Fabrications Valve Cover Bolt Kit · Driven Fabrications Intake Manifold Bolt Kit · Titanium Engine Bolt Kit · Okada Projects Plasma Direct · Okada Projects Plasma Booster · HKS BOV Pipe · ARC Radiator Cap · Tomei Oil Cap · Forge Motorsports Power Steering Reservoir · APR Radiator Shroud · YR-Advance Inlet Scoop · YR-Advance Oil Gauge Hook · YR-Advance Turbine Inlet Scoop · Greddy FMIC · AMSOIL Synthetic Lubricants
TRANSMISSION: SSP Directional Clutch Packs · SSP Metal Filter · Dodson Sump Pan
EXTERIOR: M-Sport Front Bumper (CF Lip, CF Canards) · Varis Ver · 2 Side Skirts · Chargespeed Blister Panels · Coltspeed CF Door Pillars · Cusco Ventilation Panels · CRM CF Mirrors · J-Panel LED Side Markers · Seibon CF Hood·Origin Lab GT-II Wing · iParkharder Titanium Wing Stands · Zury Fabrications Custom Wing Base Mounts · Showstoppers CF Rear Diffuser · Mike Kosky Blacked out Headlights · ARC Titanium Emblem · Custom Livery done by Brandon Fugitt Designs · Coltspeed Antenna · Vortex Generators · SSP Undertray
INTERIOR: Cusco 6 Point Roll Cage · Cusco Steel Add on Bar · Cusco Carbon Fiber Add-on Bars · Cusco Bride Vios Bucket Seats · Takata Race 6 Harness · Takata Shoulder Pads · Planted Seat Rails · Endless Steering Wheel · Works Bell Yoshioka Edition Quick Release System · Works Bell Short Hub · Coltspeed GT Shifter · Tomei Shift Knob · Bride Fabric Shift Boot · Bride Fabric Armrest · Bride Fabric Door Cards · Beatrush Rear Partition Panel · Rear Bottom Seat Delete in Suede · Defi Boost Gauge · Blitz Throttle Controller · HKS DMR · YR-Advance Carbon Fiber Paddle Shifters · Zoom Engineering Monaco Kevlar Rear View Mirror · Weather Tech Mats · Blaupunkt CX 170 Blue Magic · Kicker Subwoofer · ARC Titanium Emblem
SUSPENSION: Fortune Auto 500 Coilovers · Muller Cup Kit System · Viair Compressor · Accuair Tank · Accuair Exo Mount · Cusco Power Brace Front · Cusco Power Brace Floor Center · Cusco Power Brace Floor Rear Side · Cusco Power Brace Rear Member Side · Whiteline Rear Sway Bar · Whiteline Endlinks
WHEELS Track Set: SSR GTV02 · Toyo Proxes R888 Street Set: SSR SP3 · Toyo Proxes T1 Sport · Amuse Titanium Lug Nuts
BRAKES Girdisc 2-Piece Rotors Front and Rear · Track Pads: Raybestos ST43·Street Pads: Project Mu NS400 · Girodisc Titanium Shims
Photos courtesy of Kevin Choi, kcimage.net