1962 Willys Wagon Wins AMSOIL Trophy
The Endless Summer Cruisin' car show (Oct. 6-9, 2016 in Ocean City, Md.) was a spectacular event for many reasons, one of which was the opportunity to meet car enthusiast Greg Wantz. Greg and his 1962 Willys Wagon, equipped with an F4-134 engine, won the six-foot-tall AMSOIL trophy, meaning his vehicle stood out to us the most. We tracked down Greg and got the story behind his sweet ride.
What makes this car special to you?
The wagon was my grandfather's car. As a kid, I loved to sit in it and pretend to drive. I was in high school in 1979 when my grandfather passed on. My grandmother willed it to me and it's been a part of my life ever since.
My plan is to, of course, keep these two vehicles [including his 1974 Jeep J10 pickup] and eventually give them to my son and daughter to have once I pass on. They have to stay in the family.
What modifications have been made?
I got it repainted in 1987 by a local body shop as he had it for six months to get the work completed. He totally stripped everything and repainted it with a richer paint compared to what it had originally, using either the same or a similar shade. The back wrap-around bumper, which is in three sections, was shipped out and re-chromed a few years afterward. The engine is original with 68,000 miles, and one day I may be inspired to remove it and clean and reseal it to repair some minor oil leaks. The interior seats were reupholstered a few years later by a local shop in Westminster using the same fabric. They also re-did the headliner as well as the front-floor rubber. I did remove the back-floor wooden struts and re-varnished them, but again, one day I am going to have the floor repainted and redo the wooden struts. I do the minor repairs myself, but when it comes to major engine work or body painting, I leave that to the professionals.
Tell us about Endless Summer Cruisin'
The Endless Summer Cruisin car show is fabulous, and we have been a participant since 2007. About four years ago, I received a trophy from a local restaurant; it was my first award for this show. I really appreciate the award from AMSOIL in 2016, and I might add that your trophy was bigger.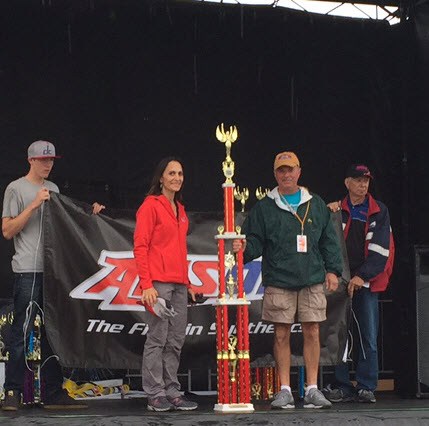 Do you have any other vehicles?
I also have a 1974 Jeep J10 pickup. I purchased it from my great aunt – my grandmother's sister – who lived across the street from me. It's been repainted with the original color as well. It's a pretty neat story.
I know my grandfather would be so proud to know that I am continuing to show his vehicle off and that it is in such great shape. He sure loved to drive it.