11 Easy Tips to Make Your Car Last Longer: Advice from AMSOIL Gearheads

Daisy Quaker|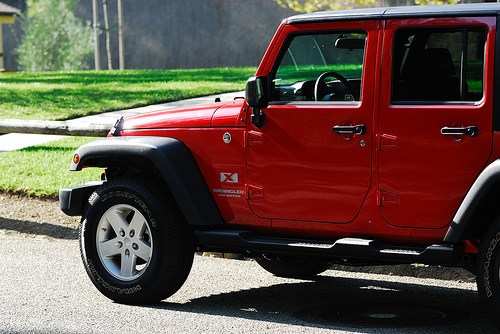 I'll be honest – I can't drop a new set of gears in a rear differential or install a performance cam. I have lofty dreams of owning a red Jeep Wrangler, but real wrench turning might lie beyond my particular skill set. Luckily, I work among a legion of gearheads.
Our generous car gurus offered a few quick and dirty tips to help me protect my current ride. I requested that they keep a tight budget in mind (I'll have to watch my wallet if I want that Wrangler). The following tips to make your car last longer are easy enough for a noob like me, but also applicable to the most seasoned enthusiast.
11 Tips to Make Your Car Last Longer
Protect Your Car from the Elements
Keep your car clean
Here in the northern tundra, rust and corrosion from road salt can quickly deteriorate a vehicle's frame and body. For those who enjoy taking the scenic route, mud and dirt can produce similar effects. These situations are unavoidable. You can't stay in all winter or avoid every dusty road. Here's one solution: AMSOIL recently reformulated Heavy-Duty Metal Protector and it works wonders in harsh environments. – Josh Kimmes, Technical Marketing Analyst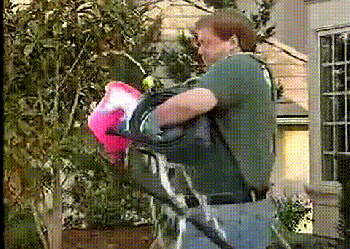 Bonus Tip : Wash and wax your car by hand. Instead of running through the automated carwash, use the manual lane or wash and wax your car by hand at home.  You'll find any scratches or chipped paint that needs to be touched up before the exposed metal begins to rust. –Allen Bender
Protect your car from corrosion
Whether you live near the coast or where road salt is applied in winter, your vehicle is exposed to corrosion.  Get it undercoated and have the corrosion inhibitor sprayed in all the nooks and crannies. This will help protect your vehicle from corroding and keep it looking great for years.  – Mark Nyholm, Technical Product Manager (and AMSOIL Hunting Guy)
Wax that paint
UV rays are tough on paint.  Over time, the sun will wear away the luster of your vehicle and dull the paint.  Wax your vehicle at least once a year to keep the color brilliant. – Mark Nyholm, Technical Product Manager
Protect the leather
Use and abuse can dry leather out, creating cracks that leave your seat looking like the Grand Canyon. Clean and protect your leather and it will continue to be easy on your eyes and your backside.  – Mark Nyholm, Technical Product Manager
Use a garage
Parking indoors reduces exposure to the UV radiation that dulls your paint over time. – Chris Orr, Mechanical Lab Manager
Check the Fluids. Do the Car Maintenance.

Keep to the schedule
Your owner's manual provides a recommended schedule for maintenance.  Follow it.  You'll prevent expensive surprises from mechanical failures.  Also, the resale value of your vehicle will be greater if you have complete maintenance records. Hey how about taking a oil sample to chart the condition of the engine. – Allen Bender, Oil Analyzers Inc. Manager
Pay attention to your car's fluid levels
There are a number of fluids used in our cars today. By taking time to periodically check fluid levels, you will keep your vehicle running optimally. Oil, antifreeze/coolant, tranny fluid, brake fluid – all function best when they have the proper fill. If your oil level or antifreeze drops off faster than normal, it can serve as an indicator of an issue you can address before it becomes a more serious problem.  -Ed Newman, Print Manager
Change your brake fluid often
Brakes are another overlooked maintenance item (and the AAA agrees). Brake fluid is missed by 88 percent of motorists.  Changing it often and using a quality fluid will increase the life of your brake system. –Darryn Wallace, Technical Service Representative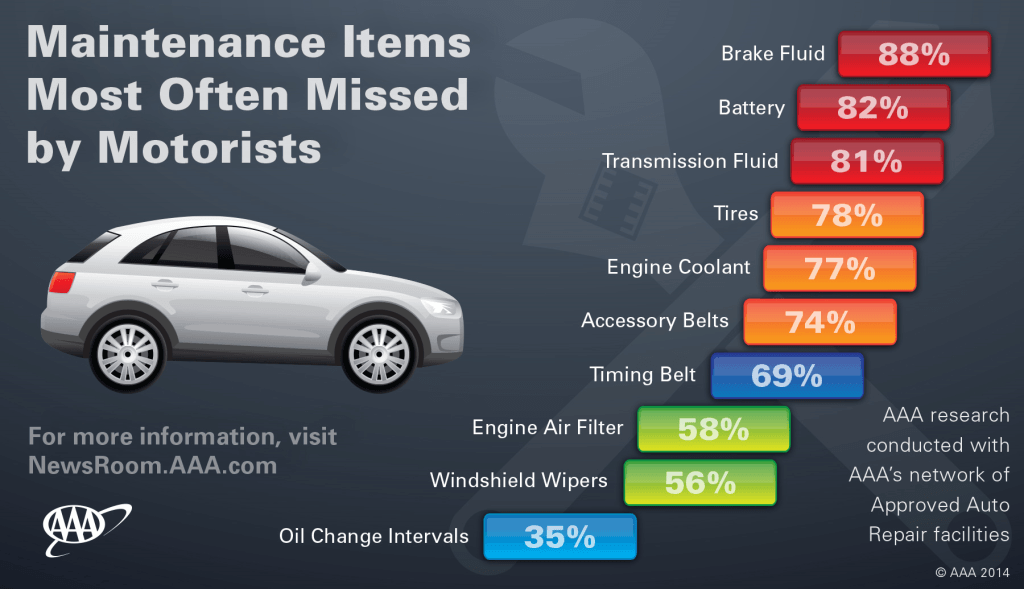 Change your air filter
This might be the easiest task to complete on the list, but it's often overlooked. The air filter is often housed in a black box in your engine bay. If you're unsure where it is, check your owner's manual for the location and how to replace it. The air intake pumps up to 10,000 gallons of clean air (thanks to the air filter) into the engine for every gallon of gas.  -Josh Kimmes, Technical Marketing Analyst
Your car relies heavily on engine coolant. Without it, breakdown and engine failure loom in the distance. Antifreeze/coolant keeps the water in your system from boiling or freezing depending on the environment in which you live. Not to mention only a quality version can properly protect against long term corrosion. For those that overlook this maintenance item, try a long-life product like AMSOIL Antifreeze & Coolant which lasts 150,000 miles or five years, whichever comes first.  -Josh Kimmes, Technical Marketing Analyst
Shameless plug: AMSOIL Antifreeze and Coolant. A lot of vehicles end up in the shop due to coolant system problems. A quality coolant can prevent many of those issues. –Darryn Wallace, Technical Service Representative
The Big Easy
Drive your car
Only using your vehicle for short trips or letting it sit for extended periods can lead to problems.  Drive for at least an hour every month or so to bring the engine oil and other fluids up to operating temperature. This will allow any water in the fluids to evaporate and keep the seals lubricated to prevent leaks. – Allen Bender, OAI Manager
Whether you drive a Datsun (anyone?) or a Civic, these tips might help you hit the 300K mile mark. Why not aim high? I'm at 130K and the RAV4 is still purring. Well, it's pleasantly vibrating, anyway.