Synchromesh Manual Transmission Fluid 5W-30
Designed to minimize gear wear while providing smooth synchromesh shifting performance in certain manual transmissions and transaxles used by GM* and Chrysler.* Provides excellent performance at temperatures from -40°F (-40°C) to 300°F (149°C).
Product Code: MTF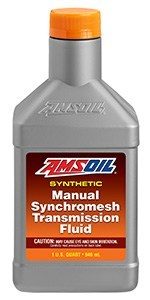 AMSOIL Synthetic Manual Synchromesh Transmission Fluid is a premium-quality synthetic lubricant designed to surpass the most demanding lubrication requirements of manual transmissions and transaxles where non-extreme-pressure fluids are used.
AMSOIL Synthetic Manual Synchromesh Transmission Fluid protects gears and bearings in extreme temperatures. It outperforms conventional oils and delivers outstanding performance from -40°F to 300°F, and it maximizes energy efficiency and resists the effects of heat, oxidation, sludge and varnish deposits.
Unlike its mineral oil counterparts, AMSOIL Synthetic Manual Synchromesh Transmission Fluid prevents the thinning effects of mechanical shear for stable viscosity, superior film strength and excellent anti-wear performance. It protects against corrosion, keeps seals soft for long life, and is compatible with brass synchros for smooth synchromesh shift quality.
Ideal Synchromesh Fluid for Many General Motors, Chrysler, Honda and Other Vehicles
AMSOIL Synthetic Manual Synchromesh Transmission Fluid is a higher quality, lower cost replacement for multiple vehicle manufacturer-branded products. This premium synthetic formulation provides enhanced anti-wear protection and lasts longer in service. AMSOIL Synthetic Manual Synchromesh Transmission Fluid exceeds the performance requirements of both manual transmissions and transaxles.
Excellent Transmission Gear Oil for Service Centers
AMSOIL Synthetic Manual Synchromesh Transmission Fluid is a versatile transmission lubricant. It reduces inventory needs, is readily available and is cost-effective compared to vehicle manufacturer-branded products.
Amsoil Synchromesh Performance Features
Reduces friction, heat and wear
Superior high-temperature stability
Resists heat, oxidation, acid buildup and varnish
Improves cold-weather shifting
Applications
Use in applications requiring a 75W-85, 75W-90 or 80W-90
• API GL-4
• Chrysler* MS-9070
• ZF* TE-ML 02b, 17a
• MAN* 341-Z2 (formerly MAN 341 ML)
• MB 235.5
Recommended for automotive and light-truck applications that require synchromesh transmission fluid. Applications include manual transmissions and transaxles such as New Venture* NV T350, NV 1500, NV 2550, NV 3500, NV 3550, NV 5600, and Tremec* T4, T5, T18, T56, T176, TKO500, TKO600, TR 3450 and TR 3550.
Replaces MTF-94 fluid for Land Rover,* MG* and Mini Cooper.* Replaces Honda Genuine MTF fluid for manual transaxles and Shell* or Texaco MTX fluid.
Not for use in engines, wet-clutch applications, hypoid rear axles or limited-slip applications.
Specifications include:
Specifications
GM 9985648
GM 9986105
GM 9985535
Chrysler MS-9224
Chrysler MS-9417
Part Numbers
GM 12345349 or 12345577
GM 12377916
GM 1052931
Chrysler 4874464
Chrysler 4874465
Service Life
Recommended for 50,000-mile service intervals or longer (up to 150,000 miles) as indicated in the owner's manual.
Buy & Pricing
AMSOIL PRODUCT WARRANTY
AMSOIL products are backed by a Limited Liability Warranty. For complete information visit www.amsoil.com/warranty.aspx.
HEALTH & SAFETY
This product is not expected to cause health concerns when used for the intended application and according to the recommendations in the Safety Data Sheet (SDS). An SDS is available via the Internet at www.amsoil.com or upon request at (715) 392-7101. Keep Out of Reach of Children. Recycle used oil and bottle.
Synchromesh Gear Oil Product Reviews
Best of the best
By  Samuel,  a  Verified Buyer  from  Texas  on  July 28, 2022
Purchased the Synchromesh MT fluid for my 2020 Civic Type R to help alleviate the 2nd gear grind. Product arrived in just 3 days. Replaced OEM MT Fluid with this stuff and haven't had a problem with the 2nd gear grind since.
Only fluid I would use for my nv5600
By  ANDREW,  a  Verified Buyer  from  Prundale CA  on  June 09, 2022
I'm sure this is the best to be bought. Too bad the company building my reman transmissions can't produce products this good. 2 uncorrectly built trannys in a rowand won't surprise me if this third one goes. Ive have had to buy this fluid 3 times in the last year for a whopping 1800miles. Gets a little pricey paying for someone else's failures. Anyways after a little break time on this transmission I will be back here buying another 8 quarts and will always use amsoil.
Nv3550 shifts great now
By  Bill,  a  Verified Buyer  on  August 18, 2022
In my 02 Jeep TJ I have tried valvoline synchromesh, royal purple, redline, penzoil. Amsoil synchromesh has given me the best shifting. First thing in the morning or after driving for an hour, shifts great.
Amsoil
By  JOHN,  a  Verified Buyer  from  Ceres  on  January 15, 2023
Outstanding product, I have a 2019 Honda Type R and just upgraded the clutch. I replaced the transmission fluid with Amsoil.
Synchromesh transmission fluid
By  Dallas,  a  Verified Buyer  from  MT  on  April 28, 2022
Traded out the Honda transmission fluid for amsoil. Simply put, this is the best transmission fluid on the market. Car runs and shifts better than when it was new
Better than OEM
By  JOSEPH,  a  Verified Buyer  from  Poughquag NY  on  April 11, 2022
I've been using Amsoil products for more than 15 years in my vehicles, and I trust that Amsoil fluid is even better than the Honda OEM fluid in my wife's 2001 Honda CRV. With over 230k miles it still shifts perfectly. Can't go wrong with Amsoil!
2020 Honda Civic Si
By  RYAN,  a  Verified Buyer  from  Florida  on  May 07, 2022
Our Si had 25,000 miles on it. Wanted to do the transmission service. Looked into different choices. Read tons of positive reviews on the AMSOIL Trans fluid that were very positive on other websites, particularly Civic forums. We gave it a shot. Considering it could be a placebo effect, I immediately noticed better shifting. If you are familiar with the little characteristics of your respective manual shifter, you might want to consider giving this a shot. I will not go back to the stock fluid for it. The Si was fun to drive to begin with but a few of the shifts got finicky. This seemed to resolve each one immediately, and made it more enjoyable to drive.