AMSOIL makes the grade for Jerry Palma of Montezuma, Ind. Expects the engine of his 1993 Pontiac*
Trans Sport* minivan – aka "the Chief"
'Chief' Remains 'Faithful Friend'
"He still looks good, even after hitting two deer and the insurance company writing him off as a total," Palma said. "The Chief and I are both going to make 500,000-plus miles."
The van has a 3800 engine and automatic transmission and has logged more than 428,000 miles.
Palma bought the van used with 55,000 miles on the engine. He had the engine flushed and installed Signature Series 10W-30 Synthetic Motor Oil (ATM). "I noticed after about 10 to 15 minutes that the engine in my van quieted down noticeably," Palma said.
He eventually switched to AMSOIL Premium Protection 10W-40 Synthetic Motor Oil (AMO) on the advice of a technician, who recommended it to keep the van's oil pressure steady. He also uses AMSOIL Ea ® Oil Filters in the trusted work vehicle.
At 79, Palma, a retired electrical safety trainer, has taken on the personality of "AC Sparks," and teaches children about electricity.
Palma said AMSOIL P.i. ® Performance Improver (API) helped increase his mileage to 31 miles per gallon running at 65-70 mph. "I thought that was astounding," he said.
Palma has changed many parts on this long-lived veteran: three windshields, air conditioning compressor, tires, batteries and other parts.
"I've never done anything to the engine or transmission with a wrench," Palma said. "It has never been apart, and it's clean when I change the oil."
He changed the spark plugs in the van at 285,000 miles. "Not because it wouldn't start, or ran bad, but because I felt guilty about it," Palma said.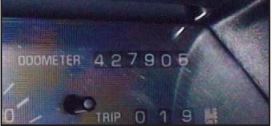 Sometimes people question the mileage he reports, checking out the odometer, Palma said. The plastic body means the van shows no rust and he takes care of the Chief's looks. "Using good products, along with care, will prolong the life of this van for a long time," Palma said. "You have superior products by far."
Palma owns several other vehicles that he uses AMSOIL Signature Series 0W-30 Synthetic Motor Oil (AZO) in, along with Ea Oil Filters.
He cleans his tools with AMSOIL MP (AMP), and he likes the Silicone Spray (ALS) for its lubricating and cleansing properties. "I like the way it makes the tires look black, not shiny," Palma said.
Palma is happy to use AMSOIL products on the Chief. "He is a faithful friend," Palma said.