15W-40 Commercial Grade Diesel Oil 50% Synthetic
AMSOIL's newest Diesel oil is dialed in for your commercial equipment using normal service intervals but wanting longer life and better performance.  We now have a product customers can buy at the same price (better as a preferred customer or commercial account) of our competition but a better product. We also offer a full descriptive data sheet.
Note: I haven't added this yet to the websites so wanted to get it up in blog form ASAP!
The Synthetic 15W-40 Commercial Diesel Oil for all fleets
Check out the pricing for this new 15W-50 Commercial Oil Product Code SBDFTP
•    Greater than 50% synthetic content delivers upgraded protection
•    Delivers 2X more wear protection1
•    Helps keep trucks and equipment operating at peak performance
•    Excels in temperature extremes
•    Provides outstanding value and excellent protection for customers seeking an upgrade over other synthetic-blend and conventional diesel oils
¹Based on third-party testing in the Detroit Diesel DD13 Scuffing Test for specification DFS 93K222
Commercial 15W-50 50% Synthetic Overview
Advanced synthetic-blend diesel oil with greater than 50% synthetic content. Meets or exceeds original equipment manufacturer requirements in both on- and off-road applications.
See the product data sheet for full details.
HEAVY-DUTY ENGINE PROTECTION
•    Delivers 2X more wear protection
•    Helps maximize equipment life
•    Helps reduce maintenance costs and downtime
¹Based on third-party testing in the Detroit Diesel DD13 Scuffing Test for specification DFS 93K222
Delivers More Wear Protection
Third-party testing shows Commercial-Grade Diesel Oil delivers 2X more protection against wear than required by Detroit Diesel's* standard.
(Based on third-party testing in the Detroit Diesel DD13 Scuffing Test for specification DFS 93K222. *All trademarked names and images are the property of their respective owners and may be registered marks in some countries. No affiliation or endorsement claim, express or implied, is made by their use.)
VISCOSITY CONTROL
•    Formulated with greater than 50% synthetic content to minimize viscosity change
•    Keeps soot particles suspended independently, helping prevent formation of larger, wear-causing particles
•    Minimizes oil consumption
EXCELS IN EXTREME TEMPERATURES
•    Formulated to deliver improved heat and oxidation resistance compared to other synthetic-blend and conventional diesel oils
•    Provides clean engine operation and helps maintain power and fuel efficiency
•    Flows dependably in cold temperatures for reliable startup and engine protection
Data per 3/25/2023. See data sheet for the latest info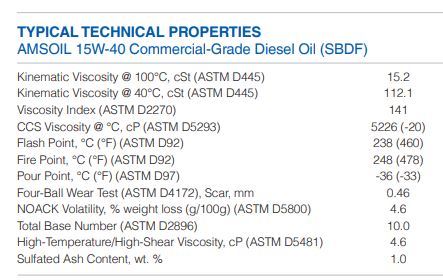 Applications
API CK-4, CJ-4, CI-4+, CF
Volvo VDS4.5, VDS4, VDS3
Mack EOS-4.5, EO-O
Renault RLD-4, RLD-3
Cummins CES20086, CES20081
Caterpillar ECF-2, ECF-3, ECF-1-a
DDC 93K218, 93K215, 93K214
DFS 93K222
ACEA E9, E7
MB 228.31
MAN 3575
MTU Type 2.1, II, I
JASO DH-2
Deutz DQC III-10LA
Chrysler MS 10902
Ford WSS-M2C171-F1