AMSOIL Dealership UPGRADES: INVESTING IN YOUR SUCCESS
New Dealer Kits and expanded access to training keep the focus on our greatest asset: AMSOIL Dealers.
*Since this was published free shipping had not been announced!! Yes – now free shipping to all dealers on orders over $350!! 
Providing Dealers with the tools and resources needed to build their businesses has always been a top priority for AMSOIL. The upgrades to AMSOIL Dealerships keep the spotlight on Dealers from the day they register through the life of their businesses. New AMSOIL Dealers will now receive an upgraded Dealer Kit, complete with new literature, product samples and more. All content in AU Online, as well as the Premium Dealer Zone, is now available to new and existing Dealers free of charge.
We created the Dealer Quick-Start Guide to simplify new Dealers' entry into their new businesses. Every Dealer Kit now features this straight-forward, easy-toread manual. We invested considerable time and energy into producing one document that illustrates how to take advantage of the various resources available to AMSOIL Dealers.
Unpack and Go
The new Dealer Kit also features product samples, allowing new Dealers to experience the benefits of AMSOIL products immediately so they can share their AMSOIL story with others. Relating recent experiences with the products is a great way to engage potential customers and spark sales.
Expanded Access
Well-informed Dealers, properly trained in the technical and sales aspects of their AMSOIL Dealerships, will generally have greater success in the field. All new and existing AMSOIL Dealers now enjoy full access to the Premium Dealer Zone ($119.40 yearly value) and all levels of AU Online training ($25 yearly value) free of charge. Now that all Dealers have access to the enhanced reporting available in the Dealer Zone, commission statements will no longer be mailed with commission checks. That information is available in the Reports section of the My Business menu.
Jump In
Join Now
As an extra incentive to take action, new Dealers will receive a 10 percent rebate on their first order if it is placed within the first 30 days of their registration.1 Successful AMSOIL Dealers have one thing in common – they started.
To help offset the cost of these improvements, Dealer fees will receive the following adjustments (taxes not included):
Registrations: U.S. Can.
One Year: $49.95* $64.95**
Renewals: U.S. Can.
One Year: $49.95* $64.95**
Auto Renew $40.00* $50.00**
(One Year)
Five Years: $200.00* $250.00**
The six-month Dealership option is no longer available. At registration, new U.S. Dealers can choose direct deposit or the new option, a reloadable Visa card. Unfortunately, reloadable Visa cards are not an option in Canada. Paper checks will not be presented as an option. Existing Dealers who wish to continue receiving paper checks will be charged an additional $10 annually ($59.95 [$74.95 Can.]) for a one-year renewal, $49.95 [$64.95 Can.] with autorenew or $250 [$325 Can.] for a five-year renewal).
Renewal Promotion
Starting Aug. 1, a one-year promotion will allow existing Dealers who request a reloadable Visa card or enroll in direct deposit to renew for $30 ($45 Can.) one more time. Dealers currently enrolled in direct deposit are also eligible.
Prepaid Dealer Starter Kits Discontinued
As part of the Dealership upgrade, additional confidential information is being collected at the time of new-Dealer registration. To help protect Dealers and new registrants, all registrations will be done online on our secure website and paper Dealer applications are discontinued. The prepaid Dealer Starter Kit (G07Y, G8007Y) has been discontinued. We will continue accepting paper applications from the field for a to-be-determined length of time.
DEALERSHIP UPGRADES AT A GLANCE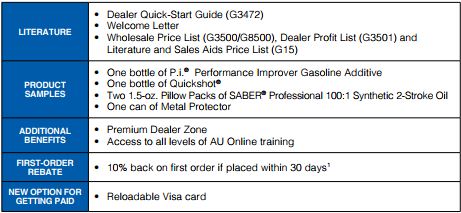 The New Dealer Kit includes:
Dealer Quick-Start Guide (G3472)
Welcome Letter
Wholesale Price List (G3500/G8500), Dealer Profit List (G3501) and Literature and Sales Aids Price List (G15)
One bottle of P.i.® Performance Improver Gasoline Additive
One bottle of Quickshot®
Two 1.5-oz. Pillow Packs of SABER® Professional 100:1 Synthetic 2-Stroke Oil
One can of Metal Protector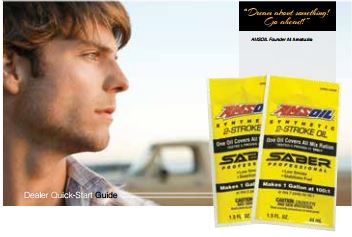 FREQUENTLY ASKED QUESTIONS
Q: Why is AMSOIL making these changes?
A: We're boosting our level of support for new Dealers by providing access to AMSOIL products, training and product rebates right from the start. We also want to encourage everyone to choose the program that fits them best. Increasing the difference in registration fees between the Dealer and Preferred Customer Programs will present a clear choice for those who aren't as serious about building a business. P.C.s will always have the option to switch to Dealer status when they're ready.
Q: How are DJ fees affected?
A: The DJ fee will remain $25 per month to accommodate associated administrative fees. If DJ status is lost, you will not be charged for continued Premium Dealer Zone access.
Q: Are taxes included in the Dealer fees?
A: No, they are not. AMSOIL will now calculate and charge sales tax at the time of registration.
Q: Is the six-month trial Dealership still available?
A: No. Six months is not much of a commitment from someone who wants to start a business. Again, we want individuals to choose the program that's right for them. If 12 months is too long, maybe the P.C. option is a better fit.
Q: Can I have my Visa debit card issued in a business name?
A: No, Visa debit cards can only be issued to individuals.
Q: Will AMSOIL still mail commission statements?
A: No, starting Aug. 1, all Dealers can access their commission statements by visiting the Reports section of the My Business menu conveniently located in the Dealer Zone. The Aug. 15 delivery of July commissions will be the last to include a commission statement.
Q: What are the registration options for new Dealers?
A: New Dealer registrations will only be accepted online. Hard-copy applications (G18C, G18D, G18US & G18UC) are discontinued and no longer available. It has become unsafe to collect a person's social security number, bank account number, birth date, address, etc. on paper. Gathering this sensitive information on our secure servers is much safer for new Dealers, registering Dealers and AMSOIL
Q: Can Dealers still purchase prepaid starter kits?
A: No. All registrations now occur online and prepaid kits have been discontinued.
Q: I currently have a five-year Dealership. How am I affected?
A: Starting Aug. 1, you will gain access to all of the newly added benefits for the remaining duration of your Dealership – access to the Premium Dealer Zone, AU Online, etc. You will incur no additional fees.
Q: What are commission payment options?
A: New Dealers are given the choice between direct deposit and a reloadable Visa debit card at the time of registration.
Q: What's available in the Premium Dealer Zone?
A: Dealers formerly had to pay a monthly fee to access the Premium Dealer Zone content, which includes enhanced reporting, access to the Dealer forum and more. The registration fee now includes access to all content within the Dealer Zone, plus AU Online.
Q: Is there a cost associated with becoming T1 Certified or accessing AU Online?
A: No, the T1 Certification test and study materials are included in the AU Online portal at no extra cost.