AMSOIL OE: Value, Performance & Protection for the Price of One
The Original Equipment line brings the highest performance & protection into the Primary "Full" Synthetic Price Range
Upgraded!! The challenge was to offer the same 100% synthetic base oil and the industry leading top tier performance standards of our pure-enthusiast oils into the bargain priced DIFM (do it for me) API Approved entry level synthetic range. Mission accomplished!
Due to pricing and a cloud of marketing over performance, so many drivers miss the opportunity to experience optimum performance and reliability in cars which they most depend on. In most resent generations of engines there are a number of issues which an oil is required to address which is mostly ignored by the current line of oils in the bargain hunter price range.
You no longer have to miss out! We have Omaha covered with AMSOIL OE!! Come on in and get a case at the best price and discover astonishing performance for less!!
Product Data Sheet:
Use this link for a printable product data bulletin on the AMSOIL 100% Synthetic OE  – Additional Information
OE Synthetic Motor Oil
Highest quality for the price 100% Synthetic!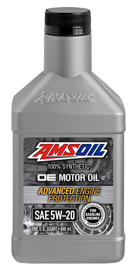 (Product Codes: OEZ 0W-20, OEM 5w-20, OEF 5w-30, OET 10w-30)
OE Original Equipment Synthetic Motor Oil delivers 100 Percent Synthetic engine protection for advanced automotive technology, including turbochargers and direct injection. It's specifically formulated for the longer drain intervals recommended by original equipment manufacturers (OEMs). OE is favored by mechanics and drivers seeking peace-of-mind protection and exceptional value in synthetic motor oil.
Advanced Wear Protection OE Synthetic Motor Oil provides excellent wear control and protects vital engine parts like pistons and cams. This added protection is particularly important given the extreme environments produced by many of today's smaller displacement engines that typically run lower-viscosity motor oil. Camshaft wear can alter valve timing, greatly reducing engine efficiency.
The Peugeot* TU3M Wear Test, which must be passed to meet the GM* dexos1® Gen 2 specification, determines a motor oil's ability to limit wear.
For 100 hours the four-cylinder test engine is subjected to extreme, wear-inducing conditions. AMSOIL OE Motor Oil provided 47 percent more wear protection than required by the GM dexos1 Gen 2 specification.
Protects Pistons from Low-Speed Pre-Ignition like Signature Series and XL (Our top and middle lines), OE features an advanced detergent system for advanced protection. Most new engines feature gasoline direct injection (GDI), often combined with a turbocharger to boost power and improve fuel economy. These new technologies pose significant challenges to motor oil, one of which is low-speed pre-ignition (LSPI). LSPI is the spontaneous ignition of the fuel/air mixture prior to spark-triggered ignition. It occurs in today's advanced engines and is much more destructive than typical pre-ignition. OEMs like GM have addressed the issue by designing tests to determine a motor oil's ability to prevent LSPI. OE Synthetic Motor Oil provided 100 percent protection against LSPI. Zero occurrences were recorded in five consecutive tests.
Most of consumers on the shelf synthetic brands labeled "fully synthetic" aren't really synthetic at all. They were prior to 1999. What happened?
This link (PDF) from our dealer magazine –  AMSOIL founder, the late Al Amatuzio explains. From  2014.
AMSOIL is devoted to developing the best and overbuilt finished products through ideas and testing. We offer the latest of additive packages available in the price category for all of our products. AMSOIL's reputation is built on trust. Depend on a constant evolution to deliver the next generation of synthetics at the highest performance level you can measure today! There are NO stockholders to cause compromise to the finished products.
Original Marketing Release to AMSOIL Dealers:
AMSOIL Magazine: Who are the top prospects for OE Synthetic Motor Oil?
Peterson: Mainly, installers and people just entering the synthetic market. Just like in 2010 when we first introduced it, OE is our entry-level synthetic motor oil. It offers outstanding protection at a price that's competitive with the "full-synthetic" motor oils, like Mobil 1*, Pennzoil* Platinum or Quaker State* Ultimate Durability. OE was originally introduced as our answer to the lower-priced synthetic oils on the market that were nipping at our heels. Drivers moving up to synthetics for the first time found the lower price of those products attractive, so we needed a synthetic motor oil in our lineup to help Dealers compete, especially in the oil installer market. OE is the result. It's API licensed to alleviate warranty concerns, costs about the same as other premium synthetics and is recommended for original equipment manufacturer (OEM) drains. It was – and still is – the perfect product for much of the market.
AMSOIL Magazine: How have Dealers used OE to increase sales?
Peterson: Many Dealers use the product as a stepping-stone to transition new customers away from conventional oil. Selling someone on the premium protection and extended-drain benefits of Signature Series or XL can be a challenge if they're used to paying only a few bucks per quart and changing oil every 3,000 miles. OE helps bridge the gap between conventional oil and our top-tier products. Most Dealers, however, have found success selling OE to retail accounts and installers.
AMSOIL Magazine: How do Dealers use OE to increase sales to independent garages and other installers?
Peterson: The installer market is critical for Dealers. Remember, the overwhelming majority of motorists visit an installer to have their oil changed rather than installing it themselves. Every Dealer should have at least one installer account to reach these motorists and to which they can send their customers who don't want to change their own oil. Some Dealers have found a niche offering XL Synthetic Motor Oil or Signature Series to installers, who in turn offer it as an alternative to their primary, or "house," synthetic oil. Our research shows that installers sell an average of eight cases of their second- and third-option synthetic motor oils each month. But installers perform the bulk of their synthetic oil changes using their lower cost house synthetic oil. Signature Series and XL simply aren't priced to compete with an installer's house synthetic where as OE is and the performance is instant.
AMSOIL Magazine: How does OE fare in the same situation?
Peterson: OE is priced competitively with lower-cost synthetics, which puts Dealers in a better position to earn the coveted status as the installer's primary synthetic-oil supplier. Our research shows that an installer sells about 82 cases of its house synthetic oil per month. That's a 10-fold increase over its other synthetic-oil options due to noticeable performance our competitors simply don't offer. We compete with the lower-priced synthetics by offering better performance and protection thus OE helps shops offer something unique in their market.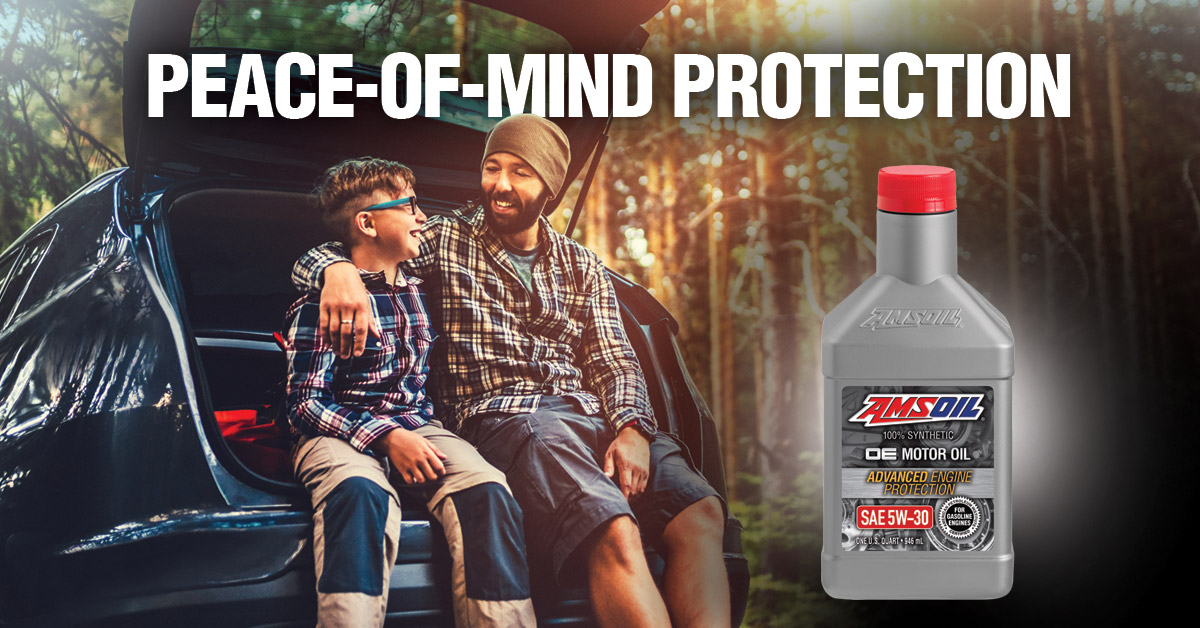 AMSOIL Magazine: Let's talk about quality. How does OE Synthetic Motor Oil perform in today's demanding engines?
Peterson: We developed and tested OE with our same rigorous approach to quality we used to formulate Signature Series and XL. It delivers excellent protection against wear and deposits, and it passes all the latest industry and OEM performance specs. It delivers performance on par with Mobil 1* – which represents the pinnacle of synthetic motor oil technology to those unfamiliar with our top-tier oils – and it does so at a lower price.
AMSOIL Magazine: Low-speed preignition (LSPI) is a hot-button issue in the industry right now. How does OE perform in that regard?
Peterson: That's right. In fact, the need to combat LSPI is the primary reason the API and ILSAC are introducing updated motor oil specifications in the fall of 2019. Many OEMs want the new specs introduced even sooner. LSPI occurs in some modern turbocharged direct-injection engines under conditions of low speed and high torque, like when you're taking off from a stop sign. Like run-of-the-mill engine knock – LSPI is a much more destructive form of typical engine knock – it can destroy pistons and connecting rods, wrecking your engine. But here's the problem for automakers – programming their vehicles to operate under conditions that invite LSPI can boost fuel economy up to 10 percent. OEMs are eager to capture those efficiency gains, but not until there are motor oils on the market that combat LSPI. The new API and ILSAC specs won't be introduced for a couple years, but the OEMs can't wait that long. They are having problems right now, so the API and ILSAC are introducing an interim spec, API SN Plus, in the months ahead. We're ahead of the game. AMSOIL synthetic motor oils, including reformulated OE Synthetic Motor Oil, provided 100 percent protection against LSPI in the engine test required for the GM dexos1 Gen 2 specification, proving its excellent performance in today's demanding engines. No other current retail motor oil has yet published that they exceed the same criteria. To do so would also mean several dollars to the finished price.
AMSOIL Magazine: Finally, what feedback are you getting from Dealers about OE?
Peterson: I've heard from several Dealers who have been successful gaining new customers and boosting their sales with OE Synthetic Motor Oil. Hearing those stories is one of the biggest benefits of my job, so keep them coming next time you see me at AU Live! or another event. OE Synthetic Motor Oil is a great product that we're proud to stand behind. I hope Dealers are just as proud to sell it.
All OE products are in stock at the Omaha Synthetic Warehouse – Your full time AMSOIL source. Call us to have OE added to your shop as well.
Technical Product Help call 800-579-0580