AMSOIL Dealer Help Videos
Here we will keep all the past and present training videos including on screen, AMSOIL U "Quickshots", AMSOIL training webinars and other corporate training videos.  This page will not be searchable online so it's exclusively for our downline. Feel free to use this resource for your new dealers though or your downline as it grows.
I suggest you open these to a larger screen and set at the highest resolution. On most of them you can click on the youtube logo for the standard format or just double click on the screen for the full screen mode. Then set to the HD resolution if needed.
**Videos within newsletters may have additional links in the comment section.   These videos are not public so you won't see them on My Youtube Channel.  
---
July 15th:
Blog Marketing for big bucks – Two Part video and Multi Case Giveaway
This will get you to the #1 AMSOIL Ranking
---
June 4th: My AMSOIL Sales for 12 Months $523,051 – Here's how.. New AMSOIL Lead Issuing System
Get More Qualified Customers with Normal Activity
---
Newsletter on other resources to enhance your AMSOIL business and a Warranty video which is a MUST see to answer a common customer question.
Use the Wind Turbine Industry to Bolster your Credibility – Proves Dedication to Excellence
Having this story is really a dream come true because it's like a moment where your own customers get to come to AMSOIL HQ and experience the brilliance of the staff. When they really feel good about a brand they are locked in and become your best marketing tool… Read more
Big Retail Account, Google Local and Diesel Fuel Additive
I'll keep this short as the video does all the talking. I also want to do a 2nd one real soon on retail orders online.
Best 3rd Party Article Ever
My Newsletter overs this as well as an Preferred Customer issue you can ignore because it is not correntable. Locally I sell to PC's but that alone is an benefit for them to get the discount. The online perks make up for the 5% increase they have when ordering there. Locally and online my PC signups are up 5X over the past. You will see soon proof of this in a future video.
Moved! New AMSOIL Sales location – Simplified and lower cost.
December 24th, 2018 – Better use of time in more efficient setting.
---
Synthetic Warehouse is Moving – And a major Retail Account
October 5th, 2018 – Find out how the move will help my business
---
Enhancing Knowledge in your AMSOIL Business
05 Aug 2018 Newsletter – Factory warranty vid, etc. 
---
Check your mailbox in the dealer zone!! Presentations from the 45th Anniversary Convention are available for a short time now!
---
August 2nd, 2018 Newsletter
Notes & Highlights from 45th Anniversary Convention
---
July 27th, 2018 Newsletter
Commercial Accounts Improved – Enhanced Discounts & Support – Free Shipping
---
July 15th, 2018 Dealer Newsletter
0W-30, V-Twin 20W-50, Saber Pro 100:1 and 45th Anniversary Convention
---
June 2018 Newsletter II
Driving V-Blog (if you like this format I will do more)
---
June 2018 Newsletter I
Enhancing sales knowledge in your AMSOIL business – Factory Warranty Oil vid.. etc.
---
New video blog embedded in subsequent newsletter. June 18th, 2018
---
INVENTORY SUGGESTION!
New Home Garage Inventory 2018 – MAIN Spreadsheet
Version for older Excel programs
Pricing is for before the April Price Increase
Video explaining the above spreadsheets
Video showing what that inventory looks like for Priority 1, 2 and 3.
---
March 2018 Newsletter on Setting AMSOIL Pricing \
And this is the subsequent video which went with it.
---
AMSOIL DJ Growth bonus & Gold Key Vehicle Bonus
Added Incentives as an AMSOIL direct jobber add to your retail and product commissions.
Become an AMSOIL Independent Dealer
---
And associated newsletter  regarding tips on Avoiding Burnout, Sales, Taking Advantage of the New Upgrades and more.  Forward to your own downline!!
---
Archived Resources from September 15th Dealer Newsletter
I use these links to help new dealers so save and forward or make your own versions for your growing downline!!
Just one newsletter installment for making your own website. The key is to watch it of course but to use the links I posted in the info/comment section below the video.  In the video I explain how the AMSOIL paid dealer option website will not help you at all!! It will not be ranked in Google because it's of a format that is penalized. It's a subdomain! Not unique at all.  (Private unlisted video for our group only)
How Much Money can a WordPress website make for you? How much does it make me?
WordPress for AMSOIL Dealers – Ideas for a Prosperous Future
————-
 Tools to Enhance Your AMSOIL Business
(one of my first Vblogs – just over a year ago – sort of a sample of the future)
http://app.mailerlite.com/o4u6t2
————-
Finance your future – AMSOIL is the best tool – If you treat it like a business
AMSOIL can finance your Pursuit to your Passionate Purpose. Not a critical newsletter but referencing a book I read which is responsible for a years worth of record sales.
Book and AMSOIL as an Income Generator
————-
Suggested AMSOIL Inventory & 2016 Sales Incentives and Efficient Inventory grows Customers and Accounts
Inventory Spreadsheet Suggestions & Dealer Incentives
————-
Making the Phone Ring
With my 2nd intro to WordPress webpage and blog to get you the best coverage for next to nothing.
Making The Phone Ring – Instant Benefits
————-
Performance Oil – Performance Selling
And one of the best ones I think "Performance oil Performance Selling" Blog intro and intro to AMSOIL U online when it was new. Important read.
Performance Selling Performance
————-
Perhaps Read This One First – Social Media and Free Local listings – Plus my opinion on AMSOIL's website program.. Also other reference material
Google Search – Local Listings – FREE!
————-
Local Sales Card – Capturing the Lube Centers Account the easy way.
Use the template to make your own. I made this two years ago so any local graphic/digital artist can update it with the new pricing and the new 100% logo's etc. Powerful tool to use to break the ice and return for future follow-ups.
Calling Card for Lube Centers
————-
From July 2015 – Tools and Forms for your Business –
More Website help and encouragement. I want you to have maximum success and this will help although it's an old one. A quick read.
Daily Income from Website & More
---
Legacy Archives
Lastly – this goes to older ones I have archived. Dozens of past newsletters I made public. Just doing these will earn you new dealers as prospects are looking for dealers who communicate at the very least.
http://archive.constantcontact.com/fs002/1101454919382/archive/1104317708060.html
————-
YouTube Page: I am updating this weekly and experimenting with styles to see which get the most response. Consider making your own too as videos are the best way to market and increase rankings of your blog and website. Most of my videos are not public so this link will show the ones intended for customers or potential dealers.
www.youtube.com/channel/UCEW3HZQT3Ifvcs8w2h8Jkxw
---
September 8th Video

---
July Newsletter videos:
(This one was public)
---
Some Newsletter Archives:
Steps and tools for developing Professional AMSOIL Websites/ See how much $ mine makes monthly
Trade Shows Part II – Conclusion – Mistakes and what to plan for next time
Researching AMSOIL products – Materials for your own knowledge
---
Video To Commercial Accounts (past and present)
---
Make your own professional AMSOIL website
---
Researching AMSOIL Product Primer
---
Adding Authorized Dealer banner to your website and some Newsletter info..
---
Current AMSOIL Price List valid through the end of March, 2017
---
New AMSOIL Dealer Sales Brief on the New Diesel Oils
This is a MUST read for all AMSOIL dealers. Excellent way to learn, sell, train and get the word out about who needs this product. The Signature Series Max Duty and Heavy-Duty lines of Synthetic Diesel Oil.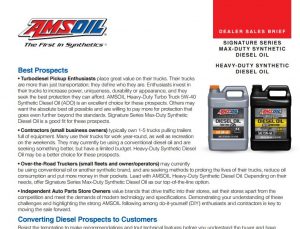 ---
Trade Show Overview video
---
Items referenced in March 4th Newsletter
The letters below should be used only as a starting point and adjustments made according to the region, type of account/customer and per any requests.
Word Documents:
AMSOIL Welcome (Retail account welcome letter)
In addition letter (explains marketing intent and options)
Suggested Highlighted Products
Additional PDFs
AMSOIL Retail Ordering Guidelines G2603
Installer sales flyer – Customize and Update with your Data (Needs pricing update – helps get the point across on cold calls.
Here is a good printable PDF (2)  for your customers. Makes the case that AMSOIL is really the only choice for new GDI, Turbo and EcoBoost type of engines. Save and print!!
Harmful_deposits (Awesome handout for color printer or b&w)
The Video which goes with this
And the T3- training video to review
---
Introduction to my new Dealer Training talks and a bit on Blogs..
---
Blogging Understand the necessity – especially as your competition isn't really doing much with it!
---
More material for your website – From the Dealer Magazine – Responding to a request for a how-to. I hope this answered the question. Please send more!!
---
Commercial Accounts – they are right under your nose. Easy to sign up. So many of your customers may already qualify and you get more commissions and a cash bonus as well.