Routine Maintenance: Follow your manual
"Sometimes when I consider what tremendous consequences come from little things, I am tempted to think there are no little things." ~ Barton Sutter
In September 2007 an article by oil industry journalist George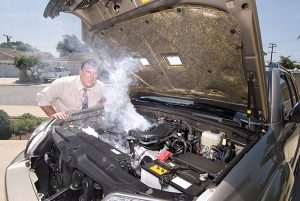 Gill of Lubes 'N' Greases caught my eye. The article's title read, "Grease 'Overdose' Leads to Honda Recall." The opening paragraph tells the story: "Excessive application of silicone grease has led Honda Motor Co. to issue a recall for 19,904 model year 2000 Civics, according to Honda's recall filing with the U.S. National Highway Traffic Safety Administration. The recall is expected to begin tomorrow."
It's almost comical how interrelated everything is, though I'm sure a recall of this magnitude wasn't funny for Honda. Because they had not supplied adequate instructions regarding how to grease a mechanism on the steering column, the oil could potentially separate from the grease and form droplets that leaked into the brake light switch, causing it to fail. The problem could escalate when, as a result, the transmission couldn't be switched from park or the stop lamp failed on the tail lights, which might potentially cause a crash.
This tiny little detail – the failure to warn against over-greasing – resulted in a recall of nearly 20,000 Civics.
The story reminds me of the famous saying attributed to Benjamin Franklin:
"For the want of a nail the shoe was lost,
For the want of a shoe the horse was lost,
For the want of a horse the rider was lost,
For the want of a rider the battle was lost,
For the want of a battle the kingdom was lost,
And all for the want of a horseshoe-nail."
Taking care of your vehicle is one of the responsibilities of vehicle ownership. This includes attending to a variety of details that fall under a category that auto manufacturers call "routine maintenance." The short list regularly includes checking your tire pressure and condition; lights; and fluid levels, especially oil and coolant.
This past week someone I know asked if I would check their vehicle because it was making a "bad noise." Noises are hard to diagnose when described in words, so I went and listened to the sound in person. The engine sounded hollow to me, so I asked if he checked the fluids like I'd said he should. He said, "Yes."
I said, "It sounds like it doesn't have oil in it."
He replied, "Oh, I didn't check the oil because I just had it changed last week."
When we checked the oil it was three quarts down. The engine was thirsty because they obviously had not filled it properly or the oil drain plug was loose. Since there was no oil leaking under the car it seemed clearly a failure to have put the proper quantity of oil in the car, a little thing that would soon have major consequences.
Check your fluid levels! And be sure to change your oil periodically. AMSOIL does offer more protection to things such as overheating. For more information on how often to change oil if you're using AMSOIL synthetic motor oil, check out this helpful newsstand story: "How Long Does Synthetic Motor Oil Last?"
As for the other fluids and maintenance services you need to pay attention to, check your vehicle's owner's manual. To borrow an adage from another industry, "A stitch in time saves nine."