Editors Notes: In addition to a great product, it serves as a one size fits all fleet oil for pre-2007 diesels and any heavy duty diesel or gasoline workhorse. Generators, mowers, tractors, skid steers and more. I've had twice now a generator owner who reported an extra hour out of a tank of diesel fuel in their Lincoln welder.
Buy & Pricing
AMSOIL Synthetic 10W-30 SAE 30 Heavy Duty Diesel Oil (ACD) is formulated with premium synthetic base oils that exceed both 10W-30 multi-grade and SAE 30 straight-grade viscosity requirements for outstanding performance in modern and older diesel engines. Unlike conventional SAE 30 motor oils, AMSOIL ACD has a naturally high viscosity index and does not contain paraffin (wax). It has a -33°F pour point and qualifies for SAE 10W, making it an all-season multigrade lubricant with a wide operating temperature range. AMSOIL ACD is formulated without viscosity index (VI) improvers. This shear-stable formulation is designed to stop viscosity loss and associated bearing and cylinder bore wear. AMSOIL Synthetic 10W-30 SAE 30 Heavy Duty Diesel Oil contains premium additives with a high 12 TBN to neutralize acids from blow-by, exhaust gas recirculation (EGR) and high-sulfur diesel fuels. It protects against damaging piston deposits, ring sticking and sludge.
AMSOIL, the leader in automotive synthetic lubrication, produced the world's first API qualified synthetic motor oil back in 1972. Trust the extensive experience of AMSOIL The First in Synthetics® to do the best job protecting your equipment.
PERFORMANCE
Where these viscosity grades are specified, AMSOIL Synthetic 10W-30/SAE 30 Diesel Oil provides outstanding performance as a straight-grade SAE 30 for older two- and four-stroke diesels and as a multi-grade SAE 10W-30 in modern four-stroke diesel and gasoline engines. AMSOIL Synthetic Heavy Duty Diesel Oil is ideal for use in a wide variety of light and heavy-duty applications, including agriculture, off-road construction, trucking, mining, industrial (pumps and generators) and personal automotive or commercial transportation. It is recommended for use with low- or high-sulfur diesel fuels in standard, turbocharged or supercharged engines, all off-road engines and pre-2007 on-road engines.
SAE 10W-30 performance without VI improvers
Cost-effective replacement for conventional oils
Excellent shear stability
Outstanding wear protection
Superior protection over a broad range of operating temperatures
Extended service life
APPLICATIONS
AMSOIL ACD is recommended for diesel engines, gasoline engines and other applications that require any of the following worldwide specifications:
API CI-4+/CH-4/SL, CF, CF-2
Global DHD-1
ACEA A3/B3, E3, E5
JASO DH-1
Mack EO-M, EO-N
Detroit Diesel 93K214
Caterpillar ECF-1a, ECF-2
Cummins CES 20076/20077/20078
Volvo VDS-3/VDS-2
Mercedes Benz 228.1/228.3/229.1
MAN 271/3275
MTU Type 2
Ford WSSM2C921-A
MIXING AMSOIL
AMSOIL ACD is compatible with conventional and synthetic motor oils, however, mixing AMSOIL ACD with other oils will shorten the oil life expectancy and reduce the performance benefits. AMSOIL does not support extended drain intervals where AMSOIL ACD has been mixed with another product.
Aftermarket additives are not recommended for use with AMSOIL ACD.
SERVICE LIFE
AMSOIL Synthetic 10W-30/SAE 30 Heavy Duty Diesel Oil (ACD) is recommended for extended drain intervals in engines that are unmodified and in good operating condition.
Diesel Engine Service
Three times (3X) OEM* recommendation, not to exceed 50,000 miles/600 hours or one year, whichever comes first. Drain intervals may be extended further with oil analysis.
Gasoline Engine Service
Two times (2X) OEM* recommendation, not to exceed 15,000 miles or one year, whichever comes first.
*Operating conditions and drain intervals for severe and normal service are defined by the OEM. Refer to your owner's manual.
Note: Extended drain intervals are not recommended when using biofuels containing >10% ethanol or 5% biodiesel (B5). Follow OEM drain intervals or extend drain intervals with oil analysis.
Buy & Pricing
HEALTH & SAFETY
This product is not expected to cause health concerns when used for the intended application and according to the recommendations in the Material Safety Data Sheet (MSDS). An MSDS is available via the Internet at www.amsoil.com or upon request at (715) 392-7101. Keep Out of Reach of Children. Don't pollute. Return used oil to collection centers.
For warranty information, visit www.amsoil.com/warranty.aspx.
TYPICAL TECHNICAL PROPERTIES Synthetic 10W-30/SAE 30 Diesel Oil (ACD)
Kinematic Viscosity @ 100°C, cSt (ASTM D445)
10.6
Kinematic Viscosity @ 40°C, cSt (ASTM D445)
69.0
Viscosity Index (ASTM D2270)
141
CCS Viscosity @ -30°C, cP (ASTM D5293)
5975
Flash Point °C (°F) (ASTM D92)
230 (446)
Fire Point °C (°F) (ASTM D92)
250 (482)
Pour Point °C (°F) (ASTM D97)
-37 (-35)
NOACK Volatility, % weight loss (g/100g) (ASTM D5800)
6.4
Four-Ball Wear Test @ 40 kgf, 75ºC,
1200 rpm, 1 hr, scar diameter, mm (ASTM D4172)
0.40
Total Base Number (ASTM D2896)
12.0
High-Temperature/High-Shear Viscosity (ASTM D-5481 @ 150ºC, 1.0 x 106 S-1), cP
3.4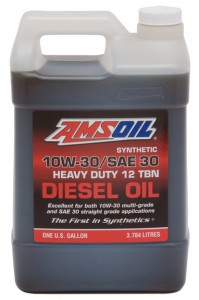 ---
Technical Service Bulletin
Subject: Viscosity of Mono grade and Multigrade Oils
Product Description: AMSOIL 10W-30/SAE 30 Motor Oil (ACD and ASE)
OBJECTIVE:
To explain how certain AMSOIL engine oils can qualify for both monograde and multigrade viscosity ratings. TECHNICAL DISCUSSION: Oil Classification System In selecting a proper engine oil, the vehicle owner must consider both the oil viscosity and the lubricant service requirements for the vehicle. To enable the owner to identify a proper oil, the vehicle manufacturers and the lubricant industry have developed a lubricant classification system (1).
When automobiles first appeared, attempts were made to identify motor oils. Viscosity was known to be one of the most important characteristics of an oil, and it was simply classified as light, medium or heavy, depending on its viscosity. When more advanced instruments were made avail- able to measure viscosity, the Society of Automotive Engineers (SAE) developed a better oil classification system.
This system, known as SAE J300 (1), was first related to the kinematic viscosity at 100 o C as shown in the following table I. This classification system was used for oil differentiation until the late 1960s. During this period of time, the lubricant oils were mostly prepared with mineral base stocks and had a very limited range of operation temperature. This led to the development of multi- grade engine oils which can be operated in a much wider temperature range.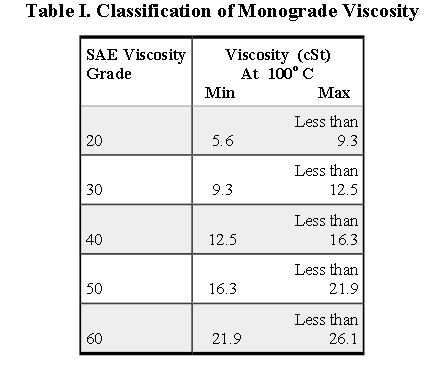 Another way to classify the oil is to add the letter "W" behind the number. The "W" stands for winter and indicates that an oil is suitable for use in colder temperatures. The lower the number in front of the "W," the better the cold temperature protection. This service classification mainly looks at the low temperature viscosity of the oil. For example, the following table lists the requirements of the low temperature cranking viscosity at different temperatures: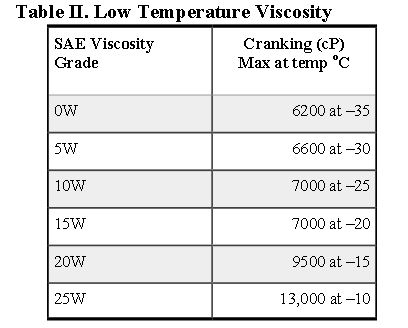 SAE 20 and SAE 20W are two totally separate mono- grade classifications. SAE 20 describes the high temperature viscosity of the oil and SAE 20W describes the low temperature cranking capability of the oil.
In order to allow engines to start at low temperatures while providing sufficient viscosity at high temperatures to protect engines against wear, multi-grade oils were developed. An oil can be classified as a multi- grade SAE 20W-20 if the oil can meet both the low temperature cranking viscosity of 4500 cP at –15 o C and the 100 o C high temperature kinematic viscosity requirement between 5.6 and 9.3 cSt.
Typically, a type of additive called Viscosity Modifier (VM) or Viscosity Index Improver (VII) is added to the base oil to achieve multigrade performance. These types of organic polymer additives thicken the oil at high temperatures while having a minimal thickening effect at low temperatures. The addition of a viscosity modifier allows for the use of lower viscosity base oils to achieve the cold temperature requirements. The use of light weight petroleum oils in- creases oil volatility (burn- off), contributing to excessive oil consumption and oil thickening.
AMSOIL Heavy Duty Diesel Oil (ACD) and Small Engine Oil (ASE) meet multigrade viscosity require- ments without the use of visc osity modifiers. This is accomplished through the use of naturally high vis- cosity index, wax-free synthetic oils. These oils meet both the low temperature requirements of SAE 10W and the high temperature requirements of SAE 30. Thus the products are true SAE 10W-30 and SAE 30 oils.
RECOMMENDATIONS
AMSOIL ACD and ASE 10W-30 SAE 30 engine oils can be used in any applications requiring a monograde SAE 30 or multigrade SAE 10W-30 engine oil with the performance specifications listed for each product.
AMSOIL ACD has a performance emphasis on heavy duty on-road diesels with an API CI-4 Plus rating, while it is also applicable fo r gasoline engines with its API SL rating.
AMSOIL ASE has a performance emphasis on small gasoline and diesel engines used for commercial ser- vice or by the homeowner. AMSOIL ASE carries the API SL rating for gasoline and API CF/CD rating for off-road diesels.
REFERENCES
1. Society of Automotive Engineers, Publication J- 300, December 1999.