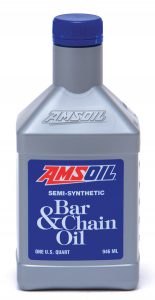 There's always that one exceptional product that falls through the cracks. And for AMSOIL I would list that one as the Semi-Synthetic Bar and Chain Oil. It's rarely advertised and is an item many chainsaw owners neglect to check the sump.  But the professionals who use it notice the advantages right off the bat making for more AMSOIL lifetime customers.
Features a proprietary anti-wear additive chemistry which AMSOIL uses in other legendary products and applied it to this which no other competitor can even come close to the results.  Use on bicycle chains too.
You will use less oil
It will not sling off – helps keep the fragments of wood out of the track and sprocket areas.
Exceptional job at minimizing metal to metal contact.
Chains stay sharper longer because heat is reduced. A good lubricant can displace heat.
prevents rust. Fresh wood leaves behind moisture which can create rust in storage.
Bar life is significantly increased.
Also be sure to use the Saber Professional 2-cycle oils which is known for extending the life of chainsaw 2-stroke motors significantly. There is a whole list of benefits for that one as well.
Always be sure to read your chainsaw owners manual for tips on how to clean and prevent the oiling system clean and clog free. Inspect before each use and wear proper protective clothing.